Cabinet on stand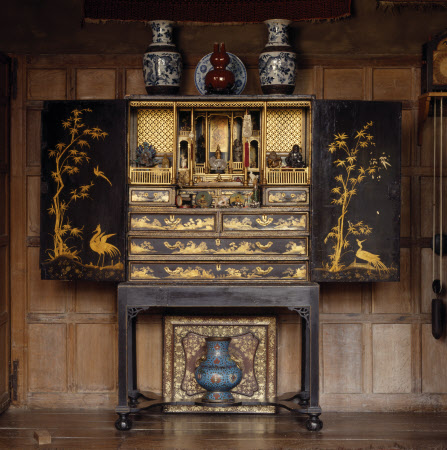 Category
Furniture
Date
circa 1760
Materials
Lacquer, brass hinges and lock plate, pine carcass
Measurements
172 x 97 x 52.5 cm
Place of origin
England
Order this image
Collection
Snowshill Manor and Garden, Gloucestershire (Accredited Museum)
NT 1331891
Caption
Charles Paget Wade's fascination with objects of craftsmanship started with this cabinet.
Summary
A black lacquer and chinoiserie decorated cabinet on stand, English, circa 1760. With a pair of doors depicting bamboo plants and birds, opening to reveal a shrine with balustrades, gilt columns and lattice shutters which slide sideways concealing further drawers, the very back surface painted with a landscape flanked by poetic inscriptions, above an arrangement of ten variously sized drawers, all with panels depicting pagoda landscapes, birds, trees and insects, the ebonised stand with plain frieze and square chamfered legs with pierced spandrels and joined by wavy stretchers, standing on bun feet, the doors with pierced brass lock-plate and hinges.
Full description
This cabinet is known as Grannie's Cabinet as it belonged to Charles Paget Wade's Grandmother Katherine Blanche Spencer (nee Bulwer). It had great sentimental value to Charles and is often seen as the inspiration for Charles Wade's collecting. In his notebook 'Days far Away' (SNO.MISC.958) Wade describes his Granny Spencer's house (Katherine Blanche Bulwer) and includes the following references to the cabinet: 'Hidden away in the darkest corner of the room was affine tall 18th cent. Secretaire with curved pediment above its glazed doors – this had belonged to the great, great grandfather Dr. Augustine Bulwer, D.D'. (Page 15) Wade describes the cabinet and the weekly tradition of opening it in more detail. He includes detailed sketches of the cabinet and its 'magic key'. 'Facing the piano was an exceptionally lovely old Chinese CABINET of black and gold lacquer. This was always my greatest joy. Its fascination never failed – to me it was never a piece of furniture but a Heavenly, Celestial Palace of Far Away – Cathay. Only on Sundays were the doors allowed to be set open – as they opened came the fragrance of Camphor, then the interior of this Enchanted Golden Palace was revealed. A palace fit for the greatest MANDARIN. How it enticed one to enter, and wander about its many different levels, set with COURTS, PAVILIONS, mysterious deep arched recesses, sliding screens, grilles, steps, with columns of such rich glowing gold. How I longed to be allowed to stand on a chair, so be able to see into all its innermost recesses – the whole reflected many times in the mirrors set each side in the Fore Courts. It was all so very high up, so far off and difficult for me to see. There were exciting Secret Drawers hidden away behind the little Pavilions, which Granny would occasionally reveal. The cabinet was filled with interesting old Family Treasures – these I loved to be shown and told about. There was a little wax angel, with golden wings, from a Christmas tree when granny was a child. Two musical boxes which played airs with notes like ripples and clear cascades of falling water. A little bone model of a 'Spinning Jenny' with two little bone ladies. Two small models of rowing boats. The great, great grandfather's compass (sic) of pinchbeck in its red leather case. His case of beautifully shaped drawing instruments and his silver spectacles in Shagreen case. There were painted snuff boxes, old jewelry (sic) and a cherry stone with an ivory stopper containing a set of minute silver spoons. These drawers of shells, polished stones, coins, butterflies and moths. Assuredly, it was the most wonderful cabinet that ever was. The proportions, too, are everywhere exactly right, as is the balance of black and gold in its decoration. I know of nothing with such an enchanting Fairyland atmosphere, made in any other land but CHINA. How delightful are the fantasies of the little drawings upon the lacquered panels. Pavilions, Pagodar (sic), Rivers, Rocks, Bridges, Steps, Boats, Islands, Steeping Stones, Birds, Mountains, Pine Trees, Willows, and ways to faraway Lands. A delightful delicately pierced valence is carried across the top of the cabinet, tying the whole design together. This cabinet made in Canton – 1700-1710 – was given to my grandmother when she was 18 by her Father [Augustine Bulwer] who bought it at Norwich. No drawing can convey its fascination'. (pages 19-24)
Provenance
Given to the National Trust with Snowshill Manor in 1951 by Charles Paget Wade.
References
Wade, c.1945: Charles Paget Wade, Days Far Away, c.1945 Wade, 1944: Charles Paget Wade, Contents of Snowshill Manor. Volume 1 Ground Floor, 1944, page 88
View more details