Cut out picture
Parminter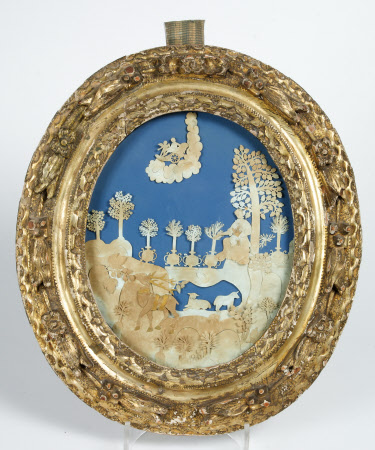 Caption
My name is Sarah Schmitz and I am the new House Steward here at A La Ronde. One of the first objects in our care that I noticed when touring the house is this fabulously delicate paper image. It is such a remarkable survivor of the passage of time, being extremely susceptible to light damage in particular. Just looking at it is such a treat, and caring for it another.
Summary
Cut out picture - Cut paper picture of (?) Apollo, Demeter, gilded stag etc. On blue paper ground. Original Parminter work. In oval gilt frame.
Provenance
Original Parminter item that was removed by Stella Tudor upon her marriage in 1880; taken with her to the vicarages of Turkdean then East Garston and, after her death, with her husband to Reading. Upon his death this item was recorded in both the 1925 and the 1930 Probate and Valuation Inventory and was then passed to his daughters Margaret and Stella Tudor who returned it to A La Ronde upon Margaret's purchase of the property in 1930. It was purchased from Mrs Tudor Perkins in 1991.
Makers and roles
Parminter
View more details