Pier table
Gerrit Jensen (fl.1667 – London 1715)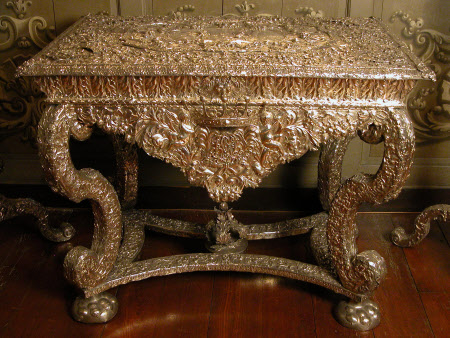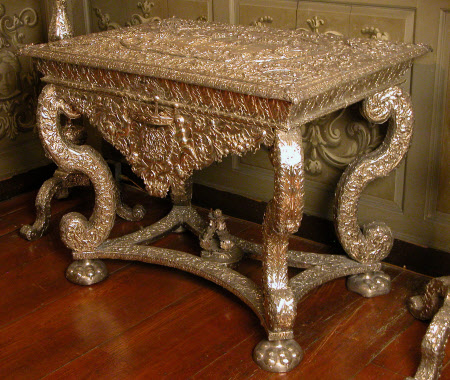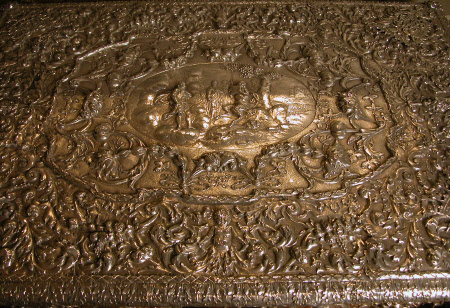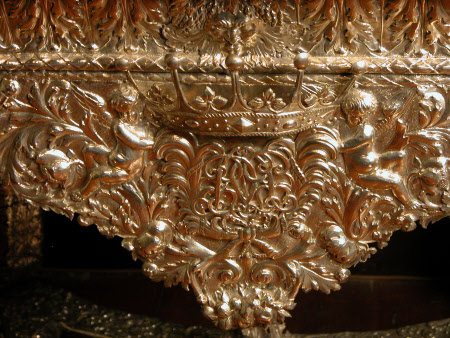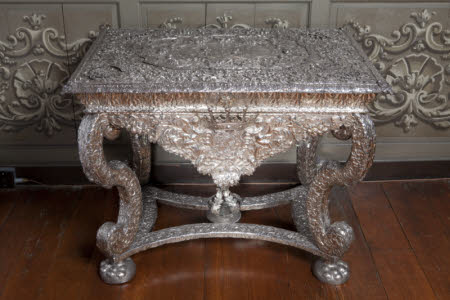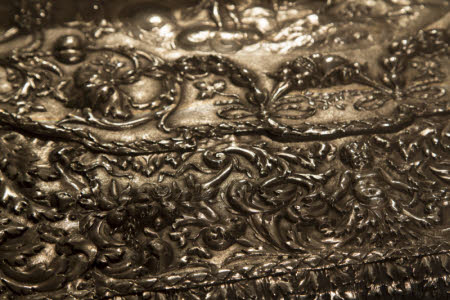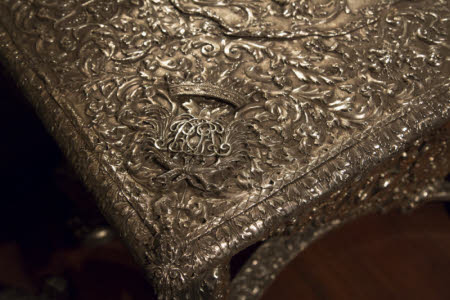 Category
Furniture
Date
1680 - 1681
Materials
Silver, wood
Measurements
81.0 x 102.0 x 71.0 cm
Order this image
Collection
Knole, Kent (Accredited Museum)
NT 130035
Summary
A silver table, English, 1680, made by Gerrit Jensen for Frances Cranfield, Countess of Dorset (1622-1687), daughter of Lionel Cranfield, 1st Earl of Middlesex, wife of Richard Sackville, 5th Earl of Dorset and mother of Charles Sackville, 6th Earl.
Full description
Three major sets of seventeenth-century silver furniture survive in England: two in the Royal Collection in Windsor Castle, which belonged to Charles II and William III respectively, and one at Knole. The Knole table entirely cased in silver, the top chased with fruits, foliage and garlands with festoons of acanthus and two amorini. The centre oval panel depicts a musical contest between Pan and Apollo, with wide border of and coronet supported by amorini. The lavishly adorned table stands on four scrolled legs chased with foliage and joined by a shaped stretcher centre with a crown, with crown shaped ornament, on claw and ball feet. Table bears London hallmark for 1680-81 and maker's mark T.L. The monogram at each corner has either been read FDHP (Frances Dorset and her second husband, Henry Powle, who were married in 1679) or FCD (Frances Cranfield, Countess of Dorset). A bill for this particular piece from the Anglo-Dutch cabinet maker Gerrit Jensen and dated 1680 has unveiled who the maker of this magnificent table was. The table comes ensuite with a pair of torchères (130036.1 and 130036.2) and a pier glass (130034). Silver furniture had come into fashion in the middle of the seventeenth century. Louis XIV of France had the most impressive suite of such furnishings made for his palace at Versailles, where not only the Hall of Mirrors, but the enfilade of the King's royal apartments was furnished with tables and torchères made of silver by Parisian silver-smiths. Following the fashion set by Louis XIV, silver furniture was also made in England between c.1660 until c.1710. Charles II had an opportunity to see the first pieces of silver furniture made for Louis XIV, his first cousin, when he was exiled to France during the Interregnum. Every piece of the Sun King's silver furniture was melted down in 1689/90 to pay for France's military campaigns.
Provenance
Made for Frances Sackville, Countess of Dorset in 1680/81, when married to Henry Powle. Knole and the majority of its furniture were accepted by HM Treasury in part payment of death duties and transferred to the National Trust in 1946.
Marks and inscriptions
London hallmark for 1680/1, maker's mark T.L., mongram FDHP at each corner
Makers and roles
Gerrit Jensen (fl.1667 – London 1715), cabinet maker
References
Arminjon 2007: Catherine Arminjon (ed.), Quand Versailles était meublé d'argent (ex. cat.), Paris 2007
View more details