Sir Thomas Sackville, Baron Buckhurst and 1st Earl of Dorset (1536-1608)
attributed to John de Critz the elder (Antwerp 1551/2 – London 1642)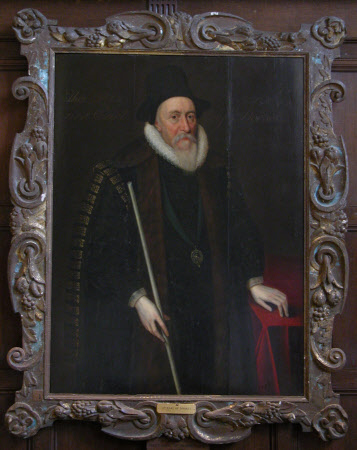 Category
Art / Oil paintings
Date
circa 1601
Materials
Oil on panel
Measurements
1156 x 838 mm (45 1/2 x 33 in)
Place of origin
England
Order this image
Collection
Knole, Kent (Accredited Museum)
NT 129728
Caption
Sir Thomas Sackville, a poet and playwright, was appointed Lord High Treasurer in 1599. Shown here holding the white wand of his office, Thomas was the first Sackville owner of Knole and commissioned several important decorative schemes in the house, such as in the Hall and Great Staircase. It is characteristic that he should have had himself painted by the Serjeant-Painter to the King, John de Critz, who held this position from 1603.
Summary
Oil painting on panel, Sir Thomas Sackville, Baron Buckhurst and 1st Earl of Dorset (1536-1608), attributed to John de Critz (Antwerp 1551/2 – London 1642), inscribed in scrolly 18th century-script above: Thos. First Earl of Dorset, circa 1601. A three-quarter-length portrait as an old man of 63, turned to the right, gazing at the spectator, ruff and black hat, and black and gold embroidered robe trimmed with fur of Chancellor of Oxford, and Garter jewel, his Treasurer's [or Lord High Steward's? - he was appointed Lord High Steward in January 1601] staff in his right hand, his left hand is resting on a crimson covered table on the far right.
Full description
The sitter was in many ways a more remarkable – and certainly more rounded – figure than Elizabeth I's other great statesman, Sir William Cecil, 1st Lord Burghley (1520-158?). The loss of all his papers in the Great Fire of London (made worse by his and his family's retention of his state papers); the fact that he only acquired and began to spend great sums on transforming Knole towards the end of his life, so that it is not a 'prodigy house' like the eponymous Burghley itself; the fact that he did not have – unlike Burghley – not only a brilliant statesman son, but two great dynasties like the Cecil Earls and the Marquesses of Salisbury and Earls and Marquesses of Exeter (even if, unlike them, his descendants achieved a dukedom), to succeed him; and ultimately, perhaps, the fact that he cut a less dominating – even a less sinister – figure than Burghley: all these things may account for his never having dominated the popular imagination in the way that Burghley did and has. Unlike Burghley, Thomas Sackville was already born with the highest connections. His father, Sir Richard Sackville (?? – 1566), whose accumulation of wealth earned him the sobriquet of 'Fill-sack', was a first cousin of the Queen, Anne Boleyn. Sir Richard rose to become Chancellor of the Court of Augmentations, Privy Councillor, and M.P. He married Winifred, daughter of Sir John Bruges or Bryges, Lord Mayor of London, who bore him both Thomas, and Anne, who was to marry Gregory Fiennes, 10th Lord Dacre of the South. After his death, his widow married William Paulet, 1st Marquess of Winchester. When she herself died, in 1586, she was buried in Westminster Abbey. Born in his father's house at Buckhurst, Withyam, Thomas does not appear to have matriculated at either Oxford or Cambridge (surprisingly, for a future Chancellor of the former; but Abbot, in his funeral oration, described him as Oxford educated, and he is traditionally associated with Hart Hall there), but instead joined the Inner Temple, of which his father was Governor, and was called to the bar. His initial career was literary, and of an importance only occluded since by his own later eminence rather as a statesman. He initiated, and contributed the 'Induction' and 'Complaint of the Duke of Buckingham' to George Ferrers and William Baldwin's A Myrroure for Magistrates, albeit that these only appeared in the second volume, published in 1563, rather than in the first, which came out in 1559. His contribution was described by the Oxford Companion to English Literature as "the only part having literary merit", and the old Dictionary of National Biography said that: "In dignified, forcible, and melodious expression Sackville's 'Induction' has no rival among the poems issued between Chaucer's 'Canterbury Tales' and Spenser's 'Faerie Queene'." He followed that by writing the last two acts of the first English tragedy in blank verse, The Tragedy of Gorboduc, in collaboration with a fellow student of the law, Thomas Norton, who wrote the first three. It was acted in the Inner Temple hall on Twelfth Night, 1500/1, and then at Court. Politics was, however, already beginning to claim him. Elected for both East Grinstead and Westmorland to the Parliament of 1557-8, he elected to sit for the latter; but in the first Parliament of Elizabeth I's reign, of 1558-9, he sat for the former; and in that of 1563-66 represented Aylesbury. The new Queen, acknowledging her cousinhood, ordered him to be in constant attendance on her, but life at Court and extravagance led to money problems, to let which abate, he went abroad, on a tour of France and Italy. Very unusually for the period, he visited Rome, apparently on a mission to ward off the excommunication of Elizabeth I, but was briefly arrested over the winter of 1563/4. After his return, as he himself recorded in his will, by the "particular choise and liking" of the Queen, he was "selected to a Contynewall privat attendance upon her owne person." His father died in April 1566, in the autumn of which year he wrote his Horatian verse epistle, 'Sacvyles Olde Age', as his leave-taking of poetry, for a different form of life. On 8th June 1567 he was knighted and created Baron Buckhurst. In November 1569 he was appointed joint Lord Lieutenant of Sussex, In February 1571 he went on the first of a number of diplomatic missions (though he had already been chosen in 1566 for one, which was aborted by the death of his father), to Paris, to elicit a proposal of marriage for the Queen from Henri, duc d'Anjou. In January 1572, he was a commissioner at the trial of Thomas, Duke of Norfolk. In general, however, he was mild to Catholics in Sussex with good family reasons: his mother (who only died in 1586) seems to have remained a devout one throughout her life; his son and heir, Robert, married as his first wife Lady Margaret Howard, daughter of the attainted Duke; and his daughter Jane married in 1591 the Hon. Anthony Browne, a Roman Catholic, who succeeded the following year as 2nd Viscount Montague. In February 1586, during the Earl of Leicester's absence, Burghley secured his appointment to the Privy Council, and he moved into to inner circle of the Queen's advisers. As the Oxford DNB says: "He acquired a reputation for impartiality, courage, and plain speaking, since his kinship with the Queen largely enabled him to avoid factions at court." In September 1586 he was a Commissioner for the trial of Anthony Babington, and he was then nominated to the commission to try Mary Stewart. He was actually absent from her trial, but was sent by the Queen in November to inform Mary of her death sentence, with permission to speak to her alone, should she have secret matters to communicate to Elizabeth. Between March and July 1587 he was sent by the Queen to the Netherlands to report on the Earl of Leicester's administration there. His unfavourable reports lost him both the Queen's and the Earl's favour, but in the next year, that of the Armada, when he was organising the defence of the strategically important Sussex Coast, he had won back both, and was reconciled with Leicester before his unexpected death in 1588. On 24 April 1589 he was made a Knight of the garter, and installed on 18 December. In 1591, he was one of the Queen's Commissioners, who signed the peace treaty with France. On 29 December 1592, he succeeded Hatton as Chancellor of Oxford University, later giving £100 to the Library, in 1602, and the bust of Sir Thomas Bodley to it in 1605. On 15 May 1599, despite having written a decade earlier that the times were "full of miserie and daungers", and that his "mynde [was] quite aliened from that course of lief", when being considered for Lord Chancellor, he accepted the appointment to succeed Burghley (who had died in August 1598) as Lord High Treasurer – an appointment that was confirmed for life by James I on 17 April 1603. It was in this office that, as the Oxford DNB indicates, he devised the 'great farm' of customs revenues, which came into effect on 24 December 1604: "At a stroke, the great farm established a regular and secure income for the Crown with a centralised administration, but privatised administrative costs which were borne by the farmers…. In turn, the farmers became financiers, with capital available to lend the Government (using the customs as securities), which stimulated the growth of London as a financial market." His role in this was later taken over by Sir Julius Caesar (1558-1636), Chancellor of the Exchequer between 1606 and 1614. In 1601 he had been appointed Lord High Steward, and presided over the trial of the Earl of Essex and his fellow-conspirators. In 1604 he took the decision to make Knole (the lease of which he had acquired in 1570, but had in turn assigned in 1574) his main seat, buying back the lease (and the freehold from the Crown the year after), and beginning a major campaign of renovation, rebuilding, and decoration. The work was supposed to have been finished in 1605, but (though earlier accounts are lost) vast expenditure was still ongoing in 1607-8. On 13 March 1604 he was created Earl of Dorset. This was followed by the Somerset House Conference to make peace with Spain, at which he headed the English delegation (as shown in the picture at the NPG), from 19 May - 19 August. For his part in bringing about peace, he received a pension from Philip III, a ring, and a gold chain. He died suddenly, as if he had fallen asleep, at the Council table at Whitehall on 19 April 1608, but was survived by his wife, Ciciley Baker, daughter of Sir John Baker of [??] who did not die until 1615. The funeral sermon at Westminster Abbey was by his former chaplain, and the future archbishop of Canterbury, George Abbot, and was printed; but he was buried with his ancestors at Withyham. The Sackville chapel there, containing his tomb, was regrettably destroyed by fire in 1663. His will included the sum of £1,000 to build a public granary at Lewes, with £2,000 to stock it against time of scarcity or hardship, and one year's wages to all his servants not otherwise remembered, together with board and lodging for three months after his funeral. Ciceley bore him three daughters and four sons, the eldest of whom, Robert, succeeded him, as 2nd Duke of Dorset, but only survived him by a year. The second son was called Henry. William (c,1568-1591) had been killed fighting the Catholic League in France; Thomas (1571-1646) distinguished himself fighting against the Turks in 1595. Of his daughters, Anne had become the wife of Sir Henry Glenham of Suffolk; Jane had married Anthony Browne, 1st Viscount Montague; and Mary had become the first wife of Henry, 9th Baron Abergavenny. As Rivkah Zim sums him up in the Oxford DNB: "His contribution to English history cannot equal Burghley's, but he was more versatile, and representative of his period and its culture, as a Renaissance man: poet, scholar, traveller, courtier, statesman, a lover and patron of music and fine art. He was a religious man, with the experience and pragmatism to tolerate his neighbours' (and his family's) freedom of conscience in private, and not only a loyal servant of the Crown, but also a discreet man of personal charm and moral integrity.
Provenance
In 1706 inventory: Half-length "Tho: Earl of Dorsett" in "The Lester Gallery" (one of ten "half lengths"); 1799 inventory, in the Ball Room [without any details]; 1828 inventory, ibid. (No. 420).
Makers and roles
attributed to John de Critz the elder (Antwerp 1551/2 – London 1642), artist previously catalogued as attributed to Marcus Geeraerts, the younger (Bruges 1561/2 - London 1635/6), artist
References
Strong 1969 Roy Strong, The English Icon, Elizabethan and Jacobean Portraiture, London, 1969, p, 206
View more details