Alice Gertrude Waugh
Thomas Woolner RA (Hadleigh 1825 - London 1892)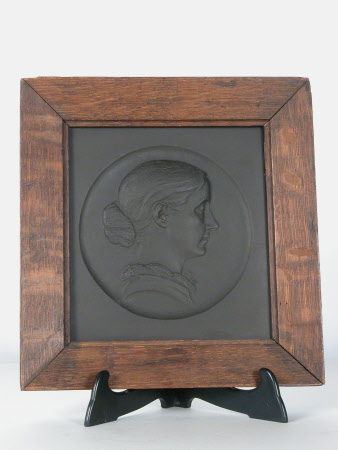 Category
Art / Sculpture
Date
1883 (signed and dated)
Materials
Bronze framed in oak
Measurements
233 x 210 x 26 mm
Place of origin
London
Order this image
Collection
Wightwick Manor, West Midlands (Accredited Museum)
NT 1289208
Summary
Bronze framed in oak, Alice Gertrude Waugh, Mrs Thomas Woolner (1845 - 1912), Thomas Woolner RA (Hadleigh 1825 - London 1892), 1883, signed and dated 'T.W. 1883'. Bronze plaque with bas relief medallion portrait of Alice Gertrude Waugh, in profile, looking right. Waugh's hair is styled in a bun; she wears a shirt with a ruffled collar.
Full description
Thomas Woolner, sculptor and poet, trained in the London studio of the sculptor William Behnes in London, and from 1842 studied at the Royal Academy Schools. He first exhibited at the Academy in 1843. His early work comprised subjects from history and literature, such as 'Puck' from A Midsummer Night's Dream (1845-7). By 1847 he was sharing a studio with Bernhard Smith and also knew John Hancock, both sculptors involved to some extent with the early Pre-Raphaelite movement. Through friendship with Rossetti, Woolner met Millais and Holman Hunt. He believed that their ideas on art applied to sculpture as well as painting, and in 1848 he became a member of the Pre-Raphaelite Brotherhood. He contributed poetry to the Pre-Raphaelite journal The Germ, introduced the poet Coventry Patmore to the Pre-Raphaelite circle, and became a friend of Tennyson. Commissions were hard to find, and in 1852 Woolner went to Australia on an unsuccessful search for gold; his departure inspired Madox Brown's picture 'The Last of England'. In Australia Woolner made a living from portraiture. In 1854 he returned to England, where, inevitably dependent on commissions, he developed a successful career in portrait and memorial medallions, busts and statues. His subjects included many notable figures such as Thomas Carlyle, Wordsworth, Tennyson, Prince Albert and Gladstone. His architectural work included panels for the pulpit at Llandaff Cathedral (1858), and statues and a relief for Manchester Assize Courts (1863-67). In the 1870s and 1880s he gained major public commissions such as the statues of John Stuart Mill on the Embankment (1878) and of Queen Victoria in the Council House, Birmingham (1883). In 1875 he was elected a Royal Academician, and was Professor of Sculpture at the Academy 1877-79. Like other Pre-Raphaelites Woolner's work included literary subjects such as 'Ophelia' and 'Elaine' (both 1868) and 'Guinevere' (1872), from Shakespeare and Tennyson. The Pre-Raphaelite contemporary life subject, presenting moral or religious ideas, can be seen in 'The Lord's Prayer' (1856-67), a statue group of a mother and child with accompanying reliefs, intended to show the triumph of Christianity over savagery. His work clearly applies to sculpture the Pre-Raphaelite principles of realism and truth to nature combined with the representation of character, intellect, emotion or an idea. As Benedict Read has observed 'one must begin to wonder whether such truth to nature on Woolner's part, allied to an unrelenting moral earnestness....do not make of him as true and as life-long an adherent to the principles of Pre-Raphaelitism as only Holman Hunt is usually credited with having been.' (Read 1982, p.185). Portrait medallions were a major part of Woolner's work, particularly in the earlier part of his career (they were much cheaper to produce than busts or statues). His first known example (of Edwin Ashford) was shown at the Royal Academy in 1846. Many early subjects such as Coventry Patmore (1849) were friends and associates. His medallions of literary heroes such as Tennyson (1849-50 and 1856-7) and Robert Browning (1856-7) were highly regarded in Pre-Raphaelite circles. This portrait of his wife shows Woolner's uncompromising accuracy of observation, conveying physical appearance, character and intellect just as strongly as the pictures of family and friends by other Pre-Raphaelite artists. As Benedict Read has observed "For bumps and wrinkles, we must go to Woolner. Whether in the form of the portrait bust or the full-length portrait statue, he aimed to portray the whole person that he saw before him." (Parris, 1984) .Alice Waugh married Woolner on 6th September 1864. She was the sister of Fanny and Edith Waugh, Holman Hunt's two wives. In 1883 Woolner also made medallions of his daughters Phyllis, Dorothy and Clare.
Provenance
Presented to Sir Geoffrey Mander by Phyllis Woolner (1875-1946), daughter of the sculptor and the sitter, in 1946.
Marks and inscriptions
Front, centre left : T.W. 1883 Back: BRONZE MEDALLION of Mrs. Woolner by her husband THOMAS WOOLNER R.A. P.R.B. Presented by his daughter Miss Phyllis Woolner February, 1946 Property of the National Trust
Makers and roles
Thomas Woolner RA (Hadleigh 1825 - London 1892), sculptor
References
Read 1982: Benedict Read, Victorian Sculpture, New Haven and London, 1982, p.185 Parris 1984: Leslie Parris (ed.). 'Was there a Pre-Raphaelite Sculpture?', Pre-Raphaelite Papers, London 1984, p.109
View more details