An 'Oscar' Statuette of the Academy Award of Merit from the American Academy of Motion Picture Arts and Sciences
Austin Cedric Gibbons (Dublin 1893 - Los Angeles 1960)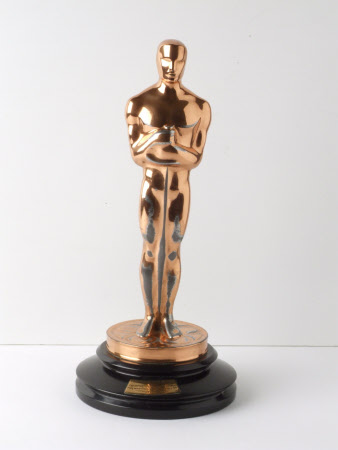 Category
Art / Sculpture
Date
1938
Materials
Gold-plated Britannium metal
Measurements
305 x 140 mm (13 1/2 x 5 1/2 in)
Order this image
Collection
Shaw's Corner, Hertfordshire (Accredited Museum)
On show at
Not on show
NT 1274935
Caption
This battered Oscar was won by Shaw in 1938 for his screenplay of 'Pygmalion'. Shaw used it as a door stop, as well as to crack walnuts. 'Pygmalion' was later adapted into the musical 'My Fair Lady', with the majority of the lyrics being taken from Shaw's texts.
Summary
Gold-plated Britannium metal (tin/copper alloy) on circular black metal base with brass plaque, An 'Oscar' Statuette of the Academy Award of Merit from the American Academy of Motion Picture Arts and Sciences designed by Austin Cedric Gibbons (Dublin 1893 - Los Angeles 1960) and first sculpted by George M. Stanley (Acadia, Louisiana 1903 - 1977) in 1928. The statuette depicts a knight in the Art Deco style holding a sword standing on a reel of film with five spokes. The five spokes each represent the original branches of the Academy: Actors, Writers, Directors, Producers, and Technicians. This prize was given to George Bernard Shaw in 1938 (a year before it was officially called an 'Oscar') for the best screenplay of Pygmalion although he did not collect it in person.
Provenance
Bequest of George Bernard Shaw, 1950
Marks and inscriptions
Academy First Award to George Bernard Shaw for writing the screenplay of 'Pygmalion'.
Makers and roles
Austin Cedric Gibbons (Dublin 1893 - Los Angeles 1960), designer George M. Stanley (Acadia, Louisiana 1903 - 1977), sculptor
View more details