Europa and the Bull
Royal Windsor Tapestry Manufactory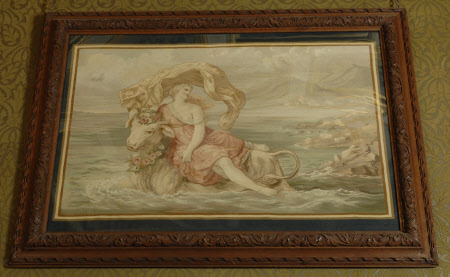 Category
Tapestries
Date
circa 1876 - circa 1885
Materials
Tapestry wool, silk and cotton, 7 warps per cm. Framed and glazed
Measurements
1.31 m (H); 0.9 m (W)
Place of origin
Old Windsor
Order this image
Collection
Kingston Lacy Estate, Dorset (Accredited Museum)
NT 1258064
Summary
Tapestry, wool and silk, 7 warps per cm, framed and glazed, Europa and the Bull, Royal Windsor Tapestry Manufactory, after a design by T W Hay, c. 1876-1885. A small rectangular tapestry framed and displayed like a painting, showing Europa, with long blond hair and wearing a reddish robe with a yellow cloak billowing above her, sitting on the back of a bull and gazing distractedly to the right. The bull, which has garlands of flowers draped around its neck, strides half-heartedly out into the sea. To the right there are rocks and in the background distant mountains. The tapestry has a narrow woven border of a yellow and red stripe, and is set in a wide blue galloon. There is a signature in yellow in the galloon at the upper left, now partly hidden by the frame, but which appears to read 'ROYAL WINDSOR TAPESTRIES', and may be accompanied by a crown as was customary.
Full description
The story of Europa is told in Ovid's 'Metamorphoses' (Book 2). Jupiter asked Mercury to drive a herd of heifers to the sea shore where Europa, daughter of the King of Tyre, played with her companions, and then transformed himself into a snow-white bull and joined the herd. The beautiful beast soon attracted Europa who stroked him and decked him with flowers, and finally climbed upon his back and rode around the fields. Seizing his chance, Jupiter then struck out into the sea with Europa who, suddenly terrified, clung on for dear life while her friends watched helplessly from the shore. Jupiter took Europa to Crete where he revealed his true form. She later bore him two children, Mines and Rhadamanthus. The tapestry was made at the Royal Windsor Tapestry Manufactory, whose signature appears at the upper left. The manufactory was founded in Old Windsor in 1876 by Henri C Henry, artistic adviser to the furniture company Gillow & Co., and Marcel Brignolas, who came with a group of French weavers from the ancient tapestry-producing town of Aubusson. Prince Leopold, Queen Victoria's youngest son, supported the manufactory and became its president, while the Queen herself made several visits and in 1880 consented to its being termed 'Royal'. The enterprise began with great success, when a series of the 'Merrie Wives of Windsor' sent to the 1878 Paris Exhibition won a gold medal. Despite this promising start, and a number of royal commissions, by the time Prince Leopold died in 1884 the manufactory was already in severe financial difficulties. Further investment and commissions were sought and a number of important projects were undertaken in the later 1880s, but in 1890 the manufactory was forced to close. Scenes from English literature and history were a speciality at the Windsor manufactory, and there is a pair of Windsor tapestries of 'King Alfred' in the National Trust's collection at Tyntesfield (see below). The workshop also made a large number of views of Royal palaces, many of them Royal commissions, as well as landscapes and furnishing tapestries in the French style. 'Europa and the Bull' is unusual in representing a subject from classical mythology. Although various artists produced one-off designs for the Windsor manufactory, two regular designers were attached to the workshop, Thomas Wallace Hay (1838-1917) and Herbert Bone (1853-1931). Hay, who designed the 'Europa and the Bull' tapestry, was born in Scotland and studied in Paris. He was an associate of the Gillow furniture company (which had close links to the Windsor manufactory) and also designed wallpaper for Messrs. William Woolams & Co. He was responsible for a number of important designs including the 'Merrie Wives of Windsor'. There are frescoes by Hay at Dyffryn House near Cardiff, which is now run by the National Trust, and he also painted a mural for the Midland Grand Hotel, St Pancras (information on Hay kindly provided by Geoff Hay and Emma Jones)[. 'Europa and the Bull' was commissioned by Henry Hucks Gibbs (1819-1907), one of the Windsor manufactory's guarantors, for his house at Aldenham in Hertfordshire (Cullingham 1976, p. 68; Bone 1881). Gibbs was the cousin of Anthony Gibbs of Tyntesfield, and probably persuaded Anthony to buy three panels of saints in 1884 later to commission two tapestries of the Story of King Alfred, all now part of the National Trust's collection at Tyntesfield (nos. 18455-7, 33552). The 'Europa and the Bull' tapestry formerly hung on the north wall of the Dining Room at Kingston Lacy, between the four Breughels. (Helen Wyld, 2013)
Provenance
Commissioned by Henry Hucks Gibbs, later 1st Lord Aldenham (1819-1907), of Aldenham House, Hertfordshire; believed to have been sold on the death of Alban Gibbs, 2nd Lord Aldenham in 1936; acquired (date uncertain) by Henry John Ralph Bankes of Kingston Lacey (1902-1981); bequeathed by Bankes to the National Trust, together with the estates of Corfe Castle and Kingston Lacy and its entire contents in 1981.
Marks and inscriptions
Top edge, left (only partly visible beneath frame): ROYAL WINDSOR TAPESTRIES
Makers and roles
Royal Windsor Tapestry Manufactory , workshop Thomas Wallace Hay (1838-1917), designer
References
Cullingham, 1979: Gordon Graham Cullingham, The Royal Windsor Tapestry Manufactory, 1876-1890: an illustrated handlist of tapestries woven at the Old Windsor works, The Royal Borough of Windsor and Maidenhead 1979 Bone, 1881: Herbert Bone, The Windsor Tapestries at Aldenham House, Herts., privately printed, London 1881
View more details