Portrait of a Roman (possibly Mark Antony)
Ptolemaic dynasty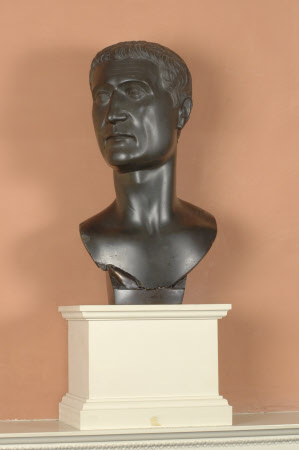 Category
Art / Sculpture
Date
c. 25 BC - c. 15 AD
Materials
Basanite
Measurements
755 x 260 x 200 mm
Place of origin
Egypt
Order this image
Collection
Kingston Lacy Estate, Dorset (Accredited Museum)
NT 1257603
Caption
This striking life-sized bust of a commanding male head leaves us with some tantalising questions, but few answers. It was reportedly discovered near Alexandria in Egypt around 1780, and from the style we know that the sculptor was Greek or trained by a Greek artist in the centuries when Egypt was ruled by Rome. Opinion is divided about who it represents, but some think it depicts Mark Antony (83–30 BC), a Roman general in charge of Rome's eastern provinces, including Egypt. Whoever the subject, it depicts a man of considerable importance and status, as the beautiful shiny black stone (known as basanite) was a rare material used only for individuals of the highest rank. His extremely long neck, square jaw and arched brows appear idealised, designed to flatter an important sitter. The sculpture came to Britain when it was acquired by the British representative to Egypt George Baldwin (1744–1826) and was later bought by the Egyptologist William John Bankes (1786–1855) for his impressive collection, which is still on display at Kingston Lacy, Dorset.
Summary
Basanite, portrait of a Roman (possibly Mark Antony), Ptolemaic dynasty, late 1st century BC –early 1st century AD. A basanite bust of a Roman man carved in Egypt during the Ptolemaic Dynasty, historically catalogued as a portrait of Marcus Antonius or Mark Antony (c.83-30BC). Mounted on a marble pedestal. The truncation and ears are chipped.
Full description
This portrait of a man with a commanding countenance and fine aquiline nose was reportedly discovered at Canopus near the Egyptian city of Alexandria in around 1780. It was acquired by George Baldwin (1744-1826), the British consul and arabist who established major trade links in Suez for the East India Company. Baldwin's collection was sold at Christie's in 1828 and the bust was purchased for Kingston Lacy by William John Bankes (1786-1855). Rendered in the idealising Hellenistic style, the head was made by Greek or Greek-trained sculptors working in Alexandria using traditional Egyptian materials. Basanite was a highly prized stone reserved only for the most important subjects. It was mined on a relatively small scale and with great difficulty at the Wadi Hammamat, a mountain in the Eastern Desert on the Red Sea trade route. Given the value of basanite, this life-size head, which may have been part of a herm or niche sculpture, depicts a man of status and authority, probably an official, although the exact identity of the sitter is unclear. Baldwin believed that the bust depicted the Emperor Augustus (63 BC-AD 14), 'Conqueror of Egypt' (Baldwin's Museum): an identification accepted by the Society of Dilettanti in their publication Specimens of Antient Sculpture (vol.II). Owing to the shape of the nose and lips, it was later re-identified as a portrait of Augustus' great adversary, Mark Antony (83–30 BC). This re-identification, itself now questioned, was based on likenesses in coins and cameos, however surviving sculptural images of Antony share few similarities with the sitter depicted here. William John Bankes made two pioneering expeditions to Egypt in 1815 and 1818-19. His records of Philae, Nubia, Abydos and Abu Simbel remain important sources for Egyptologists today, and his transcriptions of the Philae Obelisk, which he installed on the lawn of Kingston Lacy, contributed to the decipherment of Egyptian hieroglyphics.
Provenance
Acquired by George Baldwin in Egypt c. 1780; sold Christie's, London, 8-9 May 1828 and purchased by William Bankes, thence by descent; bequeathed by (Henry John) Ralph Bankes (1902–1981) to the National Trust, together with the estates of Corfe Castle and Kingston Lacy and its entire contents.
Credit line
Kingston Lacy, The Bankes Collection (National Trust)
Makers and roles
Ptolemaic dynasty , sculptor
Exhibition history
Beyond the Nile: Egypt and the Classical World, The Getty, Los Angeles, California, 2018 The Treasure Houses of Britain, National Gallery of Art, Washington, USA, 1985 - 1986, no.246
References
Baldwin [1810?]: George Baldwin, [Baldwin's Museum. 60 lithographs of gems by T. Bouvier, with lithographic letter-press.], [1810?], no page no., under entry for 'Octavius Augustus, Bust on Basalte, big as life'. Knight 1809: Richard Payne Knight (ed.), Specimens of Antient Sculpture, I, London (Society of Dilettanti), 1809 [1810], vol.II, plate XLVI. Jackson-Stops 1985: Gervase Jackson-Stops (ed.), The Treasure Houses of Britain: five hundred years of private patronage and art collecting, exh. cat. The National Gallery of Art, Washington, New Haven and London 1985, p. 321, no. 246. Walker and Higgs 2001: Susan Walker and Peter Higgs (eds.), Cleopatra of Egypt, exh.cat., British Museum, London, 2001 Spier 2018: Jeffrey Spier, Timothy Potts and Sara E. Cole (eds.), Beyond the Nile: Egypt and the Classical World (exh. cat.), Los Angeles: The J. Paul Getty Museum, 2018., p. 197, no. 139.
View more details