The Judgement of Solomon
Sebastiano del Piombo (Venice c.1485 - Rome 1547)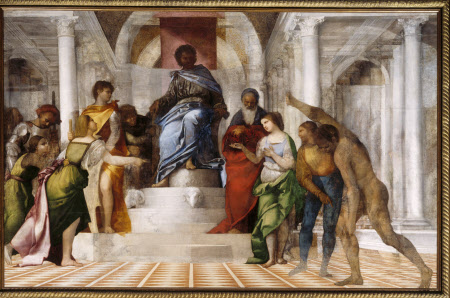 Caption
A semi-naked swarthy executioner strides in, with his arm raised, ready to divide a living baby (not visible as not yet painted) into two. Solomon sits on his throne, accompanied by a priest, a man in armour, and possibly his sons, Reheboam and Prince Azariah, about to settle the dispute between two prostitutes over whose baby had not died. The real and good mother reveals herself by giving up her claim in order that the baby lives whilst the other points accusingly. This biblical story of justice is told in the Book of Kings. Because of the subject it was suggested it may originally have been commissioned for one of the courtrooms in the Doge's Palace in Venice by Andrea Loredan. It was first recorded as being seen and unfinished in 1648. Restoration of this masterpiece of the High Renaissance reveals three different conceptions of figures and setting overlaying one another that were never resolved. It was attributed to Sebastiano del Piombo's Venetian contemporary, Giorgione, when the poet Lord Byron encouraged William Bankes (1786–1855) to buy it in 1820 from the Marescalchi collection in Bologna.
Summary
Oil painting on canvas, The Judgement of Solomon by Sebastiano del Piombo (Venice c.1485 - Rome 1547), 1505-10. According to the biblical story (I Kings, iii:16-28), two harlots who had babies were disputing whose was the one who had not died. Solomon showed his wisdom by threatening to have his executioner divide the baby equally between them. The real mother immediately revealed herself by offering to give up her claim in favour of the false mother, in order to save her own baby's life. Solomon, in a grey robe and light blue mantle, sits on a stepped throne in a basilica with a red and white marble floor shown in sharply receding perspective and white Corinthian columns. The throne is adorned, curiously, with rams' heads rather than with the usual lion's, suggesting a close reading of the Bible, since the episode of 'Solomon's judgement between the two harlots' occurs well before the description of his new throne (I Kings x.18–20). A red cloth of state hangs behind him. He is flanked by an old, priest-like figure dressed in blue with a red mantle on his left (our right) and a boy and a handsome youth dressed in white with an orange toga. possibly Solomon's son, Reheboam or is the priest-likefigure Zadok, and this his son, one of Solomon's 'princes', Azariah on his right (our left)? Beside the old priest stands the good and real mother, dressed in a light blue tunic and white dress, with a green mantle, making gestures of love for, and renunciation of, her child. Between her and the still-naked form of the executioner, with upraised arm, stands a young man in orange jerkin and blue hose, indicating the – undepicted – live baby. A watercolour copy by Charles Cope (1811- 1890) also at Kingston Lacy shows the baby not yet painted which means that the baby painted in before the Hamilton Kerr 1982 restoration was a 20th century addition. On the other side of the throne stands the bad and false mother, in a dark green dress over a white shift, pleading with Solomon, and pointing an accusatory finger at the good mother. Behind her stands a smaller figure in very similar dress and pose (possibly representing a first version of the bad mother, before the scale of the figures was changed), and behind her, a Giorgionesque figure in armour. This is a flawed masterpiece of the Venetian High Renaissance, painted around 1505-10, and was neither finished nor resolved. Many of the pentimenti are in the architecture; they are so drastic that one is bound to ask whether they were not made in a brief return to Venice in 1511 or 1512, after exposure to Bramante's buildings in Rome. Recent restoration has revealed three different conceptions of figures and settings overlaying one another. It has been suggested in the past that because of the judicial subject it may have originally been commissioned for one of the courtrooms in the Doge's Palace in Venice by Andrea Loredan (1440 – 1513). He was responsible for the building of the Palazzo di San Marcuola, subsequently known as the Casa Grimani de Santo Ermacora (now the Palazzo Vendramin-Calergi), where it seems first to have ended up, recorded by Ridolfi in 1648. Compellingly the second storey (piano nobile) has tabernacle windows, of around 1498 - 1511, similar to the framed niches in the painting. Ridolfi attributed the picture to Giorgione, and this was bought as such by William Bankes in 1820 from the Marescalchi collection in Bologna, with his close friend and poet Lord Byron's warm encouragement, In 1903 the acclaimed art historian of Italian Renaissance pictures, Bernard Berenson, attributed it to Sebastiano, which is now generally accepted. The very different Flight into Egypt of 1506/7, thought to be one of Titian's earliest works and now in the State Hemitage Museum, St Petersburg, may have been painted for the same room, as Giorgio Vasari mentions it being in the palazzo of Andrea Loredan (a descendant of the aforementioned) in 1568.
Provenance
Possibly commissioned for the grand reception hall ('portegho') of Andrea Loredan's new palace, Palazzo di San Marcuola, designed by Mauro Codussi (1440 - 1504) and completed in 1509, and possibly hung along with Titian's Flight into Egypt (State Hermitage Museum, St Petersburg); first recorded by Ridolfi in the palace -originally built for Andrea Loredan (1450 - 1513) and now known as Ca' Vendramin-Calergi- in 1648; acquired by William John Bankes (1786-1855) in 1820, from the Marescalchi collection in Bologna, as by Giorgione; bequeathed by Ralph Bankes, 1981.
Credit line
Kingston Lacy, The Bankes Collection (National Trust)
Makers and roles
Sebastiano del Piombo (Venice c.1485 - Rome 1547), artist previously catalogued as by Giorgione (Castelfranco c.1477 – Venice 1510), artist
Exhibition history
The Genius of Venice 1500-1600, Royal Academy of Arts, London, 1983 - 1984, no.97
References
Ridolfi 1648 C.Ridolfi, Le Maraviglie dell'Arte, Venice, 1648; commented edition by Detler von Hadeln, 2 vols. Berlin, 1914, 1924 , vol I., p.102 Waagen 1857 Gustav Waagen, Galleries and Cabinets of Art in Great Britain, London, 1857, p.377-8 Berenson 1903: Bernhard Berenson, The Drawings of the Florentine Painters, London, 1903, vol.I, p.233 Berenson 1938: Bernhard Berenson, The Drawings of the Florentine Painters, amplified edition, Chicago 1938, vol.I, p.240 Hirst 1981 Michael Hirst, Sebastiano del Piombo, Oxford, 1981, pp.13-23 Laing and Hirst 1986 Keith Laing and Michael Hirst, "The Kingston Lacy Judgement of Solomon." The Burlington Magazine, vol. 128.997 1986, pp.273-86 Harpur 2013 Alison Harpur, 'Authorship, Authority and The Kingston Lacy Judgment of Solomon' in National Trust Historic Houses & Collections Annual (Apollo), 2013, pp. 46 - 54 Building the Picture: Architecture in Italian Renaissance Painting, The National Gallery, London, 30th April - 21st September 2014 Lillie 2014 Amanda Lillie, 'Constructing the Picture' published online (ed. Caroline Bugler) in 'Building the Picture: Architecture in Italian Renaissance Painting', The National Gallery, London, 2014 Michelangelo & Sebastiano (Ed. Matthias Wivel), for the exhibition at the National gallery, London, from 15th March to 25th June 2017., cat. 6, pp. 100-101
View more details