Table
Jack, George (1885-1932)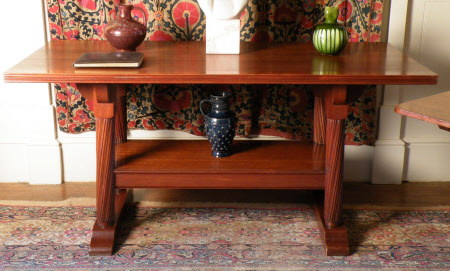 Summary
A mahogany centre or serving table, designed by Philip Webb or George Jack for Morris & Co., circa 1880. The rectangular top with a reeded edge and raised on spirally-moulded trestle-type legs standing on sleigh feet and joined by a solid under-shelf.
Full description
Sturdy tables of this model with a spiral leg and a solid undershelf were designed by both Philip Webb and George Jack. One such example by Webb with six legs is illustrated in J. Andrews 'Arts and Crafts Furniture, ACC 2005, Plate 43 and another by Jack with eight legs for Rounton Grange, Yorkshire in J. Cooper 'Victorian and Edwardian Furniture and Interiors', Thames & Hudson 1987, Plate 449, intended as a serving table in an alcove. Webb also designed a large eighteen-leg version as a dining table for Stanmore Hall, but with no under-shelf, also illustrated in J. Andrews 'Arts and Crafts Furniture', ACC 2005, Plate 44. Philip Webb (1831-1915) was born in Oxford and trained in the offices of G.E Street, the prolific Victorian architect. Here he met William Morris and struck what became a life-long friendship. He designed The Red House for Morris and out of that project the firm of Morris, Marshall, Faulkner & Co. was born, for whom he designed furniture. Alongside this, he ran his own architectural practice. For most of his architectural commissions the furnishings were provided by Morris & Co. In 1877, he became a founder member, with Morris, of The Society for the Protection of Ancient Buildings (SPAB). George Jack (1885-1932) joined Philip Webb's architectural practice in the 1880s and eventually took over the practice when Webb retired in 1901. Like Webb, Jack designed furniture for Morris & Co from the mid 1870s.
Provenance
Purchased by the National Trust in 1983.
Makers and roles
Jack, George (1885-1932), designer Philip Speakman Webb (Oxford 1831 - West Sussex 1915), designer
References
Andrews, John - Arts and Crafts Furniture, ACC 2005, Plate 43 and Plate 44 Cooper, Jeremy 'Victorian and Edwardian Furniture and Interiors (1987), Plate 449
View more details