'The Chesterfield State Bed'
attributed to Francis Lapiere (fl. 1683 - 1714)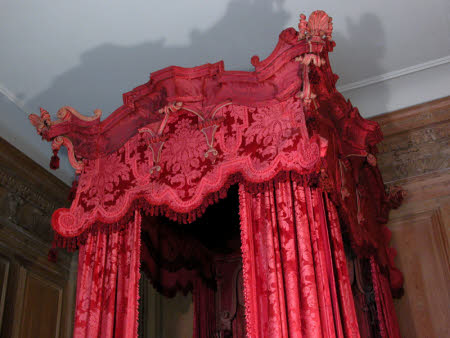 Category
Furniture
Date
circa 1710
Materials
Oak, deal, textile
Measurements
427 cm (H); 153 cm (W); 203 cm (D)
Place of origin
London
Order this image
Collection
Beningbrough Hall, North Yorkshire (Accredited Museum)
NT 1190812.1
Summary
A State tester bedstead, constructed from oak and deal and upholstered in crimson silk damask, attributed to Francis Lapiere (fl.1653-1714) London, circa 1710. The massive canopy with elaborately moulded and shaped cornice framing a domed interior with tapering bracketed angles and with double scalloped pelmets. The back with moulded and bracketed pilasters joining the headboard of twin arched and scrolled outline centred by a Viscounts coronet (possibly that of James Scudamore, 3rd Viscount Scudamore 1684–1716). The foot posts raised on square section plinths.
Full description
The inspiration for state beds of this period is often attributed to Daniel Marot (1661-1752), whose published designs are certainly the most numerous and complete expressions of the style. The profile of the cornice with its prominent corners is repeated in a more emphatic manner on other examples, such as those made for the Duke of Devonshire and the Earl of Melville in the 1690s. Both these beds are attributed to Francis Lapiere but Marot's contribution to the design is unclear. The designs appear in Marot's engravings post 1712 and demonstrate only that that he was aware of and approved of the designs but there is no evidence to suggest that the designs are his own. Marot was however instrumental in promoting such beds in Holland where they remained popular throughout the first half of the 18th century. A similar, although somewhat more elaborate State Bed was supplied to William Blathwayt at Dyrham Park sometime after 1703, it does nor appear in the 1703 inventory but is included in 1710. It is thought that Blathwayt ordered the bed in anticipation of a possible visit from Queen Anne in 1703, when she was expected in Bath but this did not happen. This 'the best bed' was intended as the principle element in a luxurious suite of furniture for the 'best bedchamber above stairs' in the state apartment on the first floor of the East Wing. The set comprised: door curtains and valence, window valences and a suite of seat furniture with six chairs and four stools all matching the bed hangings. The window curtains were of yellow silk damask and the walls were covered in tapestry. Another state bed in the National Trust's collection is at Belton House, Lincolnshire, it is unclear how it arrived there as it is not identifiable in either the 1737 or 1754 house inventories but we do know that it was re-upholstered in 1813 and was most likely hung with crimson silk which Tyrconnel seemed to favour. Lord Brownlow, later the 1st Earl (1779-1853), was responsible for the re-upholstery in blue damask and employed William Stephens of 217 Piccadilly, London to carry out the work. An extensive bill survives describing the process and the materials used [Lincoln RO ref. BNLW2/2/1/19]. For a near identical bed at Beningbrough see: NT 1190874. (James Weedon, November 2019)
Provenance
Believed to be originally from Holme Lacey, the family home of the Scudamores (the Earls of Chesterfield) near Hereford. The contents of the house were sold through auction by the 10th Earl in 1910, with some items apparently bought by Lady Chesterfield's mother in 1917. Lady Chesterfield purchased Beningbrough Hall and furnished it with items, including some that appear to have previously been at Holme Lacey. After Lady Chesterfield's death, the bed (and matching window curtains) were amongst a number of items purchased from the 1958 auction for transfer to the National Trust along with the house (accepted in lieu) by the Ministry of Works.
Makers and roles
attributed to Francis Lapiere (fl. 1683 - 1714), maker
References
Bowett 2002 Adam Bowett, English Furniture 1660-1714, 2002 , pg.186 Thornton, 1978: Peter Thornton, 17th century Interior Decoration in England, France and Holland, New Haven and London, 1978 Edwards, Ralph, 1894-1977 shorter dictionary of English furniture : 1964.
View more details