Chest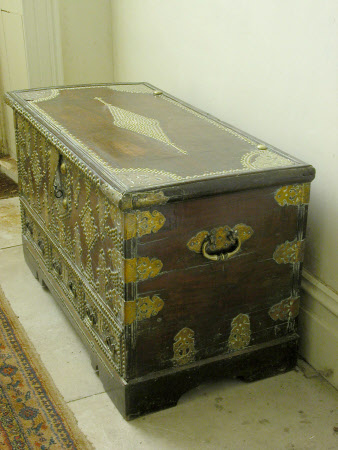 Category
Furniture
Date
circa 1850 - 1920
Materials
Teak, brass
Measurements
63 x 104 x 54 cm
Place of origin
Persian Gulf Region
Order this image
Collection
Greenway, Devon (Accredited Museum)
NT 118611
Summary
A teak and brass chest with drawers, or mule chest, Persian Gulf region, possibly Oman, late 19th/early 20th century. Applied throughout with decorative cut and engraved brass plaques and clasps and areas of decoration formed from dome-headed brass studs. With hinged lid above three drawers, and on a shaped bracket plinth.
Full description
Chests like this were made in many countries bordering the Indian Ocean and the Persian Gulf in the 18th, 19th and 20th centuries. They are still being made today. Extremely popular with European visitors to East Africa in the early 20th century, merchants collected chests from around the Persian Gulf and Oman and took them to the city of Zanzibar on Unguja, an island on the Zanzibar Archipelago off the coast of Tanzania, where they were sold in the Customs market. They were, and still are, colloquially called 'Zanzibar' chests. Made in many different countries, often with materials grown or worked in India, and clearly influenced in their metalwork and form (i.e. with drawers) by Dutch and Portuguese colonial activity, their history is complex and their precise origins in many cases are unknown. This chest is of a type designated as 'Shirazi' by Sheila Unwin (The Arab Chest) and was possibly made in Oman. The Shirazi, or Mbwera, are an ethnically and culturally Swahili (or Waswahili) group of the Southeastern coast of Africa and the nearby Indian Ocean islands. Agatha Christie, who travelled widely in Iraq, Egypt, Syria and Iran, is reputed to have featured this chest in a Hercule Poirot story, 'The Mystery of the Baghdad Chest', published in New York in 1939 as part of the short story collection 'The Regatta Mystery and Other Stories'. This was later expanded and reprised as 'The Mystery of the Spanish Chest' when it was published in 1960 in the short story collection 'The Adventures of the Christmas Pudding and a Selection of Entrees'. (Megan Wheeler, August 2020)
Provenance
Date of acquisition by Agatha Christie Mallowan (1890-1976) not recorded, but it is listed in an inventory taken just before the house was requisitioned by the American Navy in 1942. Exhibited in 2015-16 in the Investigating Agatha Christie exhibition at Pointe-à-Callière, Montreal Museum of Archaeology and History, Montreal, Canada.
References
Unwin, Sheila (2006), The Arab Chest
View more details