Still Life of Dead Game in a Landscape with Huntsman
Jan Weenix the younger (Amsterdam 1642 – Amsterdam 1719)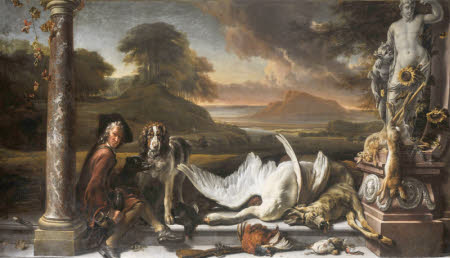 Category
Art / Oil paintings
Date
1642 - 1719
Materials
Oil on canvas
Measurements
2360 x 4620 mm
Place of origin
Netherlands
Order this image
Collection
Powis Castle and Garden, Powys (Accredited Museum)
NT 1181073
Caption
Jan Weenix was a Dutch artist, best known for his paintings of dead game and hunting scenes. This type of subject matter was extremely popular during the seventeenth and eighteenth centuries and 'game pieces', as they were often known, were staple features in British country houses at that time. In both its physical scale and pictorial complexity, this is perhaps one of Weenix's most ambitious works. It combines figure and animal studies with careful observations of flora and fauna, architectural features and a dramatic landscape; in doing so it showcases the impressive breadth of the his artistic talents. The painting was bought by Clive of India in 1771 for £315. Records indicate that it was purchased from a dealer named Greenwood who had imported it from Holland. The deal was engineered for Clive by the artist Benjamin West. It originally hung in Clive's London house, 45 Berkeley Square.
Summary
Oil painting on canvas, Still Life of Dead Game in a Landscape with Huntsman, by Jan Weenix (1642-1719). A huntsman is seated beside a pillar on the right with two dogs (a spaniel and a greyhound), the dead game is arranged to his left, including a swan, stag, hare, rabbit and game birds. The Statue of Apollo (?) and Pan in the left background is bedecked with sunflower heads. In narrow gilt frame.
Provenance
Bought in 1771 by Clive of India from a dealer named Greenwood who had imported it from Holland. Brought to Powis Castle from Walcot Hall in 1930. Accepted by HM Treasury on 21st March, 1963 in lieu of tax and conveyed to National Trust ownership in 1992.
Credit line
Powis Castle, The Powis Collection (National Trust)
Makers and roles
Jan Weenix the younger (Amsterdam 1642 – Amsterdam 1719), artist
View more details