'The Powis Silvered Seat Furniture'
possibly John Belchier (fl. 1717-53)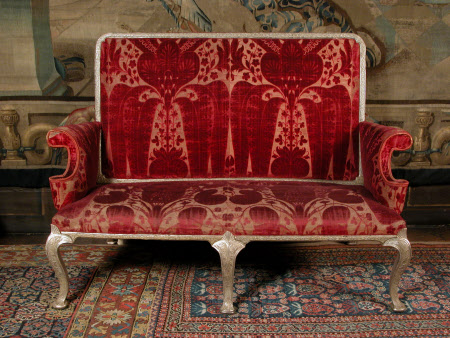 Category
Furniture
Date
circa 1725
Materials
Silvered beechwood, textile
Measurements
108 cm (H); 145.5 cm (W); 73 cm (D)
Place of origin
London
Order this image
Collection
Powis Castle and Garden, Powys (Accredited Museum)
NT 1181056.1
Caption
This elegant sofa is from a suite of George I furniture that would have represented the height of fashionability when it was made in the 1720s. The design with its comfortable upholstered seat, curving arms and cabriole legs is sometimes erroneously referred to as 'Queen Anne' style but first came into fashion after the end of Anne's reign, following the accession of the Hanoverians in 1714. The cut-velvet upholstery was made in Spitalfields, East London by Huguenots (French Protestants) many of whom were highly skilled weavers. Driven out of Catholic France by religious persecution, they took refuge in England in large numbers from 1681 after Charles II offered them sanctuary. The Hugeunots helped to revitalise the English silk industry, manufacturing large quantities of fine textiles, especially silks, brocades and velvets, all of which previously had to be procured from across the channel. Luxurious velvets like this, sometimes referred to as Genoa velvets after the city where they were first produced, required immense skill and took hundreds of hours to weave. The cut and uncut velvet pile woven in these floral, symmetrical scrolls was designed to catch light from different angles. Today, it retains its look of sumptuous luxury almost 300 years after it was first made.
Summary
A silvered beechwood sofa from a set of eight pieces of silvered beechwood seat furniture, possibly by John Belchier, London, circa 1725. All upholstered in original crimson Spitalfields silk velvet. The sofa with a framed rectangular back and C scrolled arms, the overstuffed seat raised on cabriole legs carved with floral scroll decoration and surmounted with crests, the seat rails with narrow applied fascias.
Full description
The Powis seat furniture relates to chairs and a sofa (NT 1146958) supplied circa 1720-26 for Erddig, North Wales, and attributed to John Belchier of St. Pauls Churchyard (d. 1753) (see P. Macquoid and R. Edwards, The Dictionary of English Furniture, London, rev. ed, 1954, vol. I, p. 261, fig. 106). They are upholstered in identical silk velvet and were almost certainly acquired by John Meller (d. 1733) and listed in the 1726 inventory as in the Withdrawing Room at Erddig; noticed by John Loveday (1711 - 1789) when he visited in 1732. Given the proximity of Erddig to Powis Castle, the identical silk and the unusual use of applied fascias to the seat rails it is quite likely that both sets are from the same workshop. (James Weedon, March 2019)
Provenance
Part of the indigenous collection of Powis Castle accepted in part satisfaction of the Estate duty after the death of the Right Honourable George Charles, 4th Earl of Powis, on 9th November 1952. The contract of the 'Offer of Property in Satisfaction of Estate Duty under the National Land Fund Scheme' was completed on 21st March 1963. Conveyed to National Trust ownership in 1992.
Makers and roles
possibly John Belchier (fl. 1717-53), furniture designer and maker
References
Beard, 1997: Geoffrey Beard. Upholsterers and interior furnishing in England, 1530-1840. Bard studies in the decorative arts. New Haven; London: Yale University Press, 1997., Illustrated and discussed pp. 178 - 9; Figure 160 Bowett 2009, Early Georgian Furniture 1715 - 1740 (2009), Illustrated and discussed pp. 166, Plate 4:42 - 4:43 Cornforth, 2004: John Cornforth, Early Georgian interiors. New Haven: Published by the Paul Mellon Centre for Studies in British Art by Yale University Press, 2004., p. 281
View more details