Cat and Snake
Roman, 1st century BC - 2nd century AD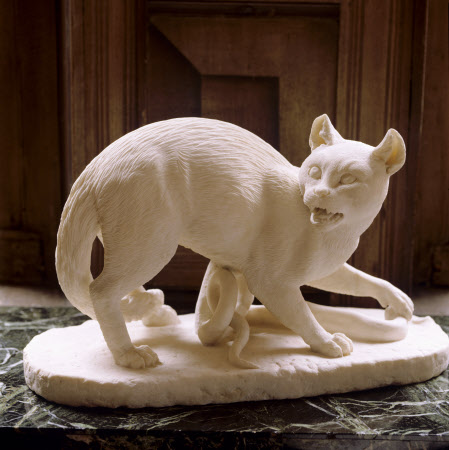 Caption
Feline representations are rare in Roman art, making this object of a cat clawing a snake unique amongst surviving classical sculpture. It probably dates from the 1st century BC and is the only recorded example of its kind. The carving itself displays virtuosic skill, worked from marble quarried on the Greek island of Thasos. Distinctive large crystals, embedded in the rock, give the marble a reflective quality but make it incredibly difficult to sculpt. This sculpture was acquired in Italy by Robert Clive, 1st Baron Clive, for his wife, Margaret, who was very fond of cats. Writing to her in 1774, he mentions his delight at coming across such an unusual and 'exquisitely fine' object. He fears that 'this delightful cat is out of reach of Money' but he would acquire it 'Coute qui coute' [whatever the cost], although what extravagant sum he eventually parted with is not recorded.
Summary
Thasos marble sculpture, Cat and Snake, Roman, 1st century BC - 2nd century AD. A marble group of a cat and a snake, Roman 1st century BC - 2nd century AD, probably derived from a lost Greek original. Made from the crystalline marble of Thasos. Some 18th century restoration, repatinated, old repair (dissolved) renewed traditionally by Cliveden C.W, 1999.
Provenance
A letter written 13th March 1774, in the archives, describes Lord Clive commissioning his agent to buy the cat for his wife after seeing it in Rome. According to family records the sculpture was imported from Iivita Necchiia (Civitavecchia, Rome) at the charge of 109 Crowns 66 Bks. It was accepted by HM Treasury on 21st March, 1963 in lieu of tax and conveyed to National Trust ownership on 29th November 1963.
Credit line
Powis Castle, The Clive Collection (National Trust)
Makers and roles
Roman, 1st century BC - 2nd century AD, sculptor
Exhibition history
The Treasure Houses of Britain, National Gallery of Art, Washington, USA, 1985 - 1986, no.224 Souvenirs of the Grand Tour, Wildenstein, London, 1982, no.66
References
Sutton 1984, Denys Sutton, "The Lure of the Antique", Apollo, May 1984, 312 - 321
View more details