A cat attacking a snake
Roman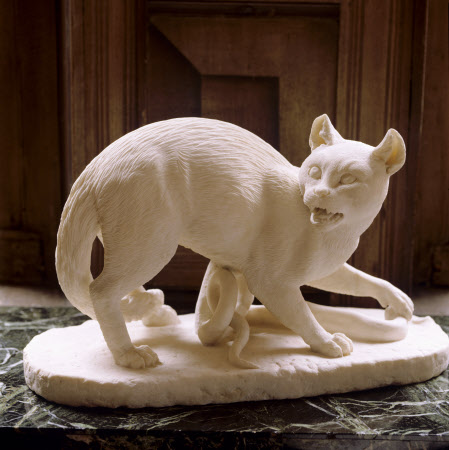 Category
Art / Sculpture
Date
1 AD - 200 AD
Materials
Marble
Measurements
376 mm (Height)
Place of origin
Rome
Order this image
Collection
Powis Castle and Garden, Powys (Accredited Museum)
NT 1180982
Caption
Feline representations are rare in Roman art, making this object of a cat clawing a snake unique amongst surviving classical sculpture. It probably dates from the 1st century BC and is the only recorded example of its kind. The carving itself displays virtuosic skill, worked from marble quarried on the Greek island of Thasos. Distinctive large crystals, embedded in the rock, give the marble a reflective quality but make it incredibly difficult to sculpt. This sculpture was acquired in Italy by Lord Clive for his wife who was very fond of cats. Writing in 1774, he mentions his delight at coming across such an unusual and 'exquisitely fine' object. He fears that 'this delightful cat is out of reach of Money' but he would acquire it 'Coute qui coute' [whatever the cost].
Summary
Marble, a cat attacking a snake, Roman, 1st or 2nd century (1–200) A.D., with later restorations. A marble sculpture of a fierce cat struggling with a snake. The cat, which has rough fur and a heavy thick tail, crouches slightly, its front left paw resting on the neck of the snake, whilst it turns its head to the right and seems to snarl at an intruder. The cat appears to be Roman, probably with some eighteenth-century restorations. There are breaks in all four legs; the cat's tail and the body of the snake were restored in the early 1980s and again in 1999. The left ear is a replacement. The marble has been described as Thasian marble, quarried on the Greek island of Thasos, and famed in Roman times for its sparkling crystalline quality and the hardness of the stone.
Full description
This remarkable sculpture is likely to be an extremely rare representation of a cat in Roman art. The paucity of feline representations has led to occasional suggestions that it is in fact a much later work, probably made in the eighteenth century in Rome. The arguments for these doubts are based on the rarity of depictions of cats in Roman art, the lack of evidence for domesticated cats in Pompeii and Herculaneum and, crucially, what might be regarded as the sculpture's suspiciously complete state. These questions are discussed in the entry that follows. Because this well-preserved sculpture is all but unique, it is impossible to say with certainty whether the Powis cat is a genuine Roman antiquity, or an eighteenth-century piece. However, in the current state of knowledge, it is more probable that it is indeed Roman, albeit probably with some later restorations. The cat is the most important in the small group of Roman sculptures acquired by Robert Clive, 1st Baron Clive, for his new house at Claremont, for which in the final years of his life he busily assembled collections, of paintings, sculpture and furniture (for Clive's collecting for Claremont, see Rowell 2001). Clive made his Grand Tour of Italy at the very end of his life. He is recorded in Italy between 1773 and 1774, travelling to Geneva (September 1773), Milan (December), Florence (January 1774), Rome, Naples (January-February), Rome (February-March), Bologna, Venice and, once again, Geneva. He was back in England on 16 May 1774. Whilst he was in Rome, Clive bought antique sculpture from the painter-dealer Gavin Hamilton, including the Boy with a Dove (NT 1180980) and the figure of Demeter upon a funerary altar (NT 1181076), both still at Powis Castle. The latter was sent by Hamilton to England in May 1774, so long after Clive had left Rome. The first mention of the cat comes in a letter that Clive wrote to his wife Margaret from Rome, on 26 February 1774: 'We have seen fine Churches, Statues and Pictures without Number and among other Curiosities, would you believe it an antique Cat. By the Stile I should imagine it to be the work of some Grecian Artist for it is so exquisitely fine that no Roman Statuary seems equal to such a Performance. You may imagine perhaps that I attempted to purchase it, I certainly did and can assure you I was very lavish in my Offers for your sake, but alas I fear this delightful Cat is out of the reach of Money, however do not despair and if I cannot succeed whilst I am here I will leave orders with my Agent to purchase the Cat if ever it is to be disposed of Coute qui coute.' (Robert Clive archive, National Library of Wales). Evidently Clive succeeded in persuading the unknown vendor to part with the sculpture, since it is recorded as being shipped from Civitavecchia, the main port for the city of Rome. The cat is thought to have been acquired with a particular view to pleasing Margaret, said to have been especially fond of cats. Rather surprisingly, domesticated cats were rare in the Roman world; it has often been remarked that, although the excavations at Pompeii and Herculaneum have revealed evidence of almost the whole range of domestic animals, not a single corpse of a cat has yet been recorded from either site. Cats were generally known in the Roman world as exotic animals from Africa, in particular Egypt, where they were worshipped and deified, notably in the form of the goddess Bastet (see the bronze statuette of Bastet at Anglesey Abbey, NT 5149800). However, despite the lack of evidence from Pompeii, they clearly did exist in both Greece and Rome. Small domesticated cats appear in Greek art made in southern Italy from the fifth and fourth centuries BC, whilst alongside purely Egyptian representations, depictions of cats in a Hellenistic style were made in Egypt, for example a series from Naukratis, dating c. 332-200 BC, in the British Museum. The Nauktratis animals include felines catching birds or in a more general position of attack, demonstrating the longevity of this type of iconography. Whilst not common, domesticated cats clearly also existed in Roman Italy (Toynbee 1973, pp. 87-90). The writer Pliny in his Natural History described the behaviour of cats, observing how they stalk mice and birds and then bury their droppings, to reduce the risk of giving away their presence (Natural History, X, 94 (202)). A 2nd-century AD tombstone found in Rome, but now in Palermo, erected by a Calpurnia Felicla for her husband, Germullus and for herself, has on the front below the inscription a relief of a stocky cat with its ears pricked, clearly alluding to the name (Felicla = 'Kitty') of its dedicator (Keller 1909, I, pp. 75-76, fig. 23). The fierce animal depicted in the Powis Castle sculpture is however more likely to be a wild cat than a domestic animal. A mosaic from Pompeii shows a very similar animal mauling a partridge (De Caro 1999, pp.70-72, inv. 9993). Some useful parallels for the Powis cat may also be found in the most significant group of Roman and post-Roman animal sculptures, the Sala degli Animali (Hall of Animals) in the Museo Pio-Clementino in the Vatican, Rome. This remarkable collection of nearly 180 sculptures, all depicting animals or compositions including animals, was formed by Popes Clement XIV and Pius VI, mainly from the 1770s onwards. Pius VI (1717-99, reigned 1775-1799) in particular acquired the vast majority of the animal sculptures now displayed in the Sala degli Animali in the years following his election in 1775, therefore just after the Powis cat had been admired by Clive and had left Rome for England. The sculptures of the Sala degli Animali are mixed in quality. They include over-restored pieces and some modern pastiches. However, the majority are Roman, many coming from recent excavations, including those at the Emperor Hadrian's Villa in Tivoli outside Rome, where many sculptures of animals were discovered in the former grounds. It is possible with this collection to understand relatively well what restorations have been undertaken, since these are mostly well-documented. The collection in the Sala degli Animali includes two sculptures of cats, one a heavily restored piece, which nevertheless shows the cat turning its head and looking back to its right, in much the same pose as the Powis cat (Spinola 1996, p. 129, no. 11; González-Palacios 2013. p. 191, no. 11). The second sculpture is a much fiercer feline mauling a chicken, acquired in 1772 and then restored by the sculptor Gaspare Sibilla (Spinola 1996, pp. 127-28, no. 9; González-Palacios 2013, p. 190, no. 9). The Powis cat is in very much better condition than either of the two cat sculptures in the Sala degli Animali. However, well-preserved and naturalistically-modelled Roman sculptures of animals do survive, including a pair of beautiful male and female peacocks found by Gavin Hamilton in 1769, during his excavations of Hadrian's Villa (Spinola 1996, pp. 140 and 142-43, nos. 49 and 56; González-Palacios 2013, pp. 107-09, 214 and 218, nos. 49 and 56), or two pairs of hounds, also excavated by Hamilton, this time in the early 1770s at Monte Cagnolino, now divided between the Vatican Museums and the British Museum (Spinola 1996, no. 158; González-Palacios 2003, pp. 167, 283-84, no. 158; British Museum, inv. GR 1805,0703.8). Another famous well-preserved animal sculpture is the so-called Jennings Dog, also in the British Museum (inv. GR 2001,1010.1). Some animal sculptures, for example the two pairs of hounds, are on integral bases not dissimilar to the base of the cat. In conclusion, domesticated cats were to be found in ancient Greece and Rome and, although rare, they may be found in Roman art, notably the mosaic from Pompeii, but also the two cat sculptures in the Sala degli Animali of the Vatican. The Powis sculpture in fact seems more likely to depict a wild cat than a domestic animal. It finds a number of resonances in the animal sculptures in the Sala degli Animali, which include other sculptures of cats but also other well-preserved and highly naturalistic Roman carvings of animals. Whilst the remarkable fur of the cat may have been 'refreshed' by an eighteenth-century restorer, overall the Powis cat seems likely to be a Roman sculpture of exceptional rarity and quality, and to justify the praise that Robert Clive heaped on it. Jeremy Warren 2020
Provenance
Acquired by Robert Clive, 1st Baron Clive (1725-1774) in 1774 in Rome, or following his visit via his agent in Rome (109 crowns 66 bks); thence by descent; accepted by HM Treasury in lieu of tax on 21 March 1963 and conveyed to National Trust ownership on 29 November 1963.
Credit line
Powis Castle, The Clive Collection (National Trust)
Makers and roles
Roman, sculptor
Exhibition history
The Treasure Houses of Britain, National Gallery of Art, Washington, USA, 1985 - 1986, no.224 Souvenirs of the Grand Tour, Wildenstein, London, 1982, no.66
References
Sutton 1982: Denys Sutton (ed.), Souvenirs of the Grand Tour. A Loan exhibition from National Trust Collections in Aid of the Trust's Conservation Fund, exh. cat., Wildenstein & Co. Ltd., London 1982, pp. 13, 33, no. 66, fig. 61. Sutton 1984: Denys Sutton, 'The Lure of the Antique', Apollo, May 1984, pp. 312 - 321, pp. 319-20, fig. 18. Jackson-Stops 1985: Gervase Jackson-Stops (ed.), The Treasure Houses of Britain: five hundred years of private patronage and art collecting, exh. cat. The National Gallery of Art, Washington, New Haven and London 1985, p. 300, no. 224. Rowell 2001: Christopher Rowell, '"That delightful and magnificent villa": Clive of India's Claremont and its collections', Apollo, April 2001, pp. 14-22, p. 20. Toynbee 1973: J.M.C. Toynbee, Animals in Roman Life and Art, London 1973, pp. 87-90. Keller 1909: Otto Keller, Die Antike Tierwelt, 2 vols., Leipzig 1909, pp. 75-76, fig. 23. De Caro 1999: Stefano De Caro, Museo Archeologico Nazionale di Napoli. Guida alle collezioni, Naples 1999, pp.70-72, inv. 9993. Spinola 1996: Giandomenico Spinola, Il Museo Pio-Clementino. I. Il Settore Orientale del Belvedere, il Cortile Ottagono e la Sala degli Animali, Città del Vaticano 1996 González-Palacios 2013: Alvar González-Palacios, Il Serraglio di Pietra. La Sala degli Animali in Vaticano, Città del Vaticano 2013
View more details