1st Earl of Powis with his Family
British (English) School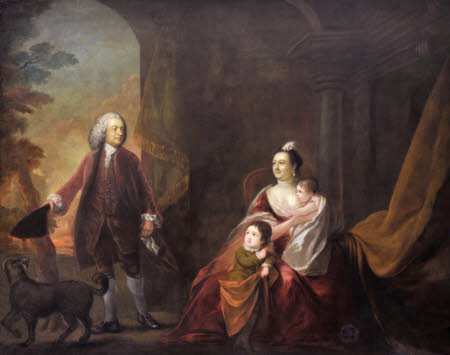 Category
Art / Oil paintings
Date
circa 1760
Materials
Oil on canvas
Measurements
2184 x 2642 mm (86 x 104 in)
Place of origin
England
Order this image
Collection
Powis Castle and Garden, Powys (Accredited Museum)
NT 1180951
Caption
In this family portrait, Henry Herbert is shown standing in a statesmanlike manner, accompanied by his dog in an outdoors setting, framed by a grand archway. His confident stance and grandiose gesture reflects his esteemed status as an influential figure in politics and royal administration. To the right of the composition, his wife Barbara assumes a motherly role: she sits within a magnificent interior and is accompanied by their two young children, George and Henrietta. This representation of husband and wife in contrasting roles resonates with contemporary portraits of King George III with his wife, Queen Charlotte, and their children.
Summary
Oil painting canvas, 1st Earl of Powis with his family, British (English) School, circa 1760. Henry Arthur Herbert, 1st Earl of Powis II (1703-1772) and his wife Barbara Herbert, Countess of Powis (1735-1786) and his children Lord George Edward Henry Arthur Herbert, later 2nd Earl of Powis II (1755-1801) and Lady Henrietta Antonia Herbert, later Countess of Powis (1758-1830). The 1st Earl of Powis standing to left his wife, Barbara, seated with George, afterwards 2nd and last Earl of the 2nd creation, and Henrietta, afterwards wife of 2nd Lord Clive. A conversation piece in a landscape with draped curtain right.
Provenance
Accepted by HM Treasury on 21st March, 1963 in lieu of tax and conveyed to National Trust ownership on 29th November 1963.
Credit line
Powis Castle, The Powis Collection (National Trust)
Makers and roles
British (English) School, artist
View more details