Sir Edward Herbert, 1st Baron Herbert of Cherbury (1581/2-1648)
after William Larkin (London c.1585 – London 1619)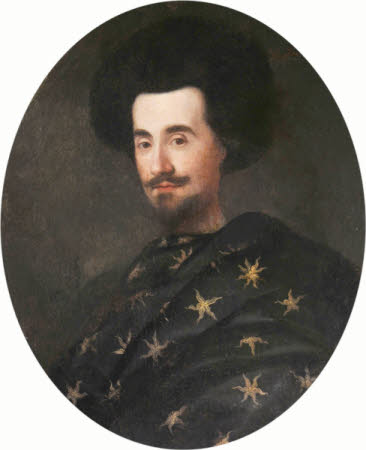 Caption
This portrait, which is thought to date from around 1800, is an altered copy of William Larkin's early seventeenth-century painting at Charlecote Park.
Summary
Oil painting on canvas, Sir Edward Herbert, later 1st Baron Herbert of Chirbury (1581/2-1648), after William Larkin (London c.1585 – London 1619), inscribed (top right), in yellow: NEC [?] strima [?] linea rerum, circa 1800. A head-and-shoulders portrait, bearded, wearing a dark coat with heraldic stars on his coat are the device of the Lords of Montgomery. The Powis picture is an inferior version of the portrait by Larkin at Charlecote Park, Warwickshire.
Provenance
Accepted by HM Treasury on 21st March, 1963 in lieu of tax and conveyed to National Trust ownership on 29th November 1963.
Credit line
Powis Castle, The Powis Collection (National Trust)
Marks and inscriptions
Verso: on back of lining canvas, in black: Edward / Lord Herbert / of Chirbury K B.; on r.h. panel of oval stretcher, the printed number: 425 Verso: exhibition label pasted on (printed label; handwritten parts are underlined): NATIONAL PORTRAIT EXHIBITION 1866. / number on Owner's list 1 / Portrait of Edward Lord Herbert / of Chicherbury [sic] / Lent by the Earl of Powis / Address Powis Castle Welshpool / [obscured by folded corner] …to be affixed to the back of the frame (not the canvas) of the portrait.
Makers and roles
after William Larkin (London c.1585 – London 1619), artist
References
Lees-Milne 1952 James Lees-Milne, 'Two Portraits at Charlecote Park by William Larkin', Burlington Magazine, XCIV, 1952, pp.352-56 Steegman 1957 John Steegman, A Survey of Portraits in Welsh Houses, Vol.I: North Wales, Cardiff, 1957, no. 5
View more details