Henry Herbert, later 4th Baron Herbert of Chirbury (1640-1691)
Gilbert Soest (Soest c.1605 – London 1681)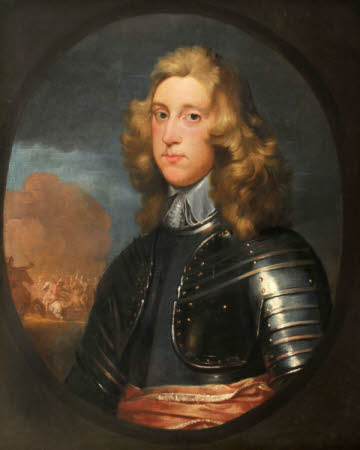 Caption
Henry Herbert, 4th Baron Herbert of Chirbury, was a participant in the Royalist rebellion of 1659, led by the Presbyterian George Booth. Later, in 1687, he served under the Duke of Monmouth and was a promoter of the Glorious Revolution. For his efforts, he was made Cofferer of the Household to William and Mary. His portrait, painted by the Dutch artist Gilbert Soest, depicts him in armour with a battle scene in the distance, alluding to his involvement in military affairs.
Summary
Oil painting on canvas, Henry Herbert, later 4th Baron Herbert of Chirbury (1640-1691) by Gilbert Soest (Soest c.1605 – London 1681), 1660s. A half-length portrait in armour with a red silk sash and a battle in the background.
Provenance
Accepted by HM Treasury on 21st March, 1963 in lieu of tax and conveyed to National Trust ownership on 29th November 1963.
Credit line
Powis Castle, The Powis Collection (National Trust)
Makers and roles
Gilbert Soest (Soest c.1605 – London 1681), artist
References
Steegman 1957 John Steegman, A Survey of Portraits in Welsh Houses, Vol.I: North Wales, Cardiff, 1957, no. 17 Chu 2018 John Chu, House of Portraits: Powis Castle, Swindon, 2018
View more details