Robert Sidney, 2nd Earl of Leicester, KG, KB (1595-1677)
manner of Sir Anthony Van Dyck (Antwerp 1599 - London 1641)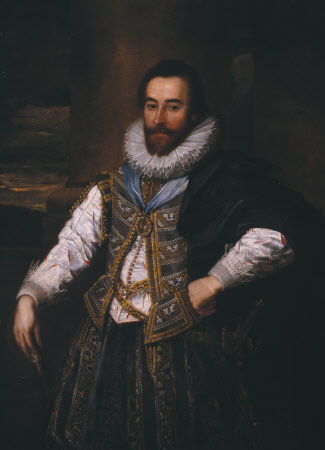 Caption
Robert Sidney was an English diplomat and politician who sat in the House of Commons between 1614 and 1625. He succeeded to the peerage as Earl of Leicester in 1626. During his retirement he lived at Penshurst in Kent, where he died at the age of 81. He was later noted in the Parliamentary History of Wales as being 'esteemed of great learning, observation and veracity'. X-rays reveal that at some point extensive changes were made to this painting. In particular, the sitter was previously shown holding a grey hat decorated with crimson feathers in his left hand. In addition, a coat of arms with a lion passant and the motto 'plus ultra' was previously in the top-right corner of the canvas. This may suggest, perhaps, that the canvas was originally intended for a different sitter.
Summary
Oil painting on canvas, Robert Sidney, 2nd Earl of Leicester, KG, KB (1595-1677), manner of Sir Anthony Van Dyck (Antwerp 1599 - London 1641). A three-quarter-length 'confected'/'composite' portrait, in embroidered costume and ruff, his right and resting on the top of his cane, his left hand on his hip. Kinsman of the Herbert's; Robert Sidney, 1st Earl of Leicester, was the brother of Sir Edward Herbert's sister-in-law, Mary, Countess of Pembroke, he lived in retirement at Penhurst in Kent and was related to two of van Dyck's sitters so it is possible that a lost Van Dyck was the original.
Provenance
Accepted by HM Treasury on 21st March, 1963 in lieu of tax and conveyed to National Trust ownership on 29th November 1963
Credit line
Powis Castle, The Powis Collection (National Trust)
Marks and inscriptions
Verso: on the lining canvas as [?reproducing an earlier inscription]: Earl of Leicester; and in much later lettering: ROBERT DUDLEY./EARL OF LEICESTER./.K.G.
Makers and roles
manner of Sir Anthony Van Dyck (Antwerp 1599 - London 1641), artist
References
Steegman 1957 John Steegman, A Survey of Portraits in Welsh Houses, Vol.I: North Wales, Cardiff, 1957, no. 9
View more details