Mary Preston, Marchioness/Duchess of Powis (d.1724) in Peeress's Robes
Michael Dahl (Stockholm 1656/9 – London 1743)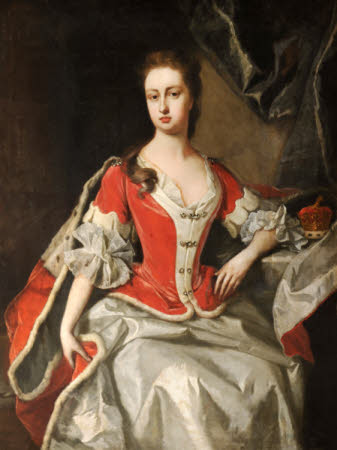 Category
Art / Oil paintings
Date
circa 1700 - circa 1710
Materials
Oil on canvas
Measurements
1270 x 1016 mm (50 x 40 in)
Place of origin
England
Order this image
Collection
Powis Castle and Garden, Powys (Accredited Museum)
NT 1180910
Caption
Mary Preston was the wife of William Herbert, 2nd Marquess of Powis. She is shown here wearing peeress's robes and sitting beside a table upon which a coronet is placed. Originally, this painting depicted Lady Rachel Noel, the first wife of the 2nd Duke of Beaufort. However, at some point, Lady Noel's face was cut out of the picture and replaced with a new piece of canvas on which Dahl painted Mary Preston's portrait. The reason for this re-use of the painting is not entirely clear, although it may have been as a result of the original sitter dying during childbirth in 1709, perhaps before her portrait was finished.
Summary
Oil painting on canvas, Mary Preston, Marchioness/Duchess of Powis (d.1724) in Peeress's Robes by Michael Dahl (Stockholm 1656 – London 1743), circa 1700 -10. The head cut out and replacing that of Lady Rachel Noel, 1st wife of the 2nd Duke of Beaufort. A three-quarter-length portrait, in red bodice and off -white dress, seated at a table, her left hand resting on the table, coronet on the table.
Provenance
Accepted by HM Treasury on 21st March, 1963 in lieu of tax and conveyed to National Trust ownership on 29th November 1963. Recorded at Powis Castle in Montgomery Collections Vol VI P.148 in 1873.
Credit line
Powis Castle, The Powis Collection (National Trust)
Makers and roles
Michael Dahl (Stockholm 1656/9 – London 1743), artist
References
"Portraits connected with Montgomeryshire - at Powis Castle, Walcot, Oakly Park .....", Montgomeryshire Collections, 1873, vol. VI, p.148 Nisser 1927 Wilhelm Nisser, Michael Dahl and the Contemporary Swedish School of Painting in England, Uppsala, 1927, p. 71, No. 124b Steegman 1957 John Steegman, A Survey of Portraits in Welsh Houses, Vol.I: North Wales, Cardiff, 1957, No. 32
View more details