Lady Elizabeth Herbert (née Somerset), Countess of Powis, later Marchioness and (titular) Duchess of Powis (1633/4-1691)
John Michael Wright (London 1617 - London 1694)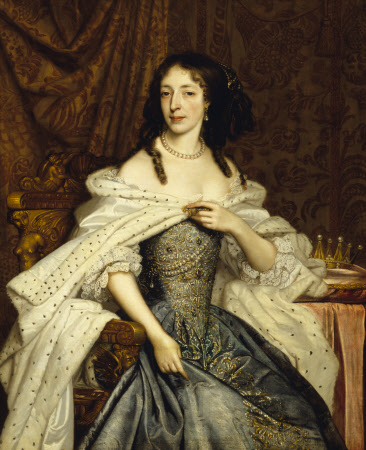 Caption
Elizabeth Somerset was the younger daughter of the 2nd Marquess of Worcester, and in 1654 married William Herbert, Lord Powis, later Marquess, Earl and (titular) Duke of Powis. The coronet on the table beside her alludes to her newly acquired status as a Countess. The artist, John Michael Wright, was born in London in 1617, though fled to the Continent during the civil war years. After working in Rome, and subsequently the Netherlands, he returned to London in 1656. Following the Restoration in 1660 he painted various members of the royal family and in 1673 was appointed 'Picture Drawer' to Charles II.
Summary
Oil painting on canvas, Lady Elizabeth Herbert (née Somerset), Countess of Powis, later Marchioness and (titular) Duchess of Powis (c.1633-1691) by John Michael Wright (London 1617 - London 1694), circa 1674. A three-quarter-length portrait, in a blue and gold decollette dress, her left hand holding her robe at her breast; wearing a pearl necklace, two ringlets of hair over her shoulder, seated on a carved and gilt chair (the chair with caryatid arm support not unlike that of the chair in the portrait of the 6th Duke of Norfolk, POW.P.61), almost facing, wearing a blue brocade dress and ermine cloak; a countess's coronet, (the form of coronets was only becoming standardised around this period (see POW.P.48, the putative portrait of the Viscount Montagu, with an even odder example). The crucial element in a comital coronet seems to have been - and to be - the raising of the pearls on points, or pyramids. Another countess's coronet of slightly eccentric form occurs in Wright's: called Eliz. Talbot, Css. of Kent (Arundel Castle) right, on the table on which her left elbow is resting. She was the daughter of 2nd Marquess of Worcester. Painted in or shortly after 1674, when she became Countess of Powis.
Provenance
Accepted by HM Treasury on 21st March, 1963 in lieu of tax and conveyed to National Trust ownership on 29th November 1963.
Credit line
Powis Castle, The Powis Collection (National Trust)
Makers and roles
John Michael Wright (London 1617 - London 1694)
References
Tayler 1939 Henrietta Tayler, Lady Nithsdale and her Family, London, 1939, p. 2, and pl. opp. Steegman 1957 John Steegman, A Survey of Portraits in Welsh Houses, Vol.I: North Wales, Cardiff, 1957, No. 27, Pl. 43c Treasures from the National Trust: An Exhibition of Items from National Trust Houses in Wales and the Borders (exh cat) Glynn Vivian Art Gallery, Swansea, 9 October - 6 November 6th, 1971 Painted Ladies: Women at the Court of Charles II (exh cat) National Portrait Gallery, London, 11 October 2001 - 6 January 2002, Yale Centre for British Art, New Haven, USA, 25 January - 17 March, 2002, pp. 90-1 Chu 2018 John Chu, House of Portraits: Powis Castle, Swindon, 2018, pp. 30-1
View more details