Vishnu
Indian (South India - Tamilnadu) School, c.1800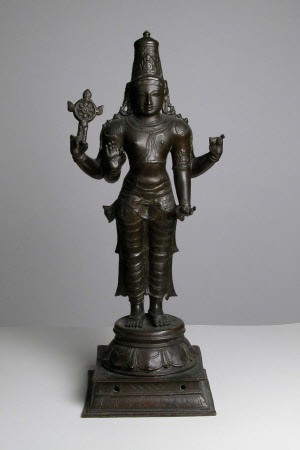 Summary
Bronze, Vishnu with his consorts, South India (Tamilnadu), c.1800. A bronze figure of Vishnu with four arms, holding in his rear upper right hand the Sudarshana Chakra, a discus-like weapon which symbolises the wheel of time and Vishnu's destructive energy. The lower right hand is in the Abhayamudrā, a gesture of reassurance and safety. The rear upper left hand once held a conch shell called a Shankha which has broken off; the conch's spiraling structure symbolises the cyclic, interconnected patterns of life. The lower left hand is positioned with the palm facing horizontally downwards as though supporting a Gada or mace (not depicted). Vishnu stands on a bronze Padma or lotus, a symbol of divine beauty and purity. The lotus pedestal has holes at the base for securing and transporting a processional chariot and Vishnu's consorts, Lakshmi and Bhūmi (or Bhudevi); see NT 1180625 and 1180626.
Full description
The use of copper or bronze as a medium for casting scared images in India dates back to pre-historic times and local traditions of such image-making developed in all parts of the subcontinent. Undoubtedly the most celebrated of all these regional schools was that which flourished under the distinguished Chola dynasty (c.850-1267), whose capital in the Tamil country of South India was at Tanjore (Thanjavur) south of Madras. In temples, the main focus of worship is the presiding deity, normally installed as a fixed stone image in the sanctum. The larger bronze images (such as this example) are made for use in festivals so that they can be taken out in religious processions on temple chariots, clothed, bejeweled and garlanded. The bronzes are also associated with the main image in the shrine during daily devotions. It is not known how the Powis bronzes came into the possession of the Clive family but there seems to be little doubt that they were collected by, or indeed commissioned for, the 2nd Lord Clive (1754-1839) and his wife Henrietta (1758-1830) during their residence in Madras. The entry 'Indian gods 13' in the 1801 list of Lady Clive's possessions may refer to part of the collection of South Indian bronzes at Powis. Although there is no reference in the Clive papers to the purchase of bronzes, Lady Clive admired the carving of the Hindu temples on her tour of South India in 1800. At Vellore, where the temple had been turned into a storehouse by the garrison, she wrote: '...the Sculpture is wonderfull for this Country the ornaments are worthy of anything we have seen in Rome I think and the work must have been infinite.' (Powis MSS). Text adapted from Robert Skelton, 'Sculpture', in Treasures from India, The Clive Collection at Powis Castle, London 1987, pp.112-17.
Provenance
Brought to Powis Castle from Walcot Hall in 1930. Accepted by HM Treasury on 21st March, 1963 in lieu of tax and conveyed to National Trust ownership on 29th November 1963.
Credit line
Powis Castle, The Clive Collection (National Trust)
Makers and roles
Indian (South India - Tamilnadu) School, c.1800, sculptor
References
Archer, Rowell and Skelton 1987: Mildred Archer, Christopher Rowell and Robert Skelton, Treasures from India, The Clive Collection at Powis Castle, London 1987, pp.112-17
View more details