Fire extinguisher grenade
Lewis and Sinclair Co Ltd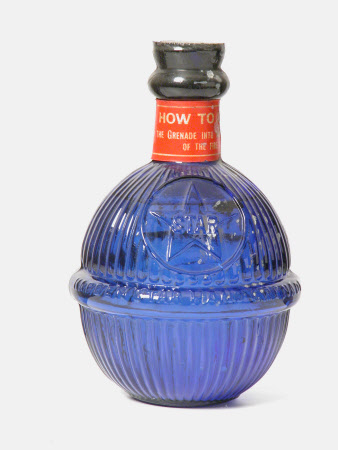 Caption
Fire was a fear in any home before emergency services were commonplace. Erddig had its fair share of minor fires, all extinguished safely by estate workers who would be summoned by the bell being rung in the central bell-tower. Simon Yorke III (1811-94) seems to have been particularly fearful of a fire at Erddig. He went to the extent of purchasing more than 50 of these H.D. Harden glass extinguisher bottles or 'grenades', filled with 72% water, 19% common salt and 9% ammonium chloride. Thrown into a small fire the idea was that the ammonium chloride heated to boiling point and produced fumes which 'blanketed' the fire, but in effect it was no more use than throwing a cupful of water at the flames. Placed at various locations throughout the house, they can still be seen today.
Summary
Fire extinguisher grenade - One of fifty-three 'Harden Star' ribbed blue glass fire grenades.
Provenance
Given by Phillip Yorke III (1905-1978) along with the estate, house and contents to the National Trust in 1973.
Makers and roles
Lewis and Sinclair Co Ltd, manufacturer
View more details