Mary Cavendish, Countess of Shrewsbury (1555-1632)
British (English) School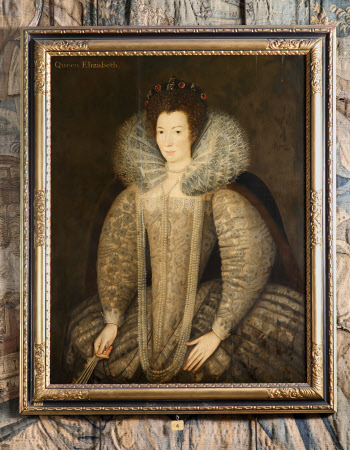 Category
Art / Oil paintings
Date
1500 - 1599
Materials
Oil on canvas
Measurements
1118 x 864 mm (44 x 34 in)
Place of origin
England
Order this image
Collection
Hardwick Hall, Derbyshire (Accredited Museum)
NT 1129098
Caption
Mary Cavendish was the daughter of Sir William Cavendish (1505?-1557) and Elizabeth Hardwick (1543?-1544). In 1568 she married Gilbert Talbot, 7th Earl of Shrewsbury (1552-1616). Mrs Jameson wrote in 1834 that "She resembled her mother in features as in character. The expression is determined, intelligent, and rather cunning. Of her haughty and almost fierce temper, a curious instance is recorded." She also records a quarrel with her neighbours, the Stanhopes, and not being able to defy them with sword and buckler, she sent one of her gentlemen with a message to be recounted: " …. you be more wretched, vile, and miserable than any creature living, and for your wickedness become more ugly in shape than the vilest toad in the world; she [Mary] be contented you could live, and doth noways wish your death, but to this end: that all the plagues and miseries that may befall any man, may light on such a caitiff as you are" !
Summary
Oil painting on canvas, Mary Cavendish, Countess of Shrewsbury (1555-1632), British (English) School, 16th century. Inscribed top left in 18th century script, in yellow: Queen Elizabeth. A three-quarter-length portrait of a young woman, almost facing, wearing a richly embroidered white dress, high white lace collar, long five row rope of pearls, a fan in her right hand. Wooden frame thickest at inner moulding which has floral scroll carving at corners and centre sides. Inside tongue and dart moulding, black line and beaded border at outer edge. Oil gilded frame.
Provenance
In Inventory of the contents of Hardwick Hall made in 1601 and attached to the will of Elizabeth Hardwick,Countess of Shrewsbury (c.1520-1608) and thence by descent until, following the death of Edward William Spencer Cavendish, 10th Duke of Devonshire (1895 - 1950), Hardwick Hall and its contents were accepted by HM Treasury in part payment of death duties and transferred to the National Trust, in 1959
Credit line
Hardwick Hall, The Devonshire Collection (acquired through the National Land Fund and transferred to The National Trust in 1959)
Marks and inscriptions
Recto: top left on panel in 18th century script- Queen Elizabeth Verso: Labels on back of panel: Woman's Exhibition W.Freeman and Son Ltd.
Makers and roles
British (English) School, artist previously catalogued as attributed to Federico Zuccaro (Sant'Angelo in Vado c.1541 – Ancona 1609) , artist previously catalogued as circle of George Gower (c.1540 – London 1596), artist previously catalogued as attributed to John de Critz the elder (Antwerp 1551/2 – London 1642), artist
References
Jameson 1834 Mrs Jameson, Visits and Sketches at Home and Abroad with Tales and Miscellanies now first collected, 2 vols, New York, 1834, p. 25 Laing 1989 Alastair Laing, "Rechristenings at Hardwick," Country Life, 9 March 1989, pp.134-5, illus fig.3 page 135
View more details