Top hat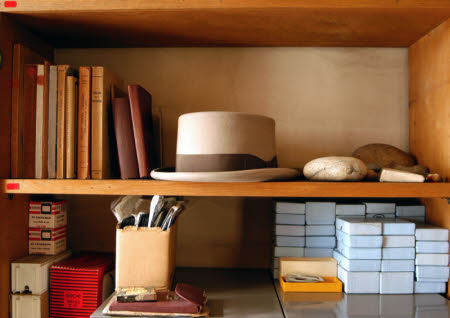 Category
Costume
Date
1900 - 1950
Materials
Felt Leather Ribbon
Measurements
138 x 257 x 306 mm
Order this image
Collection
2 Willow Road, London (Accredited Museum)
NT 112836
Caption
Symbolically displayed above Ernö Goldfinger's desk at 2 Willow Road, Hampstead is the hat of his architectural mentor Auguste Perret. It was Perret who introduced the Austro-Hungarian émigré architect to reinforced concrete. The material became synonymous with architectural Modernism across continental Europe in the 1920s and 30s and decades later in the Brutalist tower blocks Goldfinger designed in London. But 2 Willow Road is no high-rise hell. Very little concrete is exposed in this 2-story terraced house that Goldfinger built for himself and his family. Willow Road's unique and influential design, complete with purpose-built furniture and fittings, provides a glimpse of Modernist living amidst the migration of artistic souls from war-torn Europe to the particularly creative nest that was Hampstead at the time. Goldfinger was a notorious bully and given to fits of rage which prompted Ian Fleming to name James Bond's megalomaniac adversary after him in his 1959 novel and the film which followed. An incensed Goldfinger threatened to sue and Fleming retaliated by suggesting to his publishers that the name be changed to 'Goldprick'. They didn't oblige this request and in so doing, Goldfinger entered into cinematic folklore. He's now remembered as much as a fictitious villain as a visionary architect.
Summary
A gentleman's light grey felt top hat, once owned by Auguste Perret. With a slightly domed crown upon straight sides within a curled in rim. Decorated with a wide brown ribbon tied in a bow to one side and glued down. With a tan leather headband to the interior.
Provenance
Bequeathed to the National Trust by Ernö and Ursula Goldfinger, formally acquired in 1994.
Marks and inscriptions
Underside of crown.: In gold coloured script "MODÈLE DEPOSÉ" rest of the script largely worn off. With a further label reading "HORS CONCOURS".
View more details