Hardwick Hall's so-called 'Sea-Dog Table' - circa 1575
after Jacques Androuet du Cerceau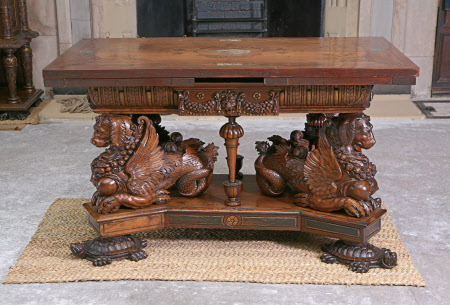 Category
Furniture
Date
circa 1570
Materials
Walnut, inlaid with various woods and marbles
Measurements
85 x 147 x 85 cm
Place of origin
Paris
Order this image
Collection
Hardwick Hall, Derbyshire (Accredited Museum)
NT 1127744
Caption
This elaborate table, supported by four finely carved winged dogs with fishes' tails, has been at Hardwick Hall since at least 1601.
Summary
A marble-inlaid walnut 'drawing table', or draw-leaf table, France, probably Paris, circa 1570, of extremely fine quality and one of the most important pieces of sixteenth century furniture to survive in England. It stood in the same room in which it is now displayed when Hardwick's inventory was taken in 1601. The rectangular top sits upon a pair of leaves designed to be drawn out at either end but which fit beneath it when the table is not extended. Albeit originally covered in costly needlework, all three pieces of the top are inlaid with different marbles; verde antico at the ends, cipollino mandolato to the long edges and fior di pesco to the leaves. The central irregularly-shaped marble inlay to the main board - probably breccia di Seravezza - has probably been modified. Also inlaid in various woods with flowers and fruits and arabesque marquetry. Beneath the top, a stop-fluted and stiff leaf-carved frieze is centred by a tablet carved with floral festoons and a lion mask. The base is formed from four recumbent mythical beasts resembling chimera but with hound-like heads, which were later described as the 'sea-dogs' from which the table's popular name derives. Evidence suggests that these dogs, and possibly other parts of the table, were originally gilt. The top supported by gadrooned and turned balusters (possibly modified) and a plinth upon which the sea-dogs rest, with panels of black and gold paint scumbled to simulate marble within gilt borders. The feet, which are probably replacements, take the form of sea turtles. A central support is possibly missing, or may have been re-sited.
Full description
Attributed to France on the basis of its marble inlay, a feature of fashionable French furniture of the late 16th century, inspired by Roman and Florentine examples. A table of this type - with leaves designed to 'draw' at either end - is depicted in the designs of Jacques I Androuet du Cerceau (1510 - 1584) who worked in Orleans and Paris. A design of his, circa 1565 - 70, shows three variant sea-dogs; the central example is clearly the model for this table's supports. Hughes Sambin (1520 - 1601) used a tortoise as the base for two terms in a collection printed in 1572. It is known that Bess had 'bedsteads, tables, cupboards, stools etc., varnished like brass [presumably gilded]...bought in France' in her possession in 1586 (purchased by the Earl of Shrewsbury for £100) and the 1601 Hardwick inventory mentions a suite of stools - possibly originally en suite with this table - inlaid with marble and specifically calls them 'French'. In addition, Mary, Queen of Scots, the charge of the Earl of Shrewsbury between 1568 and 1584, is known to have sent one of her valets de chamber, Ange Marie, to France to secure furniture late in 1570, and in 1577 corresponded about procuring beds and candlesticks from Paris for Shrewsbury. Elizabeth I is shown enthroned on a chair with front legs very similar to the 'sea-dogs' in a drawing of 1575. This is the only piece of furniture at Hardwick which can unequivocally be identified with its description in the 1601 inventory. (Megan Wheeler, 2017)
Provenance
Recorded in the 1601 inventory of Hardwick Hall as in the 'with drawing Chamber' - 'a drawing table Carved and guilt standing upon, sea doges inlayde with marble stones and wood, a Carpet for it of nedleworke of the story of David and Saule with a gold fringe and trimmed with blewe taffetie sarcenet.' By descent until, following the death of Edward William Spencer Cavendish, 10th Duke of Devonshire (1895 - 1950), Hardwick Hall and its contents were accepted by HM Treasury in part payment of death duties and transferred to the National Trust, in 1959.
Makers and roles
after Jacques Androuet du Cerceau, designer
Exhibition history
Art at the Tudor Courts (working title), Metropolitan Museum of Art, New York, 2020 - 2021 Art at the Tudor Courts (working title), Cleveland Museum of Art, Cleveland, 2020 - 2021
References
Boynton and Thornton 1971 Lindsay Boynton and Peter Thornton, 'The Hardwick Inventories of 1601', Journal of the Furniture History Society, Vol.VII, 1971 , p. 27 and illustrated Plate 9b. Bostwick, 1995: David Bostwick. "The French walnut furniture at Hardwick Hall." Furniture History 31 (1995): pp.1-6. Strong 1973, Roy Strong, Portraits of Queen Elizabeth I (1973), p. 101 Jourdain 1927, Margaret Jourdain, 'French Renaissance Furniture at Hardwick Hall', Country Life, April 30th 1927, lv - lix. Jervis, Simon Swynfen, 'Furniture at Hardwick Hall - I' in Hardwick Hall: A Great Old Castle of Romance, eds., David Adshead and David Taylor (2016), 87 - 90
View more details