The so-called 'Sea-Dog Table'
after Jacques Androuet du Cerceau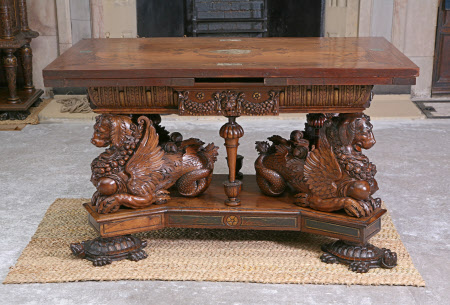 Caption
This elaborate table, supported by four finely carved winged dogs with fishes' tails, was one of the original acquisitions for Hardwick Hall made by Elizabeth, Countess of Shrewsbury.
Summary
A marble-inlaid walnut 'drawing table', or draw-leaf table, France, probably Paris, circa 1575, of extremely fine quality and one of the most important pieces of sixteenth century furniture to survive in England. It stood in the same room in which it is now displayed when Hardwick's inventory was taken in 1601. The rectangular top sits upon a pair of leaves designed to be drawn out at either end but which fit beneath it when the table is not extended. Albeit originally covered in costly needlework, all three pieces of the top are inlaid with different marbles (the central irregularly-shaped marble inlay to the top has probably been modified), and with flowers and fruits and arabesque marquetry. Beneath the top, a stop-fluted and stiff leaf-carved frieze is centred by a tablet carved with floral festoons and a lion mask. The base is formed from four recumbent mythical beasts resembling chimera but with hound-like heads, which were later described as the 'sea-dogs' from which the table's popular name derives. Evidence suggests that these dogs, and possibly other parts of the table, were originally gilt. The top supported by gadrooned and turned balusters (possibly modified) and a plinth upon which the sea-dogs rest. The feet, which are probably replacements, take the form of sea turtles. Attributed to France on the basis of its marble inlay, a feature of fashionable French furniture of the late 16th century, inspired by Roman and Florentine examples. A table of this type - with leaves designed to 'draw' at either end - is depicted in the designs of Jacques I Androuet du Cerceau (1510 - 1584) who worked in Orleans and Paris. A design of his, circa 1560, shows three variant sea-dogs; the central example is clearly the model for this table's supports. The 1601 Hardwick inventory mentions a suite of stools - possibly originally en suite with this table - inlaid with marble and specifically calls them 'French'. Possibly inspired by designs of Giorgio Vasari, in turn influenced by Flemish engravers Hieronymous Cock and Hans Vredeman de Vries. Elizabeth I is shown enthroned on a chair with front legs very similar to the 'sea-dogs' in a drawing of 1575, suggesting that this table may, sometime before it arrived at Hardwick, have a royal pedigree. It has been suggested that it may have been made for Mary, Queen of Scots, who is known to have ordered furniture from France in the 1570s. However, Lord Shrewsbury is also thought to have bought furniture in France for Chatsworth in the 1580s. The 1601 inventory also lists this table's 'carpet', or cover, in this case 'of the Storie of David and Saule with a gold fringe and trimmed with blue taffetie sarcenet.'
Provenance
Recorded in the 1601 inventory of Hardwick Hall as in the 'with drawing Chamber' - 'a drawing table Carved and guilt standing upon, sea doges inlayde with marble stones and wood, a Carpet for it of nedleworke of the story of David and Saule with a gold fringe and trimmed with blewe taffetie sarcenet.' By descent until, following the death of Edward William Spencer Cavendish, 10th Duke of Devonshire (1895 - 1950), Hardwick Hall and its contents were accepted by HM Treasury in part payment of death duties and transferred to the National Trust, in 1959.
Makers and roles
after Jacques Androuet du Cerceau, designer
References
Boynton and Thornton 1971 Lindsay Boynton and Peter Thornton, 'The Hardwick Inventories of 1601', Journal of the Furniture History Society, Vol.VII, 1971 , p. 27 and illustrated Plate 9b. Bostwick, 1995: David Bostwick. "The French walnut furniture at Hardwick Hall." Furniture History 31 (1995): pp.1-6. Strong 1973, Roy Strong, Portraits of Queen Elizabeth I (1973), p. 101 Jourdain 1927, Margaret Jourdain, 'French Renaissance Furniture at Hardwick Hall', Country Life, April 30th 1927, lv - lix.
View more details