The Peacock Dress
House of Worth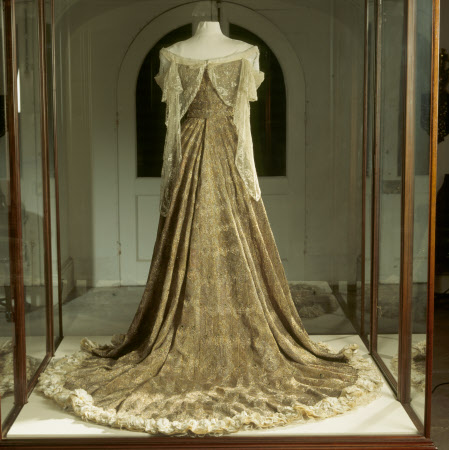 Caption
This dress, known as the Peacock Dress, was worn by Mary, Lady Curzon, at an extravagant ball held to celebrate Edward VII's coronation in Delhi. The celebration was known as the Delhi Durbar and was held on New Year's Day 1903. At the time, Lady Mary was the Vicereine of India and she and her husband are said to have arrived at the festivities atop elephants whose tusks were adorned with golden candelabras. The skirt of the Peacock Dress is made of champagne coloured silk taffeta and is lined with densely woven Indian cotton muslin. It is covered with embroidered peacock feathers, the 'eye' of each plume set with irridescent green beetle wings, giving the appearance of emeralds. The embroidery of the skirt section was carried out in India by professional gold thread embroiderers. Due to the ornate metal embroidery the dress weighs over 10 lbs (approximately 4.5 kg). The skirt panels were then sent to Paris and made up into a two-piece dress by the House of Worth. The bodice was embellished with lace and the trained skirt was trimmed with silk white roses. The finished dress was then sent back to India for the Durbar. Lady Curzon's peacock dress drew much attention from the world press. A guest at the ball remarked: 'You cannot conceive what a dream she looked'.
Summary
Gold and silk thread on a silk chiffon, The Peacock Dress, designed by House of Worth, 1900/02. Worn by Mary Victoria Leiter, Lady Curzon (1870-1906), Vicereine of India, at the Delhi Durbar in 1903.
Provenance
This Dress was accepted in lieu of inheritance tax by HM Government from the estate of the late Lady Alexandra Metcalfe and generously allocated to Kedleston for display in 1997.
Makers and roles
House of Worth , designer
View more details