The Peacock Dress
Unknown Indian embroiderers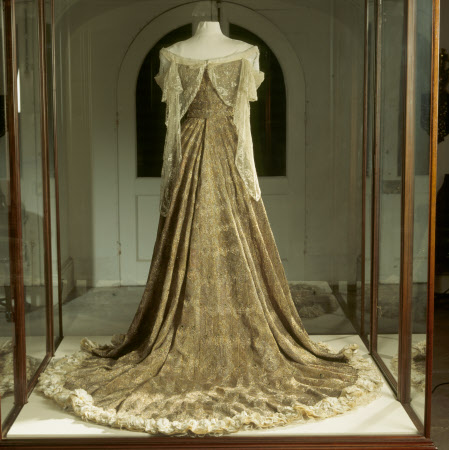 Category
Costume
Date
circa 1900 - circa 1902
Materials
Gold and silver Zardozi embroidery with applied green beetle wing covers (elytra) on silk taffeta; lining of Indian cotton muslin; lace net, rhinestones, white silk roses
Place of origin
India
Order this image
Collection
Kedleston Hall, Derbyshire (Accredited Museum)
NT 107881
Summary
Gold and silver Zardozi embroidery with applied green beetle wing covers (elytra) on silk taffeta; lining of Indian cotton muslin, The Peacock Dress, Unknown Indian textile manufacturers and embroiderers, House of Worth, Paris, c.1900–1902. A gown worn by Mary Victoria Leiter, Lady Curzon (1870-1906), Vicereine of India, at the Delhi Durbar in 1903. The design of the dress incorporates the motif of a peacock feather, symbolic in Indian culture and the Hindu religion, associated with Lord Krishna and the goddess Saraswati. The fabric was made in India and embroidered by unknown Indian craftsmen who incorporated iridescent green beetle wing covers to represent the eye of each peacock feather. The fabric was then sent to the House of Worth's atelier in Paris, where it was made into a gown of skirt and separate bodice, and where lace net and rhinestones were added to the neckline and white silk roses to the hem
Full description
Lady Mary Curzon became Vicereine of India upon on her husband's appointment as Viceroy in 1898. She recorded her experience of India in diaries and countless letters, a life revolving around a calendar of events staged to exult the British Empire and maintain its authority. Despite frequent ill-health, Lady Curzon was the public face of the Viceroyalty, and fashion played a central role in her own identity politics and performance of empire. The Peacock Dress, arguably one of the greatest examples of colonial 'power dressing', was worn by Lady Curzon at the 1903 Delhi Durbar Coronation Ball. The Ball was the pinnacle of two weeks of events marking the succession of Edward VII and Queen Alexandra as Emperor and Empress of India. It was held in the Diwan-I-Khas at the Red Fort, Delhi, the historic residence of the Mughal Emperors. Lady Curzon's dress deliberately referred to – or, as the historian Nicola J. Thomas writes, 'replaced' – the Peacock Throne which had originally stood in the Diwan-I-Khas (Thomas 2007, p. 392). This dazzling jewelled throne, now lost, was made for Shah Jahan in the early 17th century but was looted during the Persian invasion of Nader Shah in 1739. A replica throne was destroyed in 1857 when the British plundered the Red Fort and commandeered it as a garrison in India's First War of Independence. 'Wearing' the Peacock Throne in the very room it once stood - the site of a violent colonial suppression - Lady Curzon, Vicereine of India, became a living, breathing embodiment of British imperial supremacy. The gown was made of Zardozi embroidered fabric traditionally used for Mughal court garments. It appropriated the peacock image for its pattern, a symbol of great significance in Indian culture and the Hindu religion. The use of this motif would have been noted by all who saw it. The fabric, perhaps sourced by Lady Mary herself, was shipped to Paris to be made into a dress by the House of Worth. Mary was unusual in her choice to wear Indian textiles, and to have many of her clothes made up in India. This would not have gone unnoticed in the higher echelons of Indian society, among Maharajas and Maharanis at state functions. Other gowns worn by Lady Curzon in India are in the collection of the Fashion Museum, Bath. Alice Rylance-Watson 2020
Provenance
Commissioned by Lady Mary Curzon and by descent to her daughter Lady Alexandra Metcalfe; offered and accepted in lieu of inheritance tax by HM Government and generously allocated to Kedleston for display in 1997.
Makers and roles
Unknown Indian embroiderers, embroiderer Jean Philippe Worth, designer
References
Thomas 2007: Thomas, Nicola, J. Embodying imperial spectacle: dressing Lady Curzon, Vicereine of India 1899-1905, 'Cultural Geographies', Vol. 14, No. 3 (July 2007), pp. 369-400.
View more details