In 1766 or 1767, Chippendale made a wonderfully shaped, veneered and enriched clothes press for Sabine Winn. Described by Chippendale as 'of exceeding fine wood' and by commentators 200 years later as 'ravishing', it is set apart by its shape, its beautiful proportions and its wonderfully-figured veneers.
At £37, it was the most expensive press cupboard that Chippendale is known to have produced. The brass hinges for its doors, fitted after it had been transported to Nostell, were specially made and cost 6s each. [1]
Here, for the first time, its back is shown, bearing an exhibition label from the mid-20th century (Figure 2).  Splitting into two sections – the top is fixed to the base by screws through its baseboard – the back is completely lined in laid paper. The same paper was also used on the rear of the small cabinets which flank a 'secretary' (a bookcase atop a chest fitted with a writing drawer) also bought for Sabine Winn in 1766 and 1767 (Figure 3). The appearance of this lining paper on two pieces supplied in the same year suggests that it is probably original, although it is not found on any other pieces at Nostell Priory.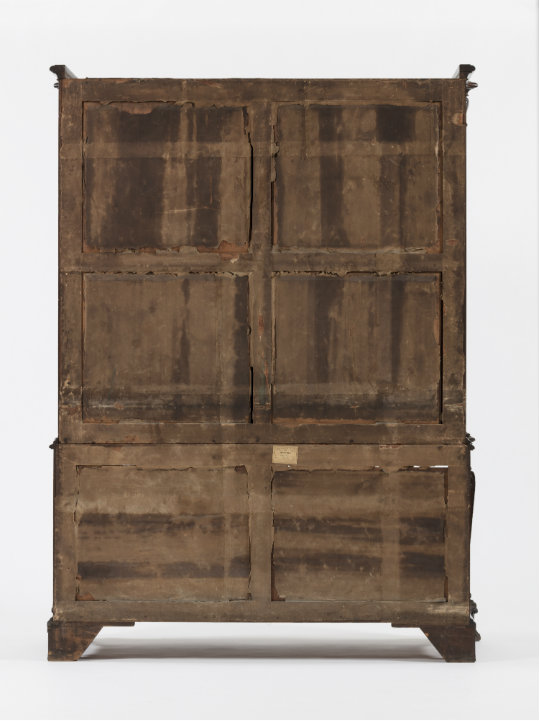 The panels which form the framed back of her press cupboard are almost square, and set in a landscape orientation (Figure 2).  The press cupboard made for Sir Rowland Winn in the same year is more restrained than the one made for his wife, relying solely on beautiful timber and cockbeading for its decoration, but its back panels are configured in the same way (Figures 4 & 5).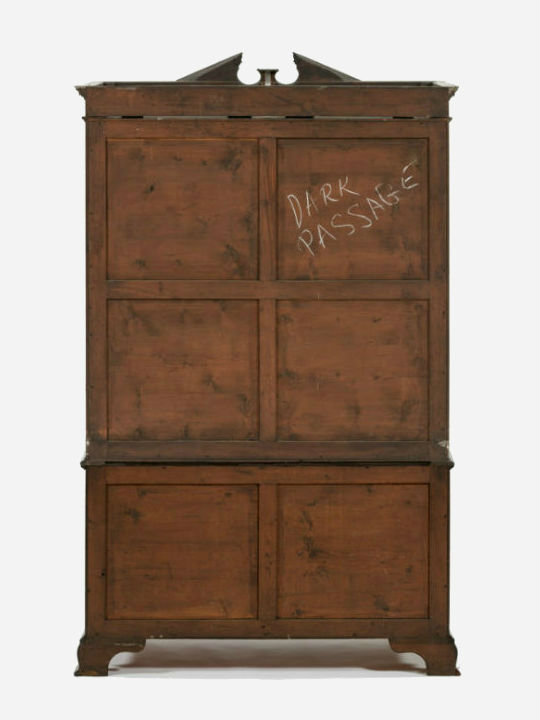 In comparison, the panels of the secretary made in 1766 (Figure 3) are the more typically-found vertically orientated rectangles, as are the back panels to the japanned press cupboard supplied almost five years later in 1771 (Figures 6 & 7).  The use of four panels in the upper section of the two cupboards made in 1766 and 1767 is probably a sign of their quality, an arrangement giving greater stability to these larger pieces of case furniture.  It also might indicate that the carcases of Sabine and Sir Rowland's press cupboards were made by the same craftsman in Chippendale's workshop.
All three press cupboards – Sabine's (Figures 1 & 2) made in 1766/7, Sir Rowland's (Figures 4 & 5) made in 1767 and the japanned press cupboard (Figures 6 & 7) made in 1771 – are fitted with sliding trays still covered in the marbled paper with which they were supplied, and which Chippendale mentions in his accounts (Figure 8).
Notes
[1] L. Boynton & N. Goodison, 'Thomas Chippendale at Nostell Priory', Furniture History 4 (1968), 15-16, 19-20, 21; L. Boynton & N. Goodison, 'The furniture of Thomas Chippendale at Nostell Priory - I', Burlington Magazine III, No. 794 (May, 1969), 282, Figure 23; L. Boynton & N. Goodison, 'The furniture of Thomas Chippendale at Nostell Priory - II', Burlington Magazine III, No. 795 (June, 1969), 352; C Gilbert, The Life & Work of Thomas Chippendale, Vol. I, pp. 169, 175, 185 & Vol. II, pp. 136-7, Figures 245-247.
Continue exploring the exhibition
Start from the beginning
05 Jun 2018