The long mahogany 'counter'at Nostell Priory is commonly called the 'Apothecary's Counter', because it is thought to be visible in one of a pair of drawings of a room lined with cabinets made to hold bottles and pots.
Surviving bills and accounts, however, do not refer to it as such. Accounts record it against the date 6 May 1771 as 'A very large Mahogany Counter with folding doors & Shelves, Sundry drawers and upright partitions &c, on large Castors'.   A note from Chippendale to Rowland Winn of 9th May 1771 mentioned 'a Large mahogany Counter' in a list of goods which, 'on the 6th we sent...to the George & White Hart in Aldersgate by Henry Heaton's waggon, all very safely packed...'
In this drawing (Figure 2), it is the rectangular feature standing clear (on at least three of its sides) of the room's walls.  The drawing, however, is believed to date from 1776 and so it is not at all clear if, when the counter was supplied a full five years earlier in 1771, it was intended for the dispensing of medicines or not. Indeed, we do not know whether or not the 'Apothecary's' room was ever built, and so we do not know for certain how this counter was used. In an inventory of 1818 a 'shop board' is recorded in the 'Taylor's Room'. [1]
Standing clear of a wall, with both long sides visible, it had to be finished 'in the round'.  However, as an unwieldy and extremely heavy piece of furniture – its top is a single board of beautiful mahogany over 9ft long (Figure 3) – it has been displayed in recent times with its back against a wall.

New photography reveals the back, finished with four framed panels beneath the upper frieze divided by applied mouldings (Figure 4).  It has the solid quality of very good cabinet-making and its beauty derives from the mahogany used to construct it.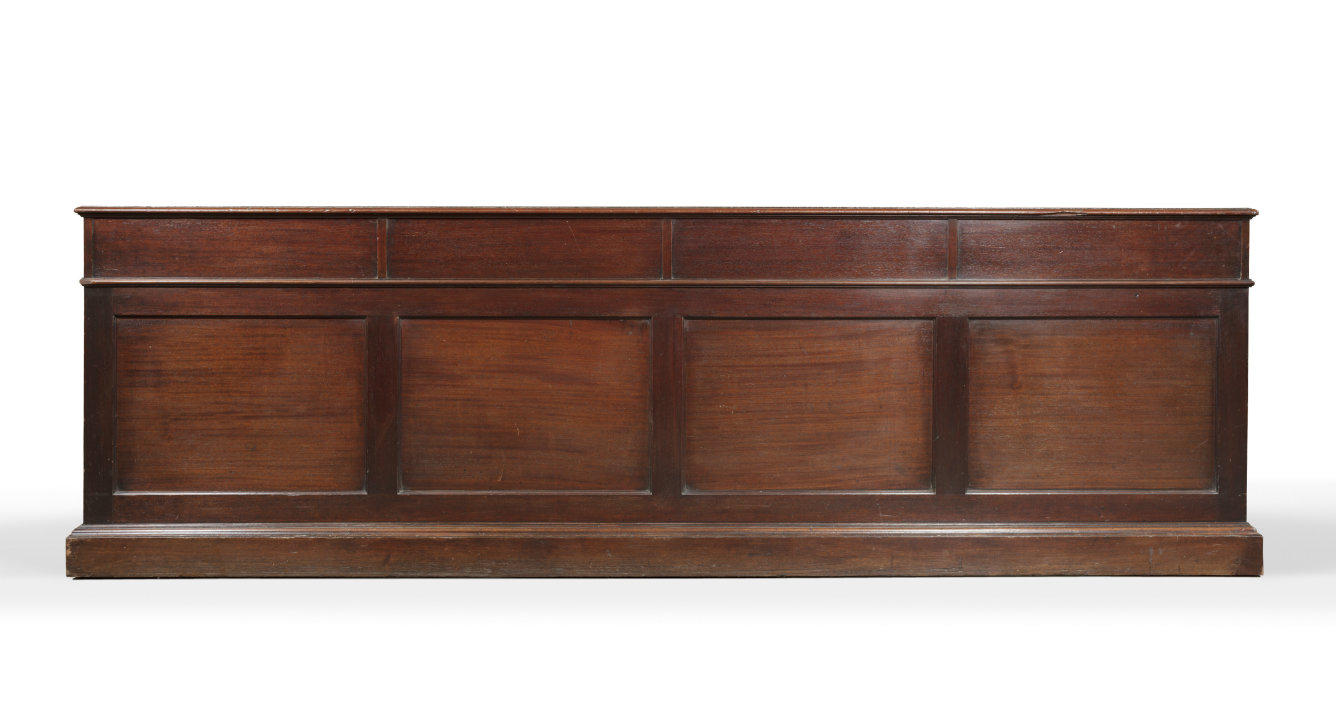 The 'upright partitions' referred to in Chippendale's bill – which once sat in the grooves visible in the open spaces either side of the kneehole – are now lacking (Figure 1), and some handles have been replaced, but this remains a very rare survival. Probably bespoke, no other piece of furniture like it by Chippendale exists. The writing drawer houses divisions and compartments (some now missing) beneath a sliding cover or writing surface still covered in its original green cloth, and fitted with a rising slope supported behind by an adjustable easel-like support (Figure 5). A quadrant-shaped drawer for ink swings out of the drawer's right-hand lining (Figure 6).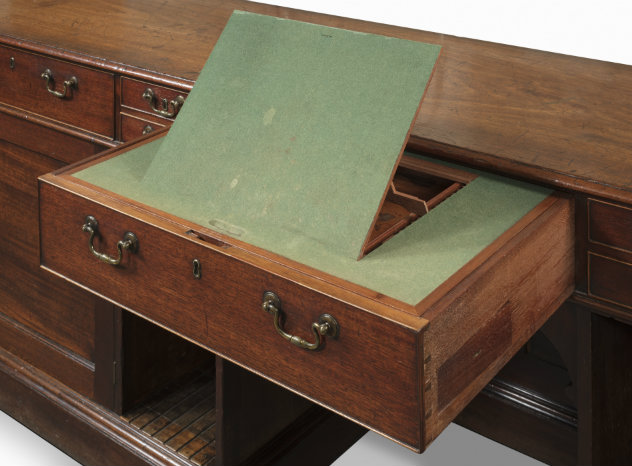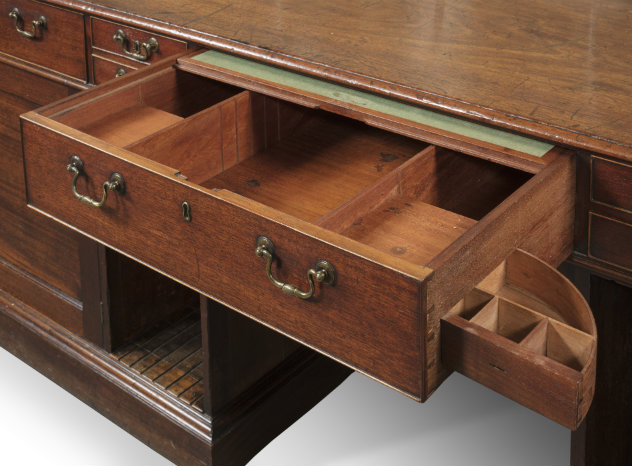 Notes
[1] C. Gilbert, The Life & Work of Thomas Chippendale (2 Vols., London, 1978), Vol. I, pp. 174 & 192 & Vol. II, Figures 101 & 108; L. Boynton & N. Goodison, 'Thomas Chippendale at Nostell Priory', Furniture History 4 (1968), 31-3 & 59; G. Jackson-Stops, 'Pre-Adam furniture designs at Nostell Priory', Furniture History 10 (1974), Plate 20.
Continue exploring the exhibition
Start from the beginning
05 Jun 2018