When the Childs obtained a new and improved coat of arms in 1700, it confirmed their arrival as major players in finance and politics. So proud were they of this family status symbol that they ordered lacquered furniture and porcelain table services decorated with their arms all the way from China.
The Chinese lacquer furniture painted with the Childs' coat of arms seems to be the most complete group of its kind in existence. It was made in c.1715–20 in Guangzhou (Canton), China and probably hasn't been displayed as a group since the 18th century.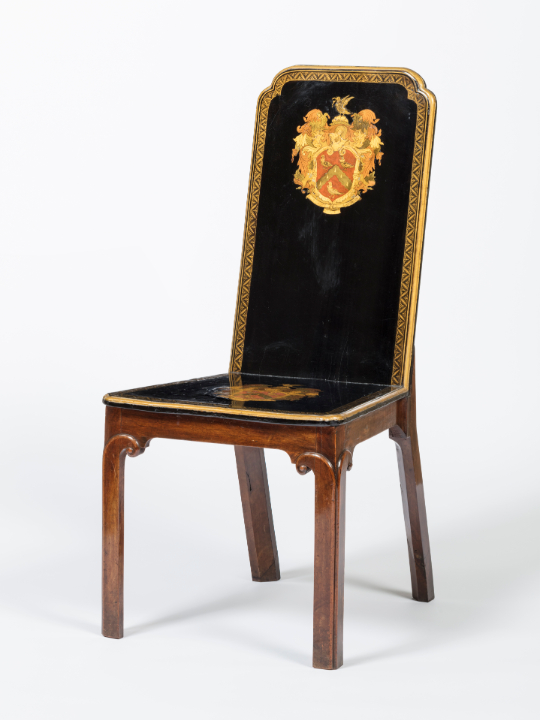 These furnishings were most likely bought by Robert or Francis the Younger, neither of whom married. They were passed down the family through their brother Samuel and his sons.
Very few people could obtain such stylish furnishings from China. It required personal connections in the East India Company and a lot of patience. The design of a coat of arms had to be shipped six thousand miles from London to Guangzhou (Canton). A Chinese middle-man then ordered the items from different workshops around the country.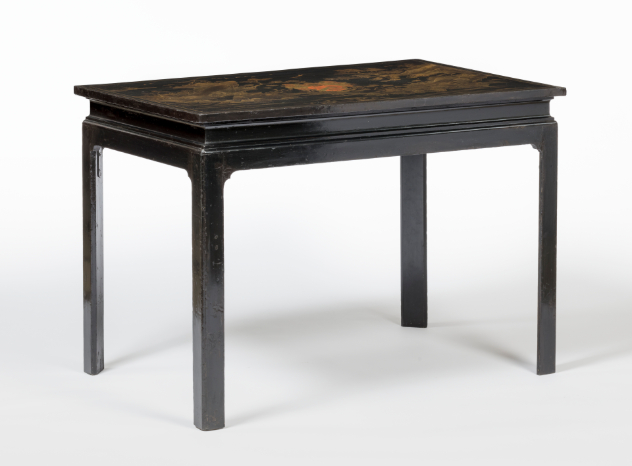 The whole process, known as 'private trade', could take years. Some of the Childs' lacquer and porcelain may have been part of a delivery that arrived for Robert from China in September 1722 – almost a year after his death.
Armorial screen
Of all of the types furniture imported into England from Guangzhou, screens were the most typically 'Asian' in form, exhibiting little English influence other than in the number of folds that English buyers chose.
This lacquer screen, decorated with the Child coat of arms, is one of only a handful of armorial screens to survive in England.
The back of the screen is decorated with bird-and-flower scenery. Because it has been protected from sunlight, the colours are particularly vibrant.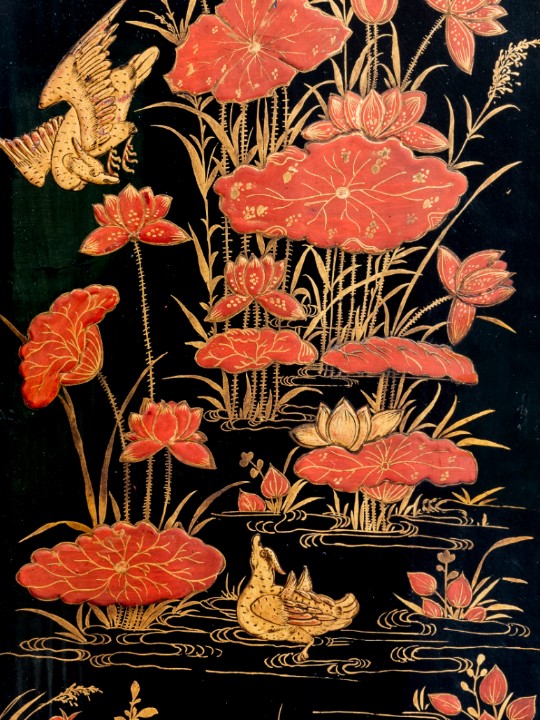 The decorative technique of lacquer was perfected by Japanese and Chinese artists. It involves the building up of layers of the sap of the Rhus vernicflua tree which hardens to a sleek, dark finish when applied to wooden surfaces. The lustrous surface which results provides the perfect background for decoration in gilt and colours.
Everyday magnificence
The sides of this lacquer box are painted with a Chinese landscape of golden pagodas, mountains and trees: a luxurious window on a distant civilisation. Armorial boxes made specifically for dressing rooms are known to have been ordered from China at this date. We do not know exactly how the Childs used this one, but its worn condition suggests it was a part of everyday life.
Entertaining
Guests of the Childs would have been impressed that their hosts could serve dinner on Chinese plates personalised with their coat of arms. These dishes are part of a table service of which 17 items now survive at Osterley. The fact that the service features an almost identical armorial design to the lacquer furniture suggests it was part of the same order.
The Child arms, painted in a palette of iron-red, translucent green, grey and black, known in Europe as famille verte,  is uniquely framed within a powdered cobalt blue ground. It is the only known service with this costly powdered blue ground.
Continue exploring the exhibition
Start from the beginning
04 Nov 2019