Judging by the highly-crafted furnishings with which they surrounded themselves, Francis the Elder and his sons must have had an eye for quality. But there is more to these treasures than first meets the eye.
The brilliant objects assembled in this section express deeper emotions and ideas than one might usually expect from home furnishings. Meanings contained in some of these items would have been understood by discerning Londoners like the Childs. Other pieces, created many thousands of miles away in China and Japan, would have been much more enigmatic. These messages are explored here.
Curiosity
This elaborately carved French cabinet was designed to store small treasures but it was also a treasure in its own right.
The drawers and secret spaces of cabinets like this were made to hold precious objects such as jewels, scientific instruments and natural curiosities. The central niche looks like the interior of a marble palace: a room within a room to inspire private study.
A skilfully-carved veneer of hard, jet-black ebony covers most of the cabinet. Prized for its associations with Biblical and Classical kings and emperors, ebony had to be imported at great expense from the islands of the Indian Ocean.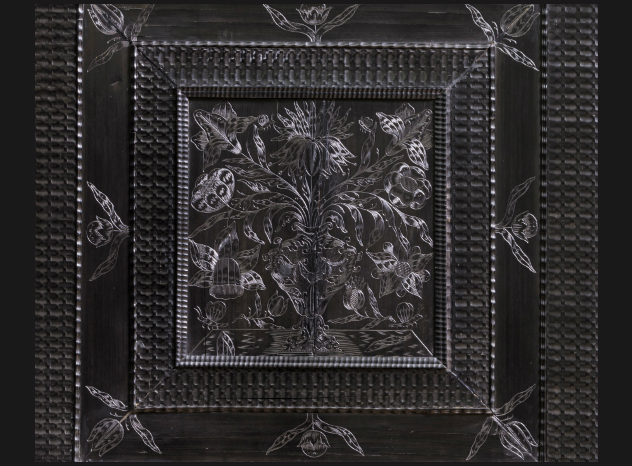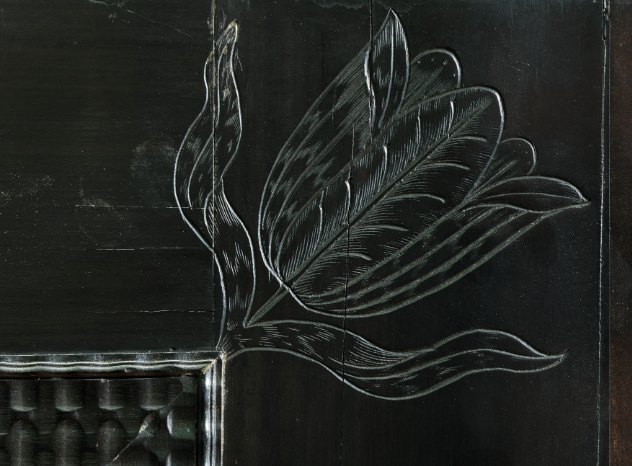 The cabinet is very rare and was made in Paris in about 1640 by a master craftsman of the highest calibre. It is possible that it was inherited by Francis Child the Elder via his wife, Elizabeth Wheeler, into whose family goldsmithing business he had married. However, such an impressive example of ebony furniture would also have been a desirable second-hand purchase until the end of the 17th century.
Ebony was first recorded as an import into England in 1642, when it was valued as the most expensive furniture wood of the period. Ebony remained popular throughout the period when Francis Child's business was flourishing and his bank was founded.
Melancholy
Like the ebony cabinet, this Japanese cabinet had a dual function, serving both as a treasure itself and as a store for other, smaller rarities, curios and specimens.
In the Japanese tradition, the chrysanthemums and deer depicted on the exterior of the doors both evoke poetic seclusion and autumnal melancholy.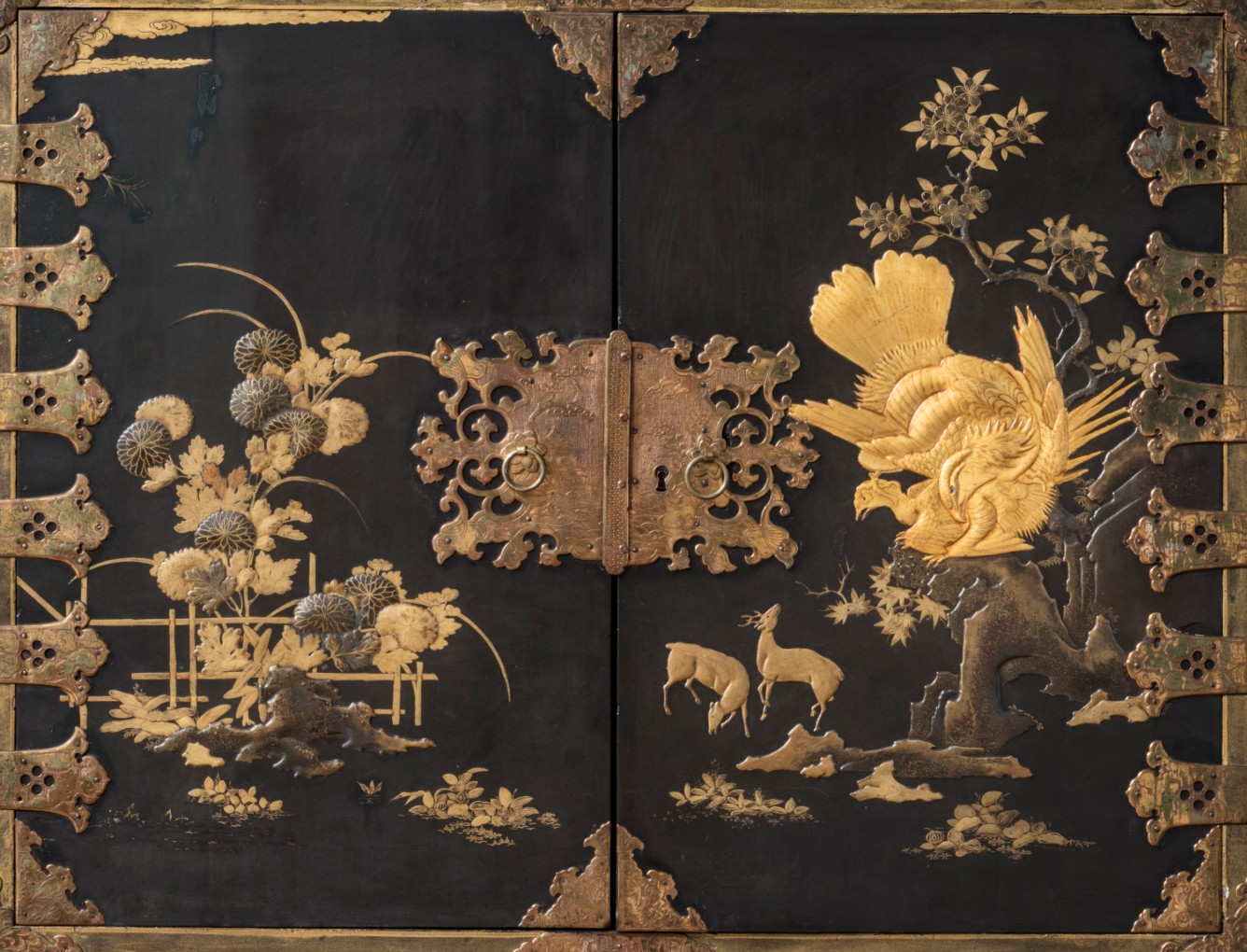 The cabinet doors open to reveal a vision of poetic wistfulness. The drawers are decorated with chrysanthemums and pampas grass, but also with bamboo (symbolising resilience) pine trees (symbolising longevity) and a rustic hut or pavilion (evoking poetic seclusion).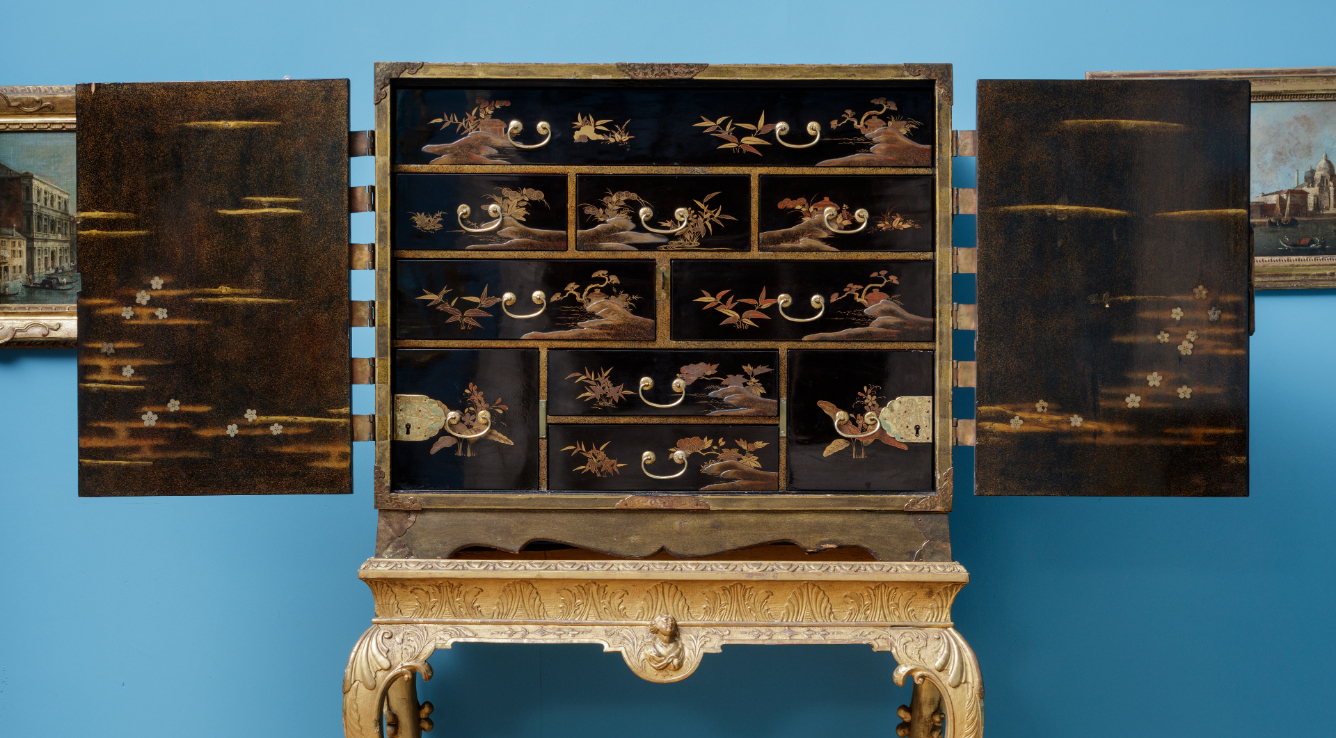 The doors show a pattern of cherry blossoms floating on water. This is a symbol of the evanescence of youth and beauty and, like the decoration of the exterior, evokes a poetically melancholic atmosphere.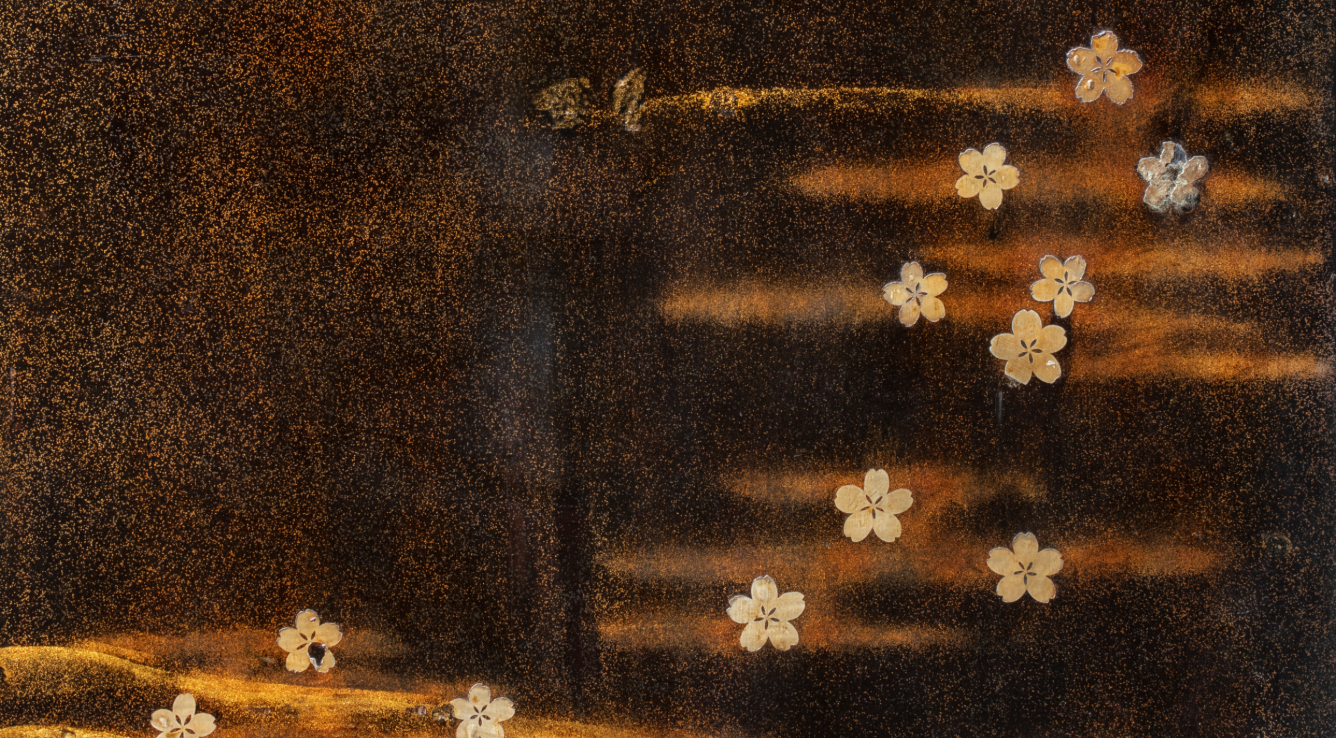 The lacquer inside has been protected from the dulling effect of light. Its glossy surface was slowly built up from many translucent layers of toxic tree sap. Gold powder within the lacquer of the doors imitates the depth of water.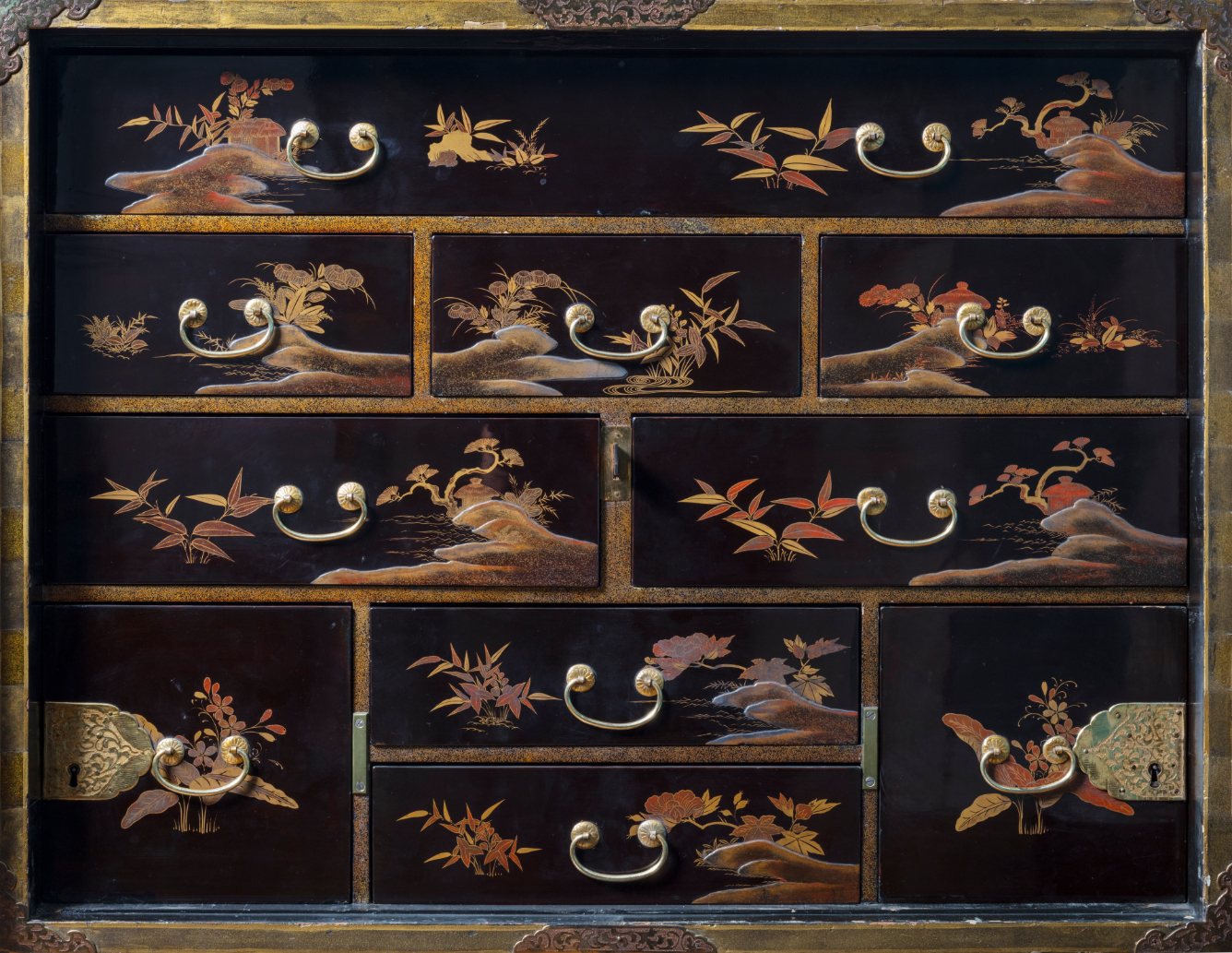 The cabinet was almost certainly exported from Japan by the Dutch East India Company which dominated the Japanese trade. Japanese lacquer - considered as superior in quality to all others - was highly prized.
Enlightenment
The swirling designs on this large Japanese jar contain spiritual meanings. White lotus flowers appear all around the main body and lid. In addition to geese and dragons, the jar features mythical lion-dogs crouching on their front paws.
The white lotus flowers symbolise enlightened Buddhism. Just as these perfect blooms grow out out of muddy water, the enlightened individual rises above the suffering of the world. The Buddhist lion-dogs are protectors of the dharma and the geese in flight among reeds represent a flock migrating in Autumn.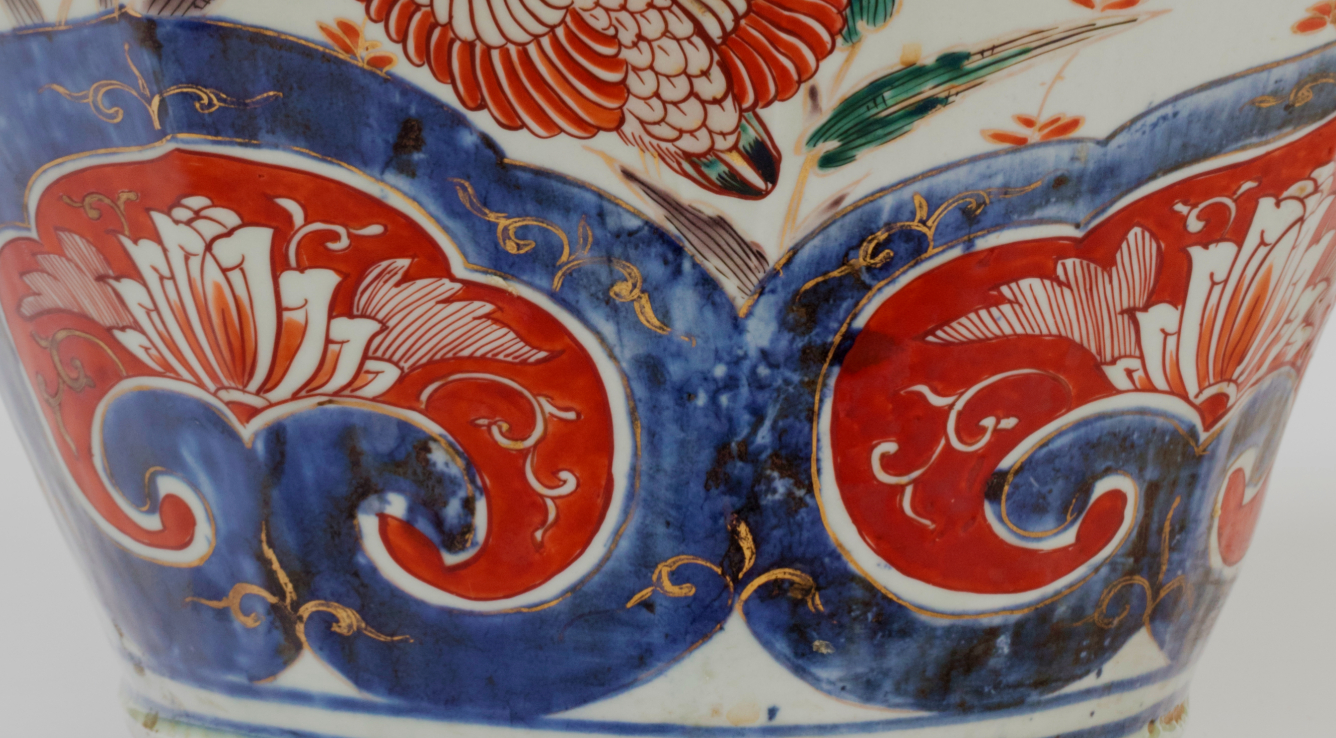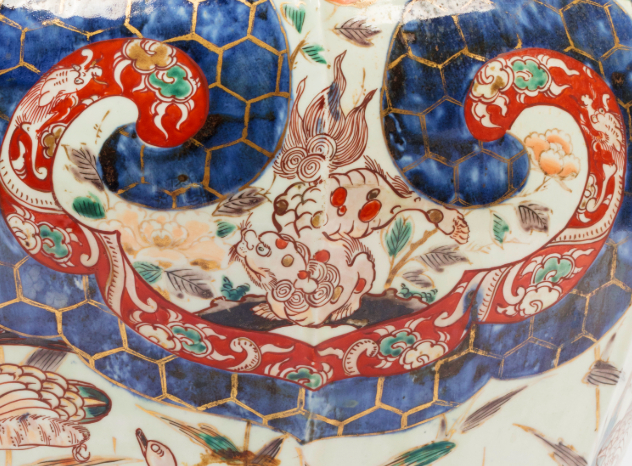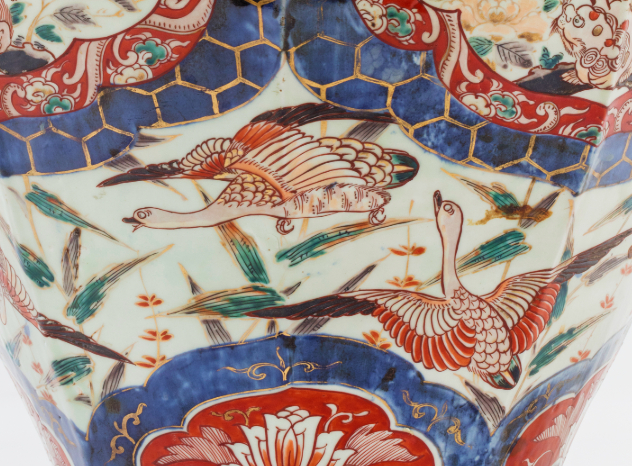 The jar was once part of a magnificent five-piece set and was made on the Island of Kyūshū near Arita in Southern Japan. Although its images were full of meaning in Japan, it was made specifically for export to Europe.
Abundance
This large Chinese bowl, one of a pair, was made to house goldfish. It was made around 1695–1715 in the kilns at Jingdezhen, in Jiangxi province, south China, where porcelain has been mass–produced since the 14th century.
In the 17th century, fishbowls were a feature of elite Chinese homes, displayed outdoors in a courtyard on a wooden stand and filled with pet goldfish and some vegetation. In Feng Shui, goldfish were considered auspicious, attracting abundance, wealth and prosperity, as well as good energy.
The painstaking way in which blue colour was applied to these bowls would have made them particularly desirable. The chuiqing ('blown blue') effect was achieved by blowing powdered cobalt through a bamboo tube with a filter on the end.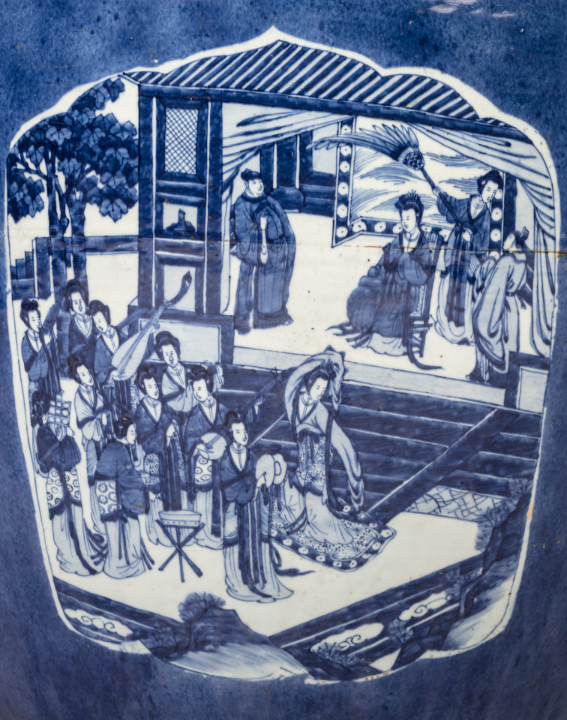 Chinese goldfish were available in England during the rise of the Child family but imported fishbowls were also used to display special plants like orange trees. Francis Child the Younger was noted for his fruit trees at Osterley and for his 'great Judgement in ordering the Disposition of them'.
Continue exploring the exhibition
04 Nov 2019