Constable Revealed
Anglesey Abbey, a country house in Cambridg

eshire

, 

contains 

a small but 

remarkable selection of 

works by 

John Constable, RA (1776–1837), one of the most celebrated painters of the English landscape.
Constable was revolutionary in the way he worked, painting in the outdoors to an unprecedented extent and making six-foot wide sketches for his largest compositions. Yet Constable's inspiration was mainly local and close to home. Throughout his career he tended to choose subjects from the places he had lived, especially rural East Anglia, where he was born and raised. While he gained professional recognition in his own time, it was only after his death that his paintings – quintessentially English yet internationally significant – reached the level of acclaim that they continue to enjoy in museums around the world. 
The Constables at Anglesey Abbey, including his largest known painting, The Opening of Waterloo Bridge, 1817, were acquired by Urban Huttleston Broughton, 1st Lord Fairhaven (1896–1966) in the middle decades of the 20th century. He then gave them to the National Trust in 1966 along with his house and collection for everyone to enjoy.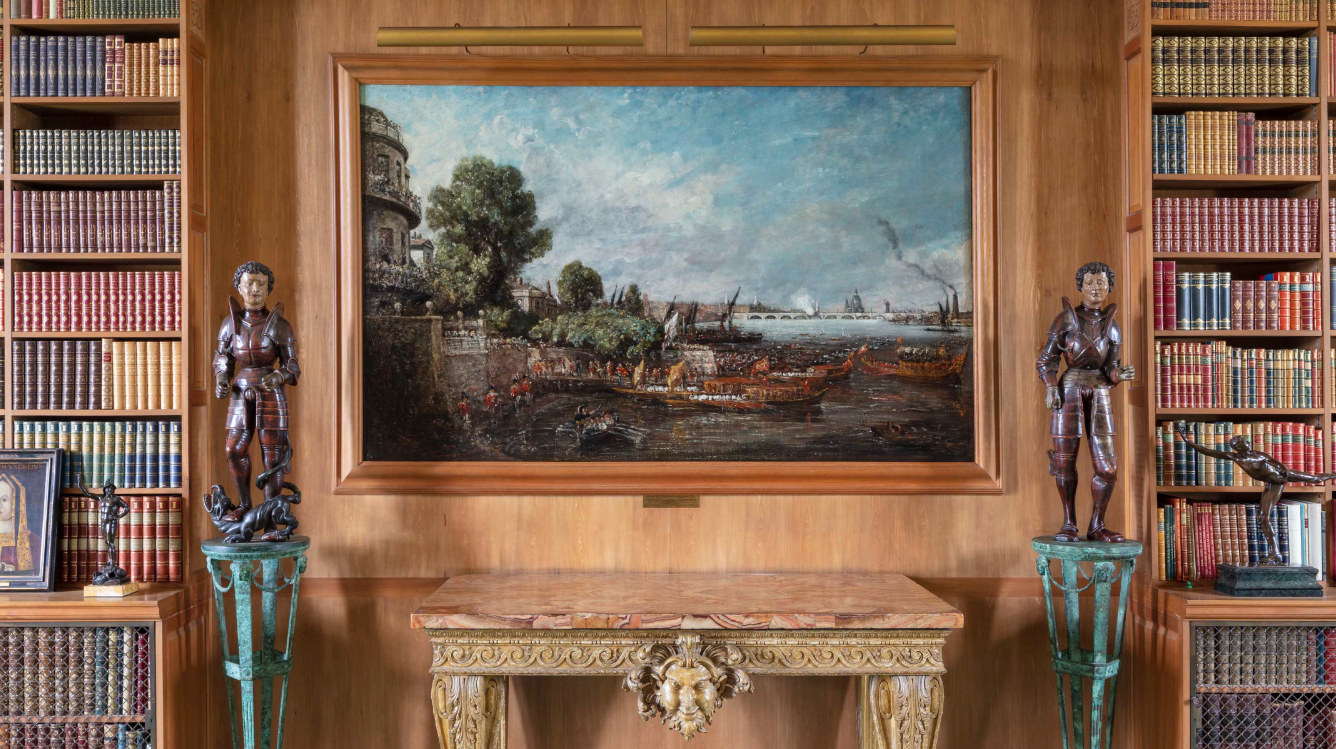 Thanks to this gift, many facets of Constable's art can be seen on a visit to the house. These include finished works in watercolour and oil paint, studies of human and natural forms, and perhaps most special of all, innovative landscape sketches on both an intimate and majestic scale. In the spontaneous brushstrokes of these private sketches, we see what only Constable and a select group of his intimate acquaintance were meant to see. 
Lord Fairhaven collected paintings by Constable from across the full span of his career, allowing visitors to Anglesey Abbey to witness the scope of his artistic development. Works from his time as an aspiring artist are represented, as are paintings from the period of his rising reputation in the London art world, and the accomplishments of his final maturity. 
The pictures by Constable at Anglesey Abbey are presented here in chronological order so that a sense of his evolution as an artist can be seen. The importance of these paintings to Anglesey Abbey and to our understanding Constable as an artist means that they are being researched and conserved on an ongoing basis. Information will be added as new findings are revealed.
Lamarsh Hall, Lamarsh Essex
Lamarsh Hall, Lamash Essex dates to about 1799 when Constable turned 23 and entered the Royal Academy of Arts in London as a student. He had persuaded his father, a wealthy corn merchant, to allow him to train as an artist rather than enter the family business. The painting depicts Lamarsh Hall in Essex, seen beneath a pinkish evening sky. This was the house of Constable's friend Reverend Brooke Hurlock, who is thought to have commissioned the work, presumably to show encouragement to an aspiring young artist. 
An unfinished painting of a  church in a landscape survives on the reverse of the canvas. This resourcefulness is typical of Constable's use of materials, especially at this early point in his career.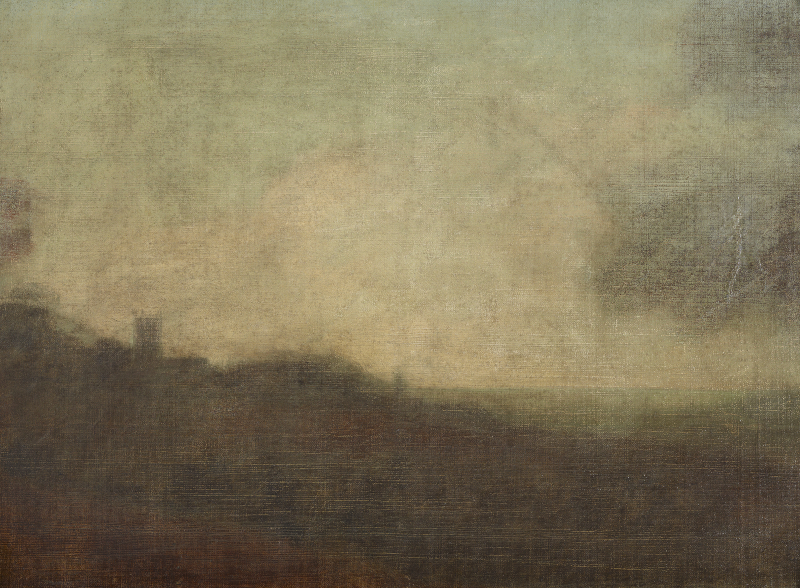 Dawn, East Bergholt
Constable was born and raised in the village of East Bergholt in Suffolk. He maintained a strong emotional attachment to the surrounding landscape of the Stour Valley for the rest of his life, even when he was living in other parts of the country.
Dawn, East Bergholt captures the effects of dawn light breaking across the woods. Stylistically, the painting takes inspiration from one of Constable's artistic heroes and fellow Suffolk painter, Thomas Gainsborough.  It dates to about 1800–01, when he was studying in London but returning home regularly. He never stopped drawing subjects from the beloved terrain of his youth, declaring that 'I should paint my own places best. Painting is but another word for feeling.'  
Birches in Helmingham Park
Constable  had a deep love of trees and regarded them as  living embodiments of natural virtue. This painting of birches is not a finished work of art but a practical study to help him understand and develop his subject. Based on the style of the brushwork, it could date from as early as 1800 to as late as the 1830s. It has traditionally been associated with the deer park at  Helmingham Hall near Ipswich, the home of early patron, Wilbraham Tollemache, 6th  Earl of Dysart. The young artist spent happy summer days there in 1800, 'quite alone amongst the Oaks and solitudes', making 'useful' studies that would provide inspiration for decades to come.
Summer Evening, Stoke-by-Nayland, Suffolk
This small sketch in oil depicts the Church of St Mary at Stoke-by-Nayland which lies a few miles up the river Stour from East Bergholt. It is a wonderful example of the kind of fluent studies that Constable made outdoors in the years around 1810–15.
Here, he has painted on a piece of old canvas that he probably cut up himself and carried in his paintbox. The wet-on-wet brushstrokes imply that he was working very rapidly to capture the evening light on the scene before it faded.
Constable's work was often imitated during his lifetime and after his death. Until very recently, Summer Evening, Stoke-by-Nayland, Suffolk was catalogued as 'after John Constable'. It has now been identified as a genuine work by the artist himself.
Academic study of a male nude
Even though Constable is best known as a painter of landscapes, he taught life drawing classes after he had been elected as a full Royal Academician in 1829.  Life drawing was part of the curriculum for students but some artists, including Constable, continued to hone their skills throughout their life. 
In his life drawing classes Constable is known to have positioned the models in poses from famous Old Master paintings. Here the posture is based on a figure from Michelangelo's  Last Judgement  in the Sistine Chapel.
This oil study could date from the 1820s because the bottom layer of paint is the shade of pink Constable preferred to use in that period.
Embarkation of George IV from Whitehall: the Opening of Waterloo Bridge, 1817
Constable was probably present at the opening ceremony of Waterloo Bridge in London in 1817. Years later, that event led to the production of this work, his largest known painting. On an eight-foot-wide canvas, he has depicted the barges of dignitaries, including the Prince Regent and the Mayor of London, setting off for the celebration from Whitehall. A salute is fired from the new bridge.
This subject on an historic theme was a major departure from Constable's usual East Anglian rural scenes and he agonised over it. The painting is one of the many versions of the composition he made in oils and pencils before creating a finished piece he was happy to exhibit fifteen years later in 1832. The warm colour of the bottom layer of paint tells us that the work might have been commenced at the beginning of the 1820s although there is pigment in the upper layers that was only widely available later in the decade. 
This implies that he worked on this canvas intermittently for at least a decade as his ideas for the composition evolved. Scholars have wondered whether the painting was begun as a finished oil painting or was always intended to serve as one of his unique full-scale sketches. Scientific imaging and the recent removal of old brown varnish now lead us to think that the painting was always intended as a preparatory, full-scale sketch for a final work.
Stoke Poges Church, Buckinghamshire
This atmospheric and detailed watercolour is one of a series of small illustrations Constable made for an edition of Thomas Gray's melancholy poem,  Elegy Written in a Country  Churchyard. It depicts the pale stone of St Giles' church in Stoke Poges, Buckinghamshire, glowing eerily in the graveyard as the moon hovers over the horizon.
Thomas Gray is buried at this site, which is also the possible inspiration for the much-loved poem. Constable favoured watercolour later in life, when it is thought he was suffering from arthritis in his hands. The vignette was finally reproduced as a wood engraving in the edition in 1836, one year before Constable's death.
Discover more
29 Apr 2022