The furniture produced in Chippendale's workshop is made of choice materials and made very well, but the methods used in its construction are largely typical of 18th-century cabinet-making. Chippendale's workshop is known, however, to have added refinements to traditional methods.
Feet
One of these refinements is the use of laminated stacked blocks of timber, of alternating grain, glued behind bracket feet. Sitting directly below the corners of the case, its weight rests directly on these blocks, rather than on the applied pieces of mahogany – often shaped and curved – which form the outer face of the bracket foot. This is a feature of four pieces of case furniture at Nostell Priory (Figures 1 – 4). It should be noted, however, that Chippendale was not the only cabinet-maker to adopt this technique: it can only be seen as an indicator of his authorship when combined with other features.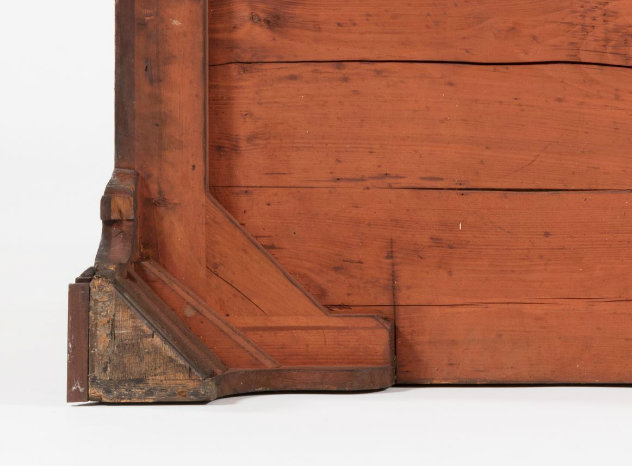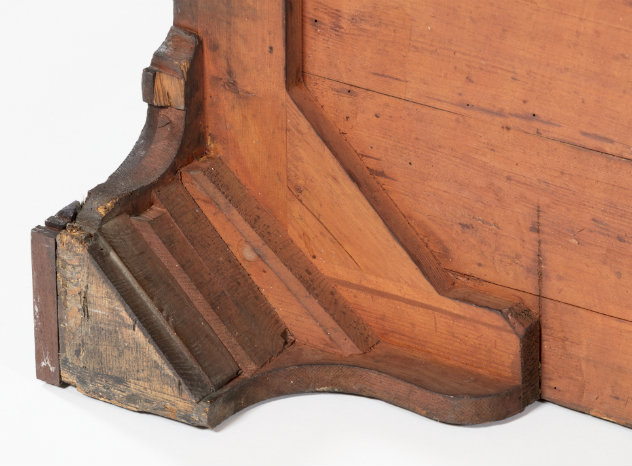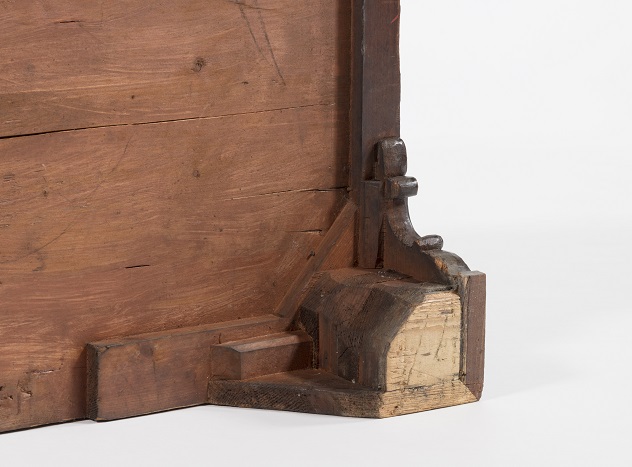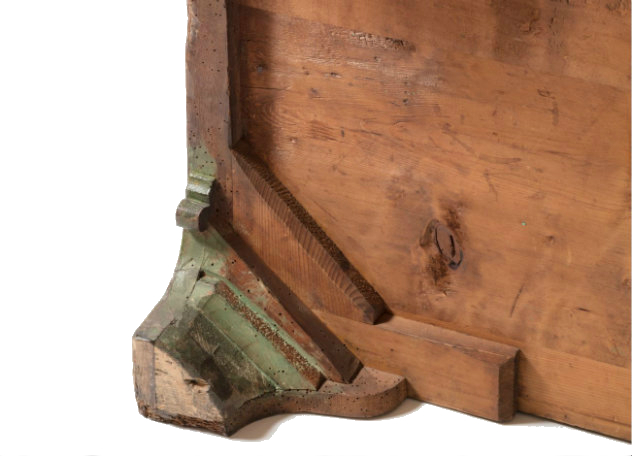 Locators
All of the pieces of furniture with this type of foot are made in two parts, with an upper cabinet or press atop another. Often, upper chests just sat on top of their bases, located by a raised lip or moulding fixed to the top edge of the base, inside which the upper section sat, correctly aligned and prevented from sliding forward, and screws were used to fix the two sections together. This is so with the two parts of the press cupboard made for Sabine Winn in 1766.
By contrast, three pieces of case furniture (Figures 5 - 8) at Nostell Priory instead employ a pair of domed locators fixed to the top of the base section to correctly site and secure the top section to the bottom. These locators fit into sockets carved out of the baseboard of the upper sections.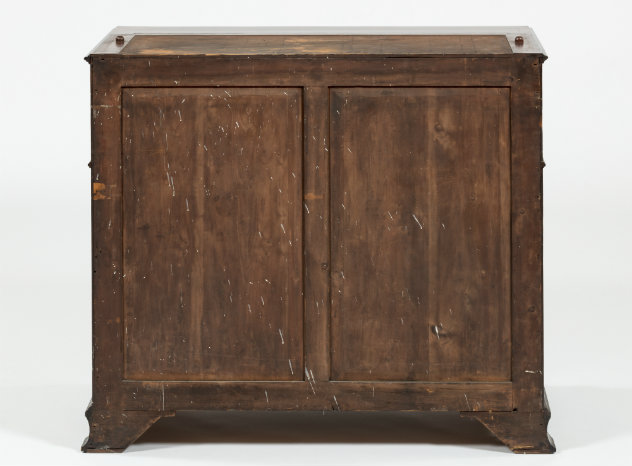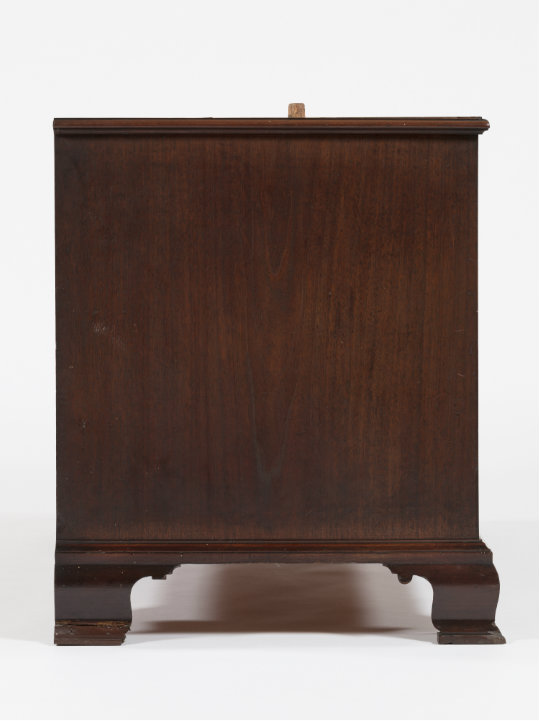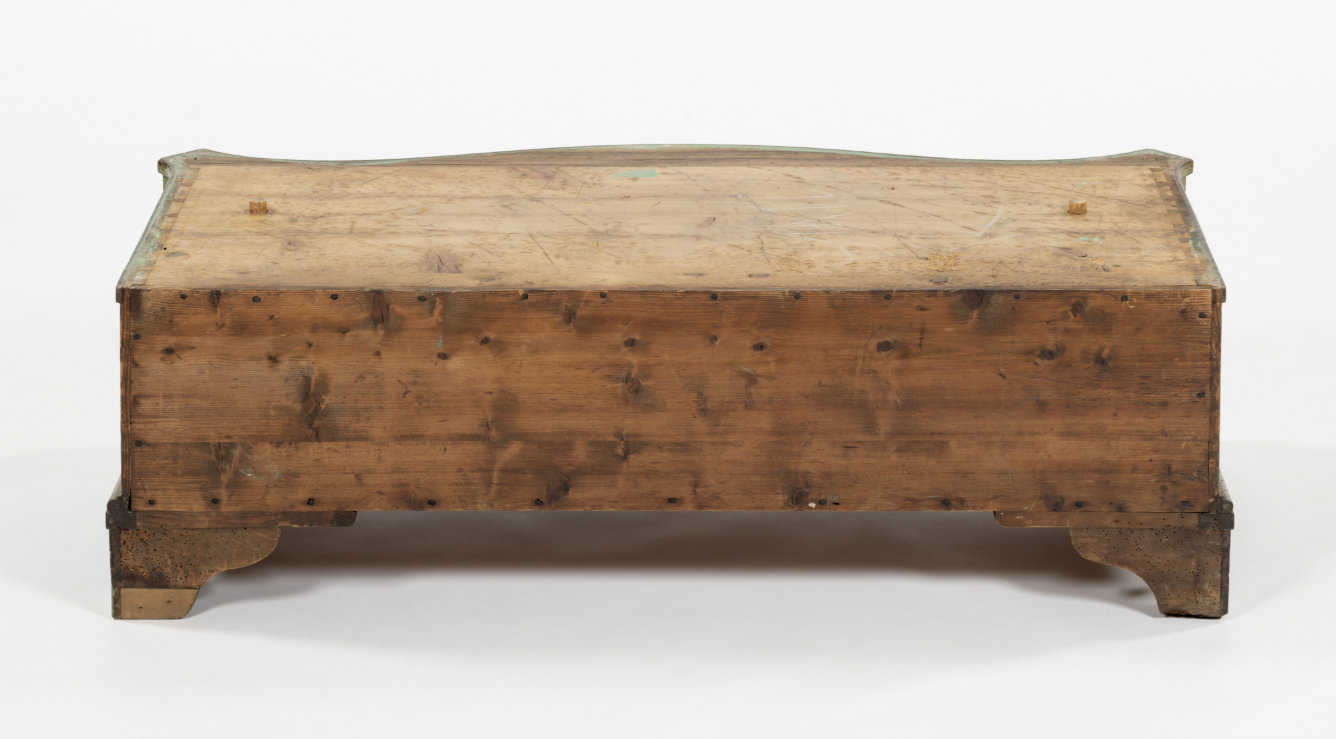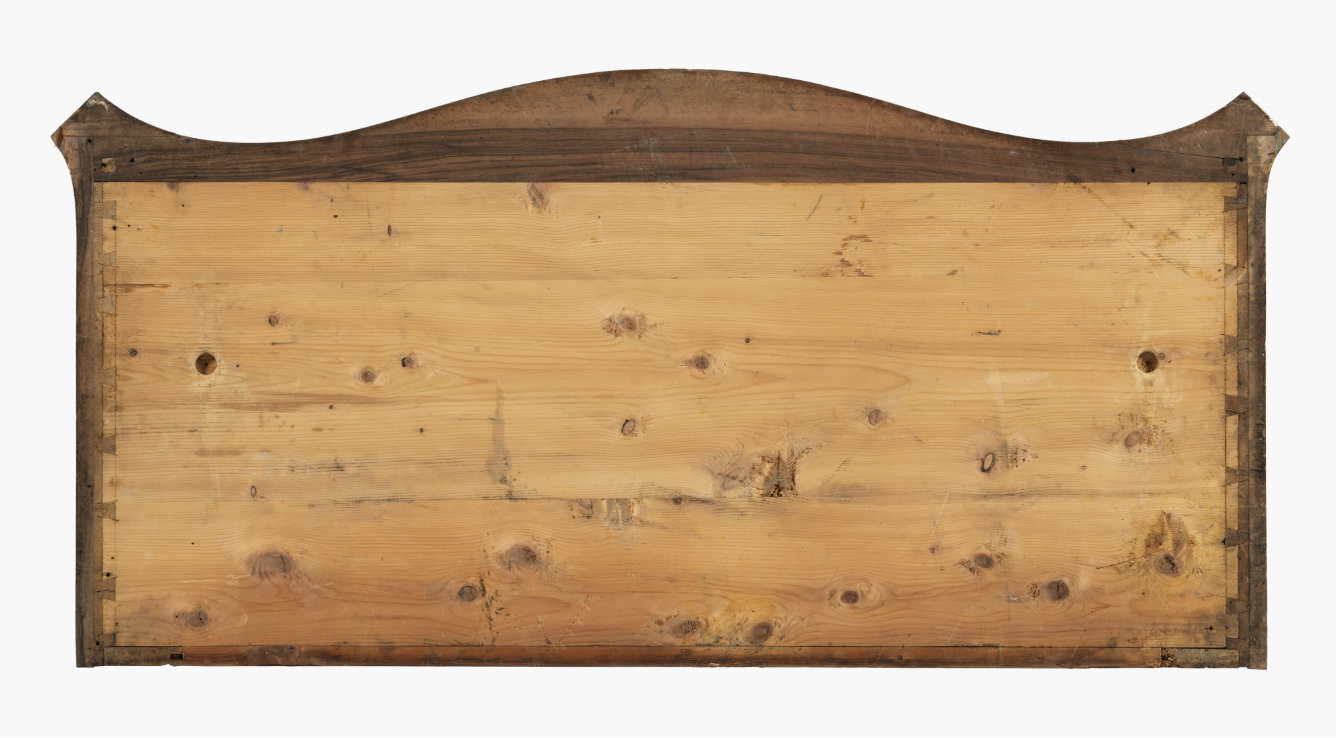 Finish
The additional pedestals flanking Sabine Winn's 'secretary', as additions to an already finished cabinet, preserved behind them what is probably the central cabinet's original finish, exposed for only a year before being hidden behind the flanking pedestals (Figure 9).  Preserved from polishing, environmental factors and the 19th century craze for mahogany with a high shine, the reddish, almost matt surface is still intact.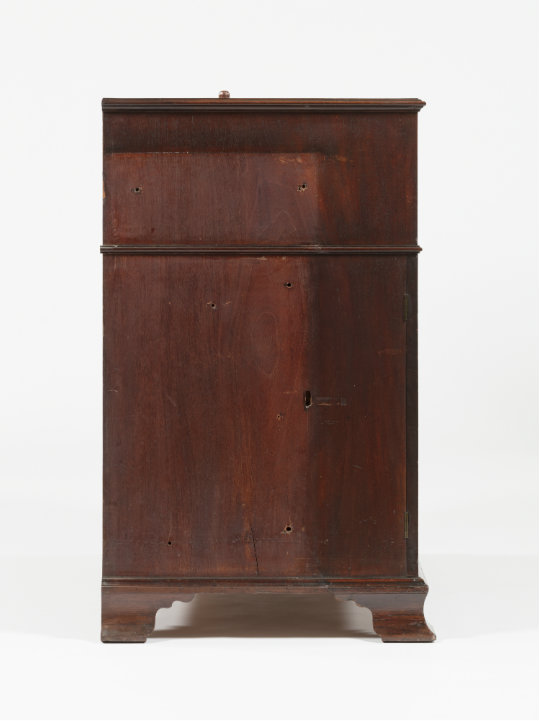 The piece of furniture at Nostell Priory usually given the distinction of having as close to an original 18th century finish as we are ever likely to see is the medal case in the Library (Figure 10), preserved behind a door from the time it was installed.  We know, in fact, how it was finished, because Chippendale sent a man to apply oil and stain, and billed for it in his accounts.  In a letter, Chippendale wrote that 'I have this day sent...the bottle of red stain for the meddal case.  Please to let the man scrape the Oil of the place to be stain'd very clean and then lay on the stain, if not dark enough at first repeat it twice or three times.' [1]
There is, in fact, one more piece of furniture in this category at Nostell Priory: the clothes press supplied to Sir Rowland Winn in 1767, untouched and unaltered save for a few stabilising repairs to its bracket feet, which retains its wonderfully flat and crisp finish (Figure 11).
This preoccupation with the colour of furniture also explains the 'red wash' which is a feature of all of the documented pieces of furniture at Nostell. 
This was a technique used by many of the best English cabinetmakers, a conceit to mask the fresh 'white' colour of secondary timbers, used on baseboards and on other carcase surfaces. Both the top and bottom of the lower chest to Sabine Winn's press cupboard are washed in the same colour (Figures 12 & 13), and so too are the undersides and back of both Sir Rowland Winn's press cupboard (Figure 14) and a serpentine mahogany commode, which may or may not have been made by Chippendale (Figure 15).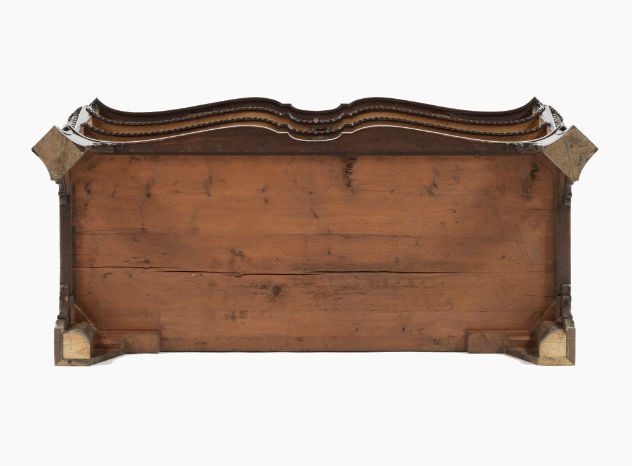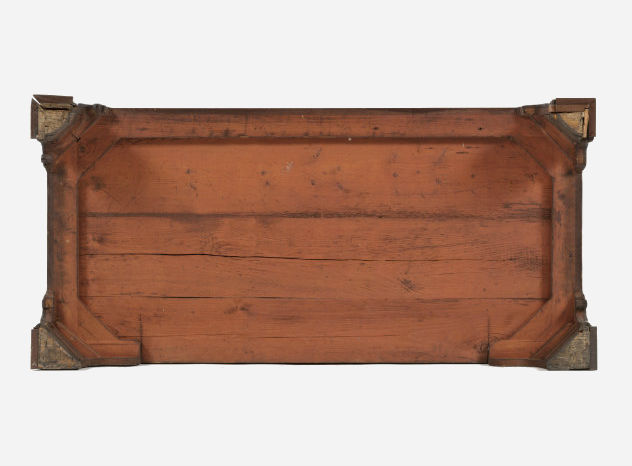 Notes
[1] L. Boynton & N. Goodison, 'Thomas Chippendale at Nostell Priory' in Furniture History 4 (1968), 17 - 22 & 43; L. Boynton & N. Goodison, 'The Furniture of Thomas Chippendale at Nostell Priory - II' in The Burlington Magazine III, No. 795 (June, 1969), 352, fn. 3 and C. Gilbert, The Life & Work of Thomas Chippendale (2 Vols., London, 1978), Vol. I, p. 170, 185 & Vol. II, Figure 99.
Continue exploring the exhibition
Start from the beginning
05 Jun 2018
View more details