Taxidermy display
probably Henry Shaw (London 1800 – Broxbourne 1873)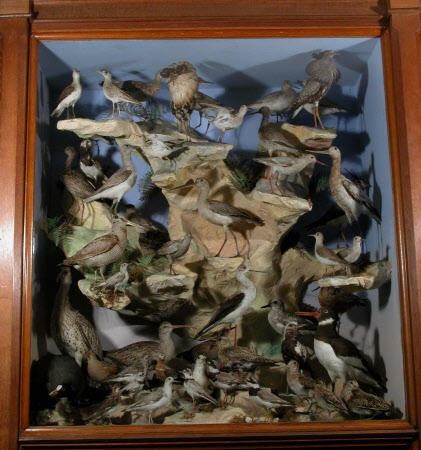 Category
Natural History / Taxidermy
Date
1850
Materials
Display case with taxidermy birds
Measurements
Height 4000 mm.; Width 1080 mm.; Width 1410 mm.
Place of origin
Shrewsbury
Order this image
Collection
Powis Castle and Garden, Powys
NT 1181057.9
Summary
The ninth of eighteen taxidermy display cases containing stuffed birds. Most of the birds date from c.1850, and the oak cases were probably made by Henry Shaw, Shrewsbury (1812-1887). This display case contains British and European waders including: a ringed plover, a little ringed plover, a golden plover, a grey plover, a lapwing, a turnstone, an oystercatcher, a black-winged stilt, a grey phalarope, a red-necked phalarope, a woodcock, a common snipe, a Jack snipe, a pectoral sandpiper, a dunlin, a little stint, a purple sandpiper, a knot, a ruff, a buff-breasted sandpiper, a green sandpiper, a common sandpiper, a redshank, a spotted redshank, a common greenshank, a bar-tailed godwit, a black-tailed godwit, a curlew, a corn crake, a spotted crake, a water rail, a coot and three of its young.
Makers and roles
probably Henry Shaw (London 1800 – Broxbourne 1873), taxidermist
View more details