Nostell Priory's '8 Large Globe Lamps' in the Lower Hall - 1771
Chippendale, Haig & Co. (fl. 1771 - 1779)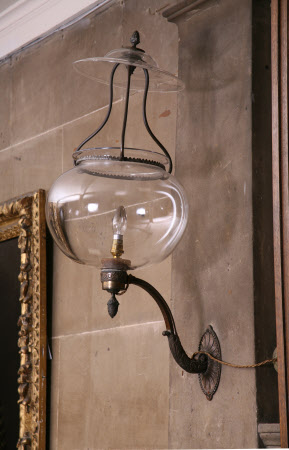 Summary
A set of eight single-branch wall lights, supplied by Chippendale, Haig & Co. (fl. 1771 - 1779) for the Lower Hall at Nostell Priory in mid-1771. The maker unknown. Each fixed to the wall by means of a fluted oval patera backplate, and with a scrolling acanthus-cast arm terminating in a collar fitted with a burner and with a pineapple form pendant finial. The burner fitted with a glass shade beneath a glazed upper smoke shade raised on three scrolling supports and topped by a pineapple finial.
Full description
Although this set of wall lights has been augmented by others which are presumably later copies, it is believed that the eight that survive in the Lower Hall are those referred to surviving documentation. An undated list, believed to have been written between April and May 1771, includes under the heading 'Sr Rowland Winn, Goods unfinish'd...8 Globe Lamps'. They appear on an invoice of 1st July 1771 as '8 Large Globe Lamps on wrought brass Scrolls And Shades to do Supported with brass Scrolls with pine Apples and other ornaments neatly finish'd And Burners Complete'. They are unlike anything other surviving lights known to have been supplied by Chippendale, so their attribution to him is based upon their similarities with this description. It has been noted that the 'backplates have affinities with ormolu mounts on the Harewood Library Table' [Gilbert]. These would not have been made in Chippendale's workshop, but sourced and supplied by him and/or Robert Adam. The metalwork is of the highest quality.
Provenance
Purchased for the Lower Hall at Nostell Priory in July 1771. Thence by descent, and accepted by HM Treasury in lieu of death duties on the estate of Rowland Winn, 4th Baron Oswald (1916 - 1984), 1986.
Makers and roles
Chippendale, Haig & Co. (fl. 1771 - 1779), supplier
References
Boynton and Goodison, 1968: Lindsay Boynton, and Nicholas Goodison. "Thomas Chippendale at Nostell Priory." Furniture History 4 (1968): pp.10-61., pp. 32, 59 Gilbert (1978): Christopher Gilbert, The Life & Work of Thomas Chippendale (1978), 2 volumes., Vol. I, p. 173, Vol. II, Figures 257, 442, 443
View more details