Nostell Priory's Barometer and its 'very neat case': 1768 - 1770
Justin Vulliamy (1712 - 1797)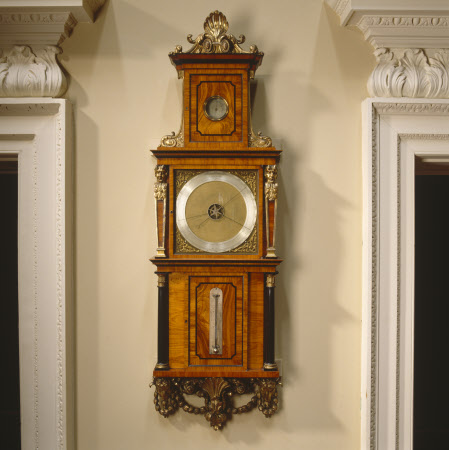 Category
Horology
Date
24 Jun 1768 (first referred to) - 28 Nov 1770 (date of bill for alterations)
Materials
Tulipwood, softwood, oak, limewood, ebonised hardwood, brass, steel, iron, mercury, ivory, glass, gilding, silvering
Measurements
130 x 42 x 12 cm
Place of origin
68 Pall Mall, London
Order this image
Collection
Nostell Priory, West Yorkshire (Accredited Museum)
On show at
North Staircase, Nostell Priory, West Yorkshire, North, National Trust
NT 959831
Summary
A barometer, hygrometer and thermometer, by François-Justin Vulliamy (1712 - 1798) of 68 Pall Mall, London, in a tulipwood-veneered barometer case, by Thomas Chippendale (fl. 1766 - 1771 when operating without a business partner), for Sir Rowland Winn. Delivered to Nostell Priory in late 1769. The barometer comprising, at its centre, the main brass dial with mattered centre and silvered chapter ring with weather indications and a three-inch scale which is divided to 0.1in. The chapter ring framed by chased and pierced spandrels of foliated scrolls. The minimum, maximum and pointer hands of silvered brass and engraved and centred by a six-pointed star (probably once backed by a piece of silk, now lacking). The mechanism behind the dial of brass wheels and steel arbors. The glass tube with a bore of 0.5in and a bulb at the top, filled with mercury and ivory floats. The upper section of the case fitted with an 'oatbeard hygrometer'; the lower section with a thermometer. The case of softwood primarily veneered in tulipwood, the upper section topped by an anthemion and scroll-carved giltwood cresting atop a cornice. The hygrometer with an ebony line. The central section enclosing the main dial behind a hinged and glazed door, flanked to either side by a parcel-gilt Bacchic herm. The lower section, fitted with the thermometer, flanked by ebonized hardwood columns with parcel-gilt capitals and plinths. The whole with a giltwood apron of a shell, ox heads and swags of husks.
Full description
Delivery of this very fine quality barometer in its magnificent frame was delayed, and Sir Rowland was annoyed. An entry in accounts dated 24th June 1768 refers to 'a piece of strong mahogany with a hole in the Centre for the Barometer frame' probably indicates when work on the barometer case started, However, on 22nd October 1768, Chippendale was forced to write to Sir Rowland, saying 'I am extreamly sorry that you are so much displeased about the barometer frame and the other things.' This delay was owing to the death of the wife of Chippendale's foreman, followed by the death of his brother. As a result, Chippendale had 'lost above four hundred pounds by him upon the whole besides disobligeing my customers'. After something of a lull, Chippendale wrote on 4th October 1769, almost a year later, that 'Mr. Vullime says that the barometer is to stay in town but it is intirely finished'. The barometer was duly delivered and Chippendale billed for it on 20th October 1769, when it was listed as 'a very neat case for a barometer made of fine tulip and other woods and very rich carvd ornaments gilt in burnish gold and plate glass in the doors'. Alterations to 'the ornaments of the barometer frame and gilding in burnish gold' were billed for on 28 November 1770, and cost a further £1 3s 0d. Both the case - the only barometer which appears in surviving documents relating to Chippendale and his output - and the barometer and its mechanism, are of the very highest quality. Justin Vulliamy, from Switzerland, worked in partnership with clockmaker Benjamin Gray (1676 - 1764) from 1743. Gray had been made clockmaker to George II in 1742. A comparable barometer, in a carved mahogany case by an unknown maker, survives in the Royal Collection at Windsor Castle. Another is in the British Museum. (Entry adapted by Megan Wheeler, March 2018)
Provenance
Made for Sir Rowland Winn, 5th Baronet (1739 - 1785) and thence by descent, and accepted by HM Treasury in lieu of death duties on the estate of Rowland Winn, 4th Baron Oswald (1916 - 1984), 1986.
Makers and roles
Justin Vulliamy (1712 - 1797), clockmaker Thomas Chippendale (fl. 1766 - 1771 when operating without a business partner), cabinet maker
References
Goodison, 1992: Nicholas Goodison, English Barometers 1680 - 1860, pp. 262 - 268 Gilbert (1978): Christopher Gilbert, The Life & Work of Thomas Chippendale (1978), 2 volumes., Vol. I, pp. 169 - 171, 177 - 8, 187, 189 and 191; Vol. II, p. 20, Figure 34
View more details