Dining table
possibly Chippendale & Rannie (fl. 1754 - 1766)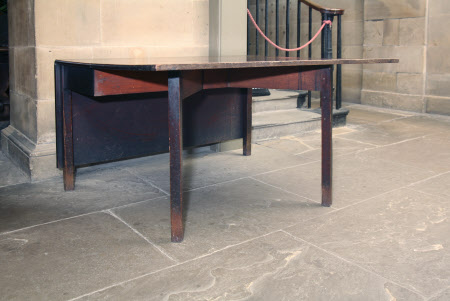 Summary
A mahogany drop-leaf dining table, English, mid-18th century, possibly supplied by Chippendale & Rannie (fl. 1754 - 1766) or Thomas Chippendale (fl. 1766 - 1771 when operating without a business partner) in 1766. The top of solid mahogany and with two rectangular drop-leaves with rule joints. All four legs square-section and hinged as gates from both long friezes.
Full description
This relatively plain table is made from very high quality mahogany boards, and may be one of the 'pair of very neat mahogany dining tables made of fine wood to join together' referred to in an invoice of 24th June 1766 and which cost £11 0s 0d (Gilbert). Although there are no signs of any fittings for clips or similar, it is possible that this table is just a part of a larger table in several sections. See also the dining table NT 959776. (Megan Wheeler, February 2018)
Provenance
Possibly supplied by Thomas Chippendale (1718 - 1779) circa 1766 for Sir Rowland Winn's London house in St. James' Square. Thence by descent, and purchased by the National Trust in 1990 from the Christie's 'Nostell Priory' sale.
Makers and roles
possibly Chippendale & Rannie (fl. 1754 - 1766), cabinet maker possibly Thomas Chippendale (fl. 1766 - 1771 when operating without a business partner), cabinet maker
References
Gilbert (1978): Christopher Gilbert, The Life & Work of Thomas Chippendale (1978), 2 volumes., Vol. I, pp. 174 and 183; Vol. II, p. 224, Figure 409 Boynton and Goodison, 1968: Lindsay Boynton, and Nicholas Goodison. "Thomas Chippendale at Nostell Priory." Furniture History 4 (1968): pp.10-61., p. 40
View more details