The Nostell Priory 'Carv'd circular Cornice with Returns Japan'd Green & Gold' - 1771
workshop of Thomas Chippendale (fl. 1766 - 1771 when operating without a business partner)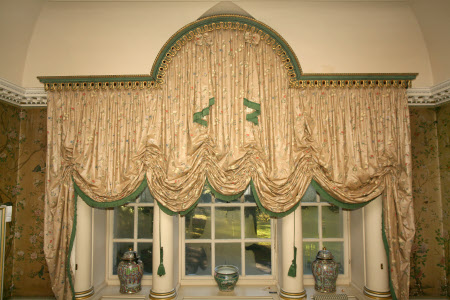 Category
Fixtures and fittings
Date
6 May 1771 (invoiced)
Materials
Carved, painted and parcel-gilt wood, chintz
Measurements
508 cm (Width)
Place of origin
St. Martin's Lane
Order this image
Collection
Nostell Priory, West Yorkshire (Accredited Museum)
NT 959756
Summary
A green-painted and parcel-gilt arched window cornice, supplied by either Thomas Chippendale (fl. 1766 - 1771) or Chippendale, Haig & Co. (fl. 1771 - 1779) for the Alcove Bed Chamber at Nostell Priory (now the State Dressing Room) and dispatched there on 6th May 1771. Centred by an arch, and with leaf-carved top edge, and lambrequin frieze, each cusp carved with a pair of opposing husks or bellflowers. The edges and carved details picked out in gilt. Still fitted with its original pulley system.
Full description
This large and impressive cornice was made to match the bed in the Alcove Bed Chamber, one of two rooms decorated with Chippendale's green japanned furniture and 'India' wallpaper, which still survives. The design of this window cornice matches that of the bed made at the same time, and both were hung with a hand-painted Chinese cotton chintz (a scrap of which has been found on the tester of the bed) that Chippendale did not supply. It may have been acquired twenty years earlier by the 4th Baronet. The curtains which hung from this window cornice were 'to draw in drapery...the Curtain fringed with a Silk fringe with Tassels & c.' On the 9th May, Chippendale wrote to Rowland Winn with the news that 'on the 6th Inst we send the following Goods to the George & White Hart in Aldersgate by Henry Heatons Waggon, all very safely pack'd & we hope you will receive them safe': the subsequent list includes 'A Venetian Window Curtain & Cornice'. On 6th May 1771, Chippendale invoiced £12 5s 0d for this 'very large Carv'd circular Cornice with Returns Japannd Green & Gold & pulley lath to do complete'. The cornice was therefore one of the most expensive pieces in this set. It retains its original pulley mechanism. (Entry adapted by Megan Wheeler, February 2018)
Provenance
Purchased by Sir Rowland Winn, 5th Baronet, in 1771 and thence by descent until accepted by HM Treasury in lieu of death duties on the estate of Rowland Winn, 4th Baron Oswald (1916 - 1984), in 1986.
Makers and roles
workshop of Thomas Chippendale (fl. 1766 - 1771 when operating without a business partner), cabinet-maker workshop of Chippendale, Haig & Co. (fl. 1771 - 1779), cabinet-maker
References
Gilbert (1978): Christopher Gilbert, The Life & Work of Thomas Chippendale (1978), 2 volumes., Vol. I, pp. 171, 173, 182 - 2 and 192 Boynton and Goodison, 1968: Lindsay Boynton, and Nicholas Goodison. "Thomas Chippendale at Nostell Priory." Furniture History 4 (1968): pp.10-61., 29, 31 - 32 and 58
View more details