The Nostell Priory Hall Lantern - circa 1765 - 1770
attributed to Chippendale & Rannie (fl. 1754 - 1766)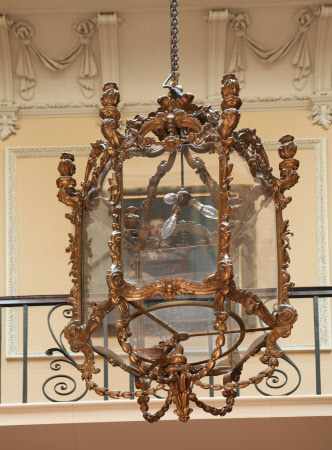 Summary
A gilt-bronze hall lantern, English, circa 1765 - 1770, almost certainly supplied by Chippendale & Rannie (fl. 1754 - 1766) or Thomas Chippendale when in business without a partner (fl. 1766 - 1771) to Nostell Priory. Of hexagonal form, topped by a leaf-cast corona above four flower-head applied moulded branches, the body cast with rocaille, scrolls and with acanthus-wrapped finials, the uprights terminating at their ends in a scroll, above 'C'-scrolls issuing chains of pendant husks, topped where they meet at the centre with a wyvern.
Full description
This rare hall lantern does not appear anywhere in the surviving records documenting Thomas Chippendale's involvement with the refurbishment of Nostell Priory, but is attributed to Thomas Chippendale as supplier because it is almost identical to an example illustrated in the 3rd edition of Chippendale's The Gentleman and Cabinet-Maker's Director, published in 1762 [Plate CLIII]. Another of these hall lanterns (of giltwood, rather than gilt bronze or brass) was supplied to Dumfries House - the heraldic wyvern is said to represent their crest - in 1759, and is now in the Philadelphia Museum of Art. It cost £34.
Provenance
Almost certainly supplied by Thomas Chippendale (1718 - 1779) in the late 1760s or early 1770s; thence by descent and accepted by HM Treasury in lieu of death duties on the estate of Rowland Winn, 4th Baron Oswald (1916 - 1984), 1986.
Makers and roles
attributed to Chippendale & Rannie (fl. 1754 - 1766), supplier attributed to Thomas Chippendale (fl. 1766 - 1771 when operating without a business partner), supplier
References
Gilbert (1978): Christopher Gilbert, The Life & Work of Thomas Chippendale (1978), 2 volumes., Vol. I, pp. 133 - 4 (Dumfries House), 173 (Nostell); Vol. II, Figures, 252 & 3 (Dumfries House), 255 (Nostell) Chippendale, Thomas, The gentleman and cabinet-maker's director:, M DCC LXII 1762, Plate CLIII Edwards & Macquoid (1986), P. Macquoid & R. Edwards, The Dictionary of English Furniture (1986), Vol. II, p. 284
View more details