Winged Victory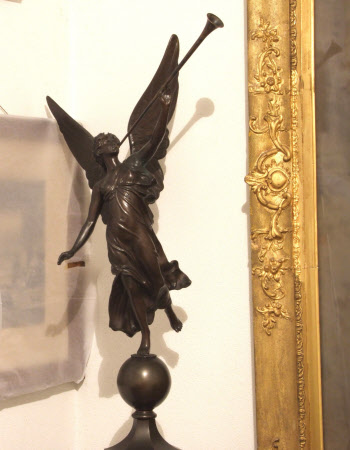 Caption
This bronze figure of Victory was commissioned by Julius Drewe in memory of his eldest son. Tragically, Adrian Drewe was killed in action on 12 July 1917 in Ypres, France just a year after he married. Mr and Mrs. Drewe were deeply affected by his death and construction work on the castle stalled as Julius lost his enthusiasm. A bedroom at the Drewe's previous residence Wadhurst Hall was converted in a Memorial Room in his honour and this was re-established at Castle Drogo. Within the room, Mrs. Drewe curated a collection of his school, university and army mementoes; of which the statue is part.
Summary
Sculpture, bronze, Winged Victory. Part of a bronze figure of Winged Victory playing a trumpet on a hexagonal plinth or base, mounted with a plaque 'in memory of Major Adrian Drewe' listing also the actions in which he took part; Bronze figure of Winged Victory.
Provenance
This item forms part of the original Drewe family collection at Castle Drogo. It was transferred to the National Trust in 1986.
Marks and inscriptions
n
View more details