The Hon. Arthur Victor Agar-Robartes later 8th Viscount Clifden (1887-1974) and The Hon. Edith Violet Kathleen Agar -Robartes (1888-1965) as Children
James Sant, CVO, RA (Croydon 1820 – London 1916)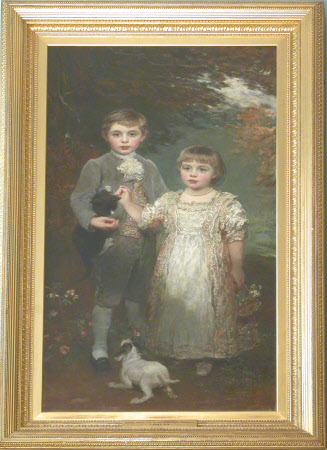 Summary
Oil painting on canvas, The Hon. Arthur Victor Agar-Robartes later 8th Viscount Clifden (1887-1974) and The Hon. Edith Violet Kathleen Agar -Robartes (1888-1965) as Children by James Sant, CVO, RA (Croydon 1820 – London 1916) signed bottom right, in red: JS (in monogram). A double portrait of the fifth and sixth children of the 6th Viscount Clifden standing full length in a landscape, the former, standing on the left, wearing grey and holding a cat and the latter, on the right, in a white dress holding a basket of flowers in her left hand. A terrier, with black ears, is looking towards them at their feet and is barking.
Provenance
Given by the sitters' elder brother, Gerald, 7th Viscount Clifden (1883-1966), with the transfer of the house to the National Trust in 1953.
Credit line
Lanhydrock, The Robartes Collection (The National Trust)
Marks and inscriptions
Recto: (signed monogram bottom right in red) JS Recto: On frame label:Honble Victor and Honble Violet Agar-Robartes / J. SANT, R.A.
Makers and roles
James Sant, CVO, RA (Croydon 1820 – London 1916), artist of original
View more details