Night table
manner of Thomas Chippendale (fl. 1766 - 1771 when operating without a business partner)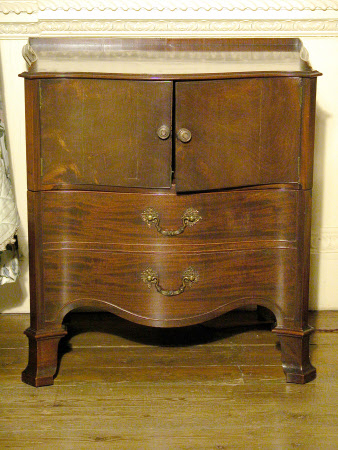 Summary
A serpentine mahogany night table, English, circa 1770, with similarities to a night table supplied to Harewood House by Thomas Chippendale (1718 - 1779), circa 1770. The top with moulded edge fitted to the back and both sides with a low mahogany gallery. Above a pair of doors (which are probably later) and a commode drawer, faced as two cockbeaded drawers and fitted with brass handles with pierced brass backplates. With canted corners. The feet angular brackets, with an applied and moulded upper collar. With canted front corners.
Full description
The overall form of this night table, the low gallery to its top and its angular bracket feet with upper collars and straight-sided toes, relate it to a night table supplied to Harewood House by Thomas Chippendale around 1770. Both commodes share shaped aprons of a similar profile, and cockbeading to simulated drawer fronts. Saltram's owner, John Parker, 1st Lord Boringdon (1734/5 - 1788), made four payments to Thomas Chippendale totaling £225 in 1771 and 1772, following alterations made to the house by Robert Adam which were completed in 1771. Since no itemized bills for Chippendale's work survives, the only furniture at Saltram which can be positively attributed to Chippendale is the salon suite comprising eighteen chairs and a pair of sofas [NT 871318], because of its similarity to other pieces which are documented as Chippendale pieces. It is possible, however, that other pieces at Saltram such as this night table were supplied by Chippendale in 1771 and 1772.
Provenance
Date of acquisition not recorded; accepted in part payment of death duties by HM Treasury from the executors of Edmund Robert Parker, 4th Earl of Morley (1877 – 1951) and transferred to the National Trust in 1957.
Makers and roles
manner of Thomas Chippendale (fl. 1766 - 1771 when operating without a business partner), cabinet maker
References
Gilbert (1978): Christopher Gilbert, The Life & Work of Thomas Chippendale (1978), 2 volumes., Vol. I, pp. 257 - 8; Vol. II, p. 249
View more details