Torchère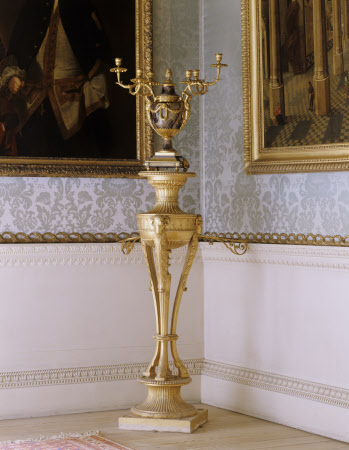 Summary
One of a set of four giltwood torchères, or stands, English, circa 1770 - 1775. Having a flat circular top with a gadroon-carved edge and on a waisted stem carved with moulded bands of egg and dart, beading, stiff leaves, Vitruvian scrolls, flutes and floral guilloche. The bulb below with a frieze carved with an arcade of bellflowers above gadrooning. Raised on three moulded and scrolling supports each topped by a ram's mask and acanthus. These supports converging on a concave-sided triangular platform issuing three supports each modeled as a ram's foot carved with hair and terminating in a cloven hoof. These three supports around a central support topped by a pineapple finial and carved with stiff leaves, flutes and bands of beading. All raised on a fluted socle topped by a carved band of guilloche and on a square-platform carved to all four corners with a floral patera.
Full description
Each supporting a rare ormolu-mounted Blue John (or Derbyshire fluorspar) vase [NT 871337.1 - .4] known to have been ordered by Lady Teresa Parker (d. 1775) from Boulton & Fothergill in 1771 for the Great Room (or Saloon) at Saltram for £126 7s. There is no record of the purchase of the torchères and it is sometimes assumed that they were designed by Robert Adam (1728 - 1792), who designed the sideboard pedestals and urns in the same room. When supplying the vases, Boulton is said to have supplied dimensions to Robert Adam, possibly in relation to the torchères. However, whilst it is very possible that these torchères were indeed designed by Robert Adam, they may not – rather like the two pier tables by John Perfetti [NT 871331.1-2] – have been originally intended for Saltram. A quartet of similar-sounding torchères were sold in a sale of the contents of a property in Portman Square in London in March 1778, and were acquired by a Mr. Sturt. This was possibly the wealthy architect and MP Humphrey Sturt of Crichel House in Dorset, whose London house was also in Portman Square. The name 'Mr Sturt' against a payment of £5 also appears in the Saltram accounts at around that time, but the evidence is not conclusive. The sale was probably held at 2 Portman Square, the opulent house of the 3rd Earl of Kerry, the furnishing of which was under the control of Mayhew & Ince. It was they who, between 1771 and 1773, liaised with Boulton & Fothergill over the supply of ormolu for Lord Kerry. There is another reference, however, in the correspondence between Frederick Robinson [Fritz] (1746 - 1792) to his brother Thomas Robinson (1738 - 1786), 2nd Baron Grantham (both brothers of Theresa Robinson [d. 1775] wife of John Parker, 1st Baron Boringdon of Saltram and Anne Robinson [1742 - 1812]) which might allude to these torchères. Writing from Saltram to Lord Grantham on 11th August 1788, Fritz notes that 'the four urns made to match that Grantham gave to Mr. Parker are beautiful also the Gilt stands to place them on'. Recent conservation revealed that the original water gilding had been covered by a layer of gesso and oil gilt. An inscription in pencil to the underside of one of the torchères reads, 'Bellamy, Apprentice, H & Sons, April 1897. Repard [sic] by James Street, April 1897. From Harris & Sons, George Street' and probably refers to this restoration. The 1897 re-gilding was probably part of the redecorations carried out by Albert Edmond Parker (1843 - 1905), 3rd Earl of Morley, who had married an heiress and moved back to Saltram after the house had been let to tenants for a number of years. (Megan Wheeler, 2017)
Provenance
Probably acquired sometime in the 1770s or 1780s by John Parker (d. 1788), 1st Lord Boringdon and thence by descent and accepted in part payment of death duties by HM Treasury from the Executors of Edmund Robert Parker (1877 - 1951), 4h Earl of Morley and transferred to the National Trust in 1957.
Marks and inscriptions
To underside of base of one torchere: Bellamy, Apprentice, H & Sons, April 1897. Repard [sic] by James Street, April 1897. From Harris & Sons, George Street
References
Baumbach, Sue, 'Fruits of fine design and fashionable taste: an investigation into the origins of the restored torchères at Saltram', in National Trust Arts, Buildings & Collections Bulleting Spring, April 2010 Cator, Charles, 'The Earl of Kerry and Mayhew and Ince - The Idlest Ostentation' in Furniture History XXVI (1990), 27 - 31 Macquoid, P. and Edwards, R., The Dictionary of English Furniture (Softback Edition, 1986), 3 vols., Vol. III, pp. 151 & 152, Figure 24
View more details