Landscape with Tobias and the Angel
Cornelis van Poelenburch (Utrecht 1594/5 - Utrecht 1667)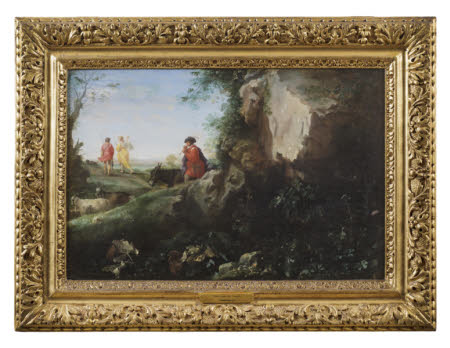 Summary
Oil painting on panel, Landscape with Tobias and the Angel, by Cornelis van Poelenburch (Utrecht 1594/5 - Utrecht 1667), c.1625, signed with the initials lower centre on rock 'C.P.' The biblical subject is taken from The Book of Tobit in the Apochrypha, V. The painting has been compared in style and conception to a painting by van Poelenburgh of The Flight into Egypt, signed and dated 1625, formerly in the collection of the Marquess of Bute and now in the Centraal Museum, Utrecht (8391).
Provenance
Recorded in 1782 Inventory as in the Breakfast Room; in 1939 Inventory as in Breakfast Room and valued at £50; on loan from the Earldom of Jersey Trust.
Credit line
The Property of the Earldom of Jersey's Trust, on loan to Osterley Park, National Trust.
Makers and roles
Cornelis van Poelenburch (Utrecht 1594/5 - Utrecht 1667) , artist
References
Masters of the 17th Century Dutch Landscape (ed. P. Sutton et al), Rijksmuseum, Amsterdam, Museum of Fine Arts, Boston and Philadelphia Museum of Art, 1987-8, p. 407, fig.3 Prized Possessions: Dutch Paintings from National Trust Houses (exh. cat.), Holburne Museum, Bath 25 May - 16 Sep 2018; Mauritshuis, The Hague, 11 Oct 2018 - 6 Jan 2019; Petworth House, West Sussex, 26 Jan - 24 Mar 2019., pp.141-3, no.16
View more details