Portrait roundel of a classical male figure
studio of Giovanni da Maiano (c.1486–c.1542)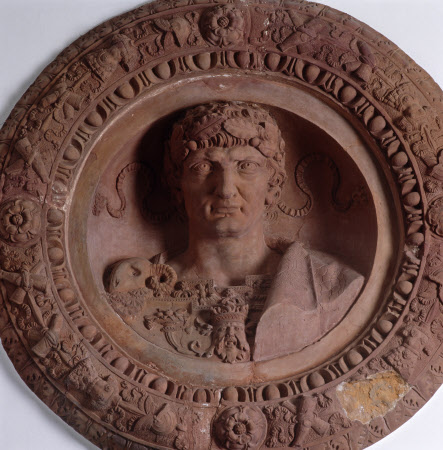 Category
Art / Sculpture
Date
c. 1520 - c. 1521
Materials
Terracotta
Measurements
890 mm (Diameter)
Place of origin
England
Order this image
Collection
Vyne Estate, Hampshire (Accredited Museum)
NT 719614
Caption
This striking terracotta roundel appears to have been produced in England by an Italian Renaissance artist working in the reign of Henry VIII (1491–1547). At first sight, the evident technical skill and dramatic stylisation would have amazed and impressed English audiences. The roundel may have been commissioned or acquired by Henry VIII's Lord Chamberlain and trusted adviser, William Sandys, 1st Baron Sandys (c.1470– 1540) for his Tudor mansion known as The Vyne. It was probably produced by the studio of the Tuscan artist Giovanni da Maiano (c.1486–c.1542), who came to work in England around 1521. Along with Baron Sandys, he had a role in preparations for the production of celebratory buildings that were erected for the meeting between the French king François I and Henry VIII, known as the 'Field of the Cloth of Gold', in 1520. The bearded figure was once thought to be the Roman Emperor Probus (d.AD282), who may have introduced grapevines to Britain. However, the figure does not resemble known representations of Probus and is more likely to depict another Roman worthy. Giovanni da Maiano was also commissioned by Cardinal Wolsey to produce eight medallions of Roman heroes of a similar design for Hampton Court.
Summary
Terracotta, portrait roundel of a classical male figure, studio of Giovanni da Maiano (c.1486–c.1542), c. 1520-21. A terracotta roundel containing a bust in high relief of a classical male figure, previously catalogued as the Emperor Probus. The figure wears a laurel wreath, embroidered drapery and a richly modelled cuirass with bucranium, cornucopia, and foliate mascaron. The concave roundel with ribbon enrichment behind the figure's head. The bust framed with a circular convex frame, with egg and dart moulding, a central band of richly moulded relief ornament punctuated at quarterly intervals with rosettes, and terminating in a band of moulded broad acanthus. The relief ornament comprised of central reeding wrapped with ribbon and ancient Roman military armour, including a helmet, a cuirass, crossed greaves (leg armour) and manica (arm guards). A piece of the ornamented frame is broken off below the figure's proper left shoulder. The subject of the Vyne roundel was once thought to be the Roman Emperor Probus, who is celebrated for introducing grape vines into Britain. However, the figure does not resemble known representations of Probus and is more likely to depict another Roman worthy. See also glazed roundel with allegorical figure (Royal Collection Trust RCIN 1999).
Full description
The son of the Florentine sculptor Benedetto da Maiano (1442-97), Giovanni da Maiano belonged to a group of influential Italian Renaissance artisans working at the court of Henry VIII (1491-1547). Maiano's presence in England is first recorded in a letter written by the sculptor to Cardinal Wolsey on 18 June 1521. In it he requests to be paid the balance on a commission of eight painted and gilded terracotta roundels installed at Hampton Court Palace. Remarkably these remain in their original context, albeit heavily restored. Each contains a portrait bust of a classical figure within a richly moulded frame. An example preserved in the Royal Collection shows how the terracotta was originally decorated in white, ochre and gold glazes (Royal Collection Trust RCIN 1999). Maiano is known to have produced similar roundels comparable in style and composition from about 1520 to 1532. These include sets for the Field of the Cloth of Gold at Guînes (1520), Greenwich Palace (1527), the Holbein Gate at Whitehall (1531-2), Hanworth Manor (1532), and at least one for The Vyne (1520-1). The Guînes commission was likely the model for subsequent roundels, including the Hampton Court set which is stylistically closest to the Vyne's example. This single roundel was once thought to be an antiquarian pastiche, but now appears to have been commissioned by William Sandys (1470-1540), the owner of The Vyne and one of the three English commissioners who oversaw the construction and decoration of the 'portable palaces' at the Field of the Cloth of Gold. This magnificent festival, held in June 1520 at Guînes near Calais, marked the reunion of the friendship between the two great rivals Henry VIII and François I of France. Eighteen days of feasts, masquerades, tournaments and religious services were set within a complex of temporary buildings, each decorated with symbolic images and iconographic schemes boasting the king's prowess. Maiano and the poet Alexander Barclay (c. 1476-1552) were engaged by Wolsey to conceive of a decorative scheme for this highly political event, which would include prototype terracotta roundels depicting 'ancient Prynces' such as Alexander the Great and Hercules (Edward Hall quoted in Rawlinson 2017, p. 5). Maiano's career at the Henrician court ended around 1542, when he is last mentioned in English records. His work was varied and influential, ending with contributions to the king's own grandiose tomb designed but never finished for St George's Chapel, Windsor.
Provenance
Bequeathed with The Vyne, estate and contents by Sir Charles Chute, 1st Bt (1879-1956).
Makers and roles
studio of Giovanni da Maiano (c.1486–c.1542), sculptor
References
Gunn and Lindley 1991: S. J. Gunn and P. G. Lindley, Cardinal Wolsey, Church, State and Art, Cambridge 1991, P. Lindley, 'Playing check-mate with royal majesty? Wolsey's patronage of Italian Renaissance sculpture', pp. 261-85. Thurley 2003: Simon Thurley, Hampton Court: A Social and Architectural History, New Haven and London 2003 K. Hallett, K. Rawlinson, Z.. Roberts, The conservation of Giovanni da Maiano's terracotta roundels at Hampton Court Palace (2005-12): A summary report, TECHNE, 36: Terres cuites de la Renaissance - Matière et couleur, Paris 2012, pp. 102-9. Rawlinson 2017: Kent Rawlinson, 'Giovanni da Maiano: on the English career of a Florentine sculptor (c. 1520–42)', Sculpture Journal, 26 (2017), 37-51.
View more details