Toy sewing machine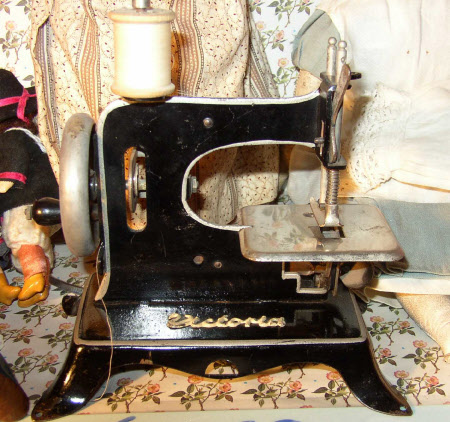 Category
Toys
Date
Unknown
Materials
Metal and wood
Measurements
105 mm (width); 173 mm (height); 170 mm (length)
Place of origin
Germany
Order this image
Collection
National Trust Museum of Childhood (Accredited Museum)
On show at
Not on show
NT 664049
Summary
A toy Victoria sewing machine made of black painted metal standing on splayed feet. The name Victoria is in raised letters painted white. A wooden cotton reel with white thread is attached. A metal lever raises the foot. A turned wooden handle turns the metal wheel. There is no needle. An embossed metal stamp with a wing and cross motif appears on the opposite side of the base from the word Victoria. Total number of items is 2.
Marks and inscriptions
Base of sewing machine: Victoria Base of sewing machine: wing and cross motif in oval shape: MADE IN GERMANY/ E [or B].P. Label on cotton reel: BEST SEWING COTTON/ EXTRA QUALITY/ C[ ]E/ MAN[ ] BY/ JOHN DE[ ] SONS LTD.
View more details