Marionette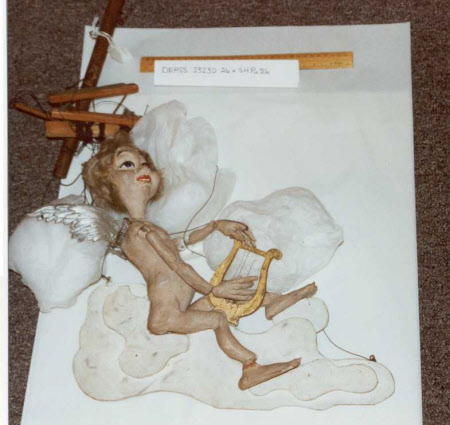 Category
Toys
Date
Unknown
Materials
Modelling material and wood.
Measurements
410 mm (width); 411 mm (height)
Order this image
Collection
National Trust Museum of Childhood (Accredited Museum)
On show at
Not on show
NT 661563
Summary
One of the puppets made for and used by the 'Lilliput Marionette Theatre'. This marionette has been identified as 'a cherub on a cloud' and is from a play entitled 'Faust'. A marionette puppet of a cherub, sitting on a cloud, playing a lute, with its wooden and metal control attached. Its strings are made from black thread and are quite tangled. He has a head made of a modelling material with carved painted facial features and grey, short wavy hair. His body, also of the modelling material, painted pink, is jointed at the neck, shoulders, wrists, and ankles, with metal joints and his elbows are jointed with leather strips. A pair of silver coloured wings are secured to his shoulders by metal loops. He is sitting astride a white, wooden cloud shape to which his body and feet are secured. He has a wooden lute, painted gold with wire strings, one is broken and one is missing. One wing and knee are broken although still attached.