Wax shoulder-head doll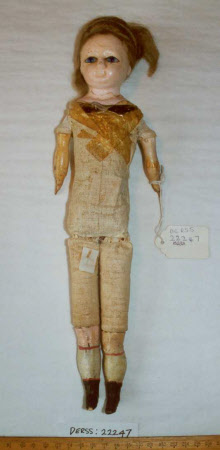 Category
Dolls
Date
Unknown
Materials
Wax shoulder-head doll.
Measurements
350 mm (height)
Order this image
Collection
National Trust Museum of Childhood (Accredited Museum)
On show at
Not on show
NT 660883
Summary
A wax shoulder-headed doll with wooden lower arms and legs, without clothes. The doll has a wax head and shoulders with moulded facial details with a slight pink tint on the cheeks. She has blue inset glass eyes. The wax is cracked in several places on the head and shoulders. She has light brown artificial hair which is dressed with two thin head bands made from blue fabric. Her body is made from a coarse open weave fabric cover with a white substance to stiffen it. She has jointed arms at the shoulders and jointed legs at the hips. Her arms are made from wood and are painted a yellow colour. The hands are missing. She has wooden lower legs which are painted to imitate black boots and white and cream stockings. There are several pieces of yellowing Sellotape stuck onto the shoulders and upper body, presumably to keep the doll together at the front .