Wax shoulder-head doll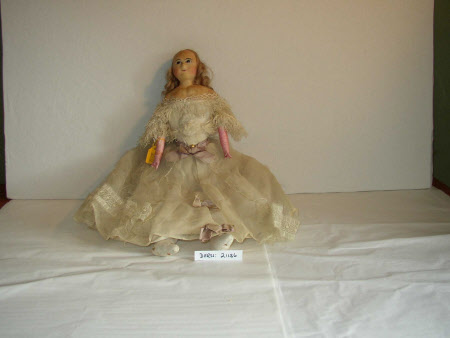 Category
Dolls
Date
circa 1850
Materials
Wax shoulder-head doll, glass, leather,
Measurements
545 mm (height)
Order this image
Collection
National Trust Museum of Childhood (Accredited Museum)
On show at
Not on show
NT 659679
Summary
A wax shoulder-headed doll with inset black and white glass eyes. Blonde mohair hair inserted into a crack in the top of her head and arranged in ringlets. Her face is badly cracked.Stuffed cloth body, upper arms, legs and feet. There are holes in the top of each foot, one of which reveals the sawdust filling. The lower arms and hands are pink kid leather with individually stitched fingers. Wearing an off the shoulder cream net and muslin dress decorated with mauve ribbons and cream lace and fringe on bodice. In the middle of the bodice is a white fabric flower. White chintz petticoat.