Edmund William Elton (1822-1859)
manner of Edward Villiers Rippingille (King's Lynn 1798 – Birmingham 1859)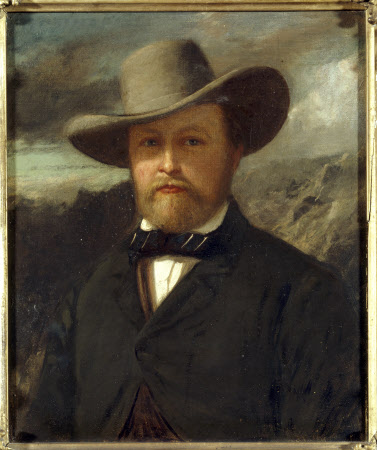 Summary
Oil painting on canvas, Edmund William Elton (1822-1859), manner of Edward Villiers Rippingille (1798-1859). A portrait of the fourth but second surviving son of Sir Charles Abraham Elton, 6th Bt (1778-1853) and Sara Smith (1782-1830) as a young man, almost half-length, turned slightly to the left, facing, gazing at spectator, with a pale brown beard and moustache. He is wearing a grey hat with curved brim, black jacket, white shirt and black bow tie. Background composed of craggy rocks and distant landscape to the left, under a stormy sky. He married (i) Lucy Maria Rice and (ii) Ernesta Clementina Sandryk.
Provenance
Purchased from Lady Margaret Ann Elton (1915 – 1995), 1981 with the help of grants from the V&A Purchase Fund and the NHMF
Makers and roles
manner of Edward Villiers Rippingille (King's Lynn 1798 – Birmingham 1859), artist
References
Clevedon Court [The National Trust] revised 1972, 1974, 1977, 1979, pp.28-9: "The State Room... Close by, his [Edward Villiers Rippingille's] portrait of Edmund William, with flowing beard and broad-brimmed hat, hangs above Edmund William's own portrait of his young second wife, Clementina."
View more details